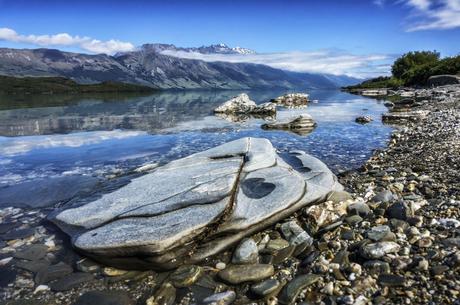 Queenstown left us completely stunned again – though for entirely different reasons than Christchurch. (...) We arrived in the late afternoon, sun standing low and putting everything in just the right light. The highway leads along steep river gorges, filled with roaring blue water. Entering the town, you are surrounded by hills and mountains in every direction and in the middle of it is beautiful Lake Wakatipu. We came around a corner and stood before an amazing mountain range with it's outstanding spiky peaks, in a warm, orange evening glow. The Remarkables, they are called – the name is no coincidence. A wonderful sight.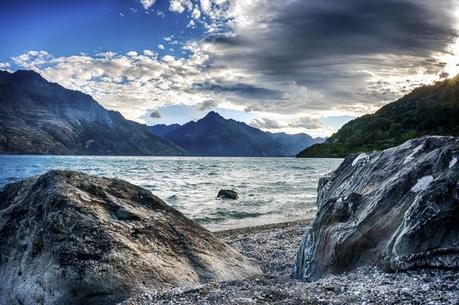 The lake is amazing, too. It just changed colors a few weeks ago, due to a landslide up in the mountains. It's now a bright turqouise, complementing the yellow and green hills around it.
No matter where you look, it is amazing. Understandable that Queenstown is one of the biggest tourist locations of New Zealand.The town itself is really not that big, more of a cute village, really – but bustling with people day and night. You can do everything here, from boat cruises on the lake to bungy jumping, white water rafting, quad bike tours, etc etc. All very good for getting rid of money.We took it slowly and discovered the lakefront walking.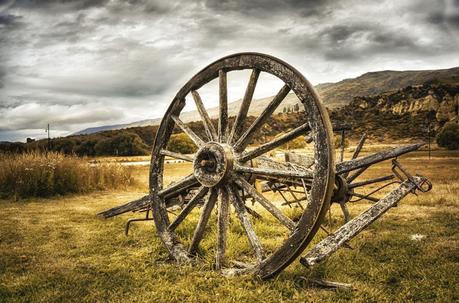 We also had a look at Arrowtown and Glenorchy. At the former you can find some leftovers from old chinese goldmining settlements. It's a very cute village that obviously survives only on tourists and is made up quite well for that, with many information panels on how it once looked like. Glenorchy is a very small village at the northern tip of Lake Wakatipu, not much by itself, but with some stunning views over the water and at the mountains on the way. Further north, the Routeburn track begins (one of the NZ Great walks), as well as several other beautiful shorter walkways through the forest. It reminded us a lot of forest in Germany, because it lacks palm trees and ferns, though it is a lot more natural here, wilder and less orderly.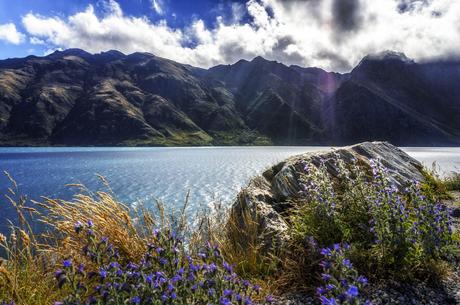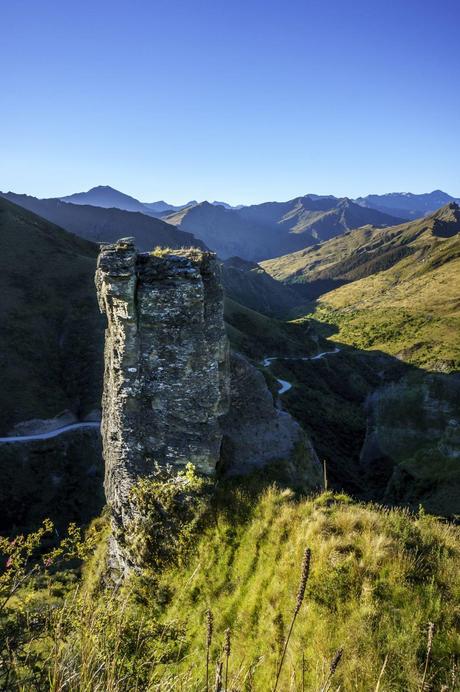 Hoping to find an abandoned goldmining "ghost town" we made our way to Skippers Canyon, just a bit north of Queenstown. The road is the most adventurous we ever drove and not without reason forbidden for rental cars.It is a narrow gravel path, just wide enough for the tour buses that bring jetboaters down to the river. All along the 20km or so, you fear slipping the 50cm between car and cliff and tumbling all the way down into the valley. Of course, we met two of those tour buses, and had to make a scary reverse maneuver to let them pass somehow.Always in arm's reach of the rock to our left and the yawning abyss?? to our right, we had some amazing views over the Canyon, including a super long swing bridge over the whole width (obviously a bungy jumping place), some ghostly dead forest and of course the roaring blue river below.
We didn't find the mining town – supposedly you have to get there by boat or 4 wheel drive along the river – the gravel road ended just in the middle of nowhere. The drive itself was adventure enough, though! We had a lot of fun driving and snapping along the way.