Text Post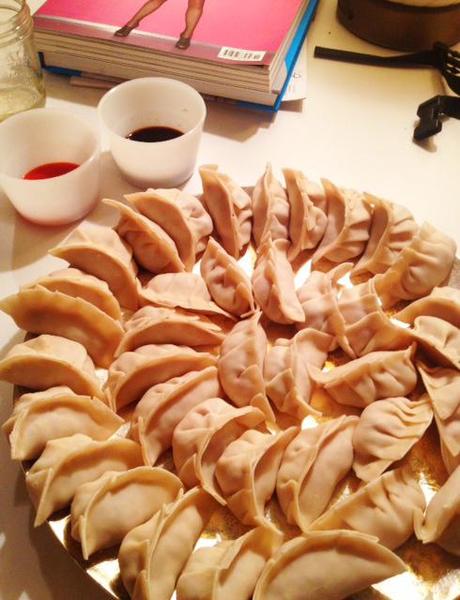 When Emily, a young woman who reads my blog, asked me if she could come over one night to make pork dumplings, I was hesitant. Emily and I had only met once before, at a yogurt shop in Park Slope. There, she told me that she was on a break from her college boyfriend, and I encouraged her to take the opportunity to be as slutty as humanly possible.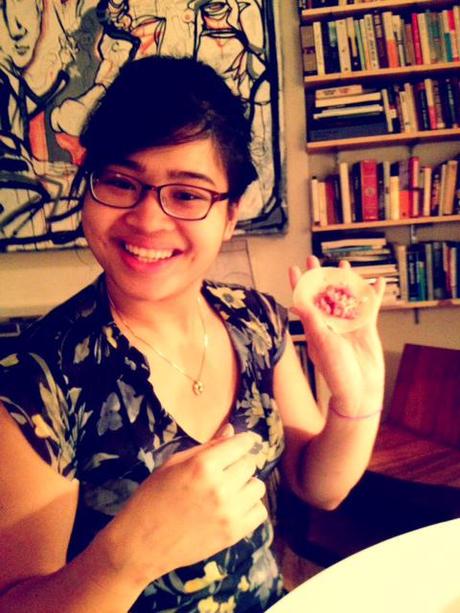 Would Emily and I have enough to talk about? More importantly, after meeting me, and seeing where I lived, would Emily lose interest in reading my blog?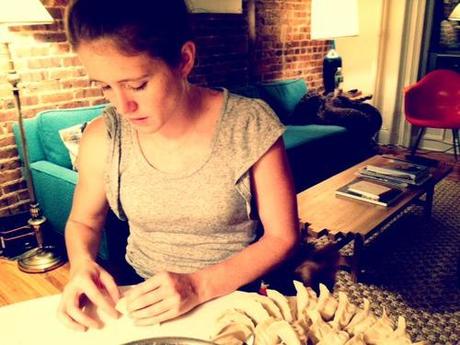 Within minutes of her arrival, I knew that the evening would go just fine. She immediately fell into the rhythm of my life—feeding things to Franke, talking with Caleb, speaking without any filter. I asked her how things were, and without waiting for a response, assured her that my 20s were the most miserable years of my life.
"Really? " she said. "For me, they're actually alright."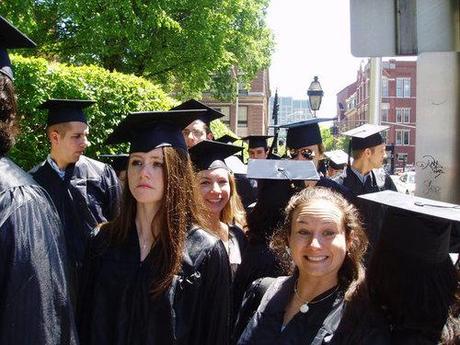 Emily is from Omaha, Nebraska. There, her parents own an Asian fusion restaurant. They're from China originally, and moved to Nebraska to follow her mother's brother, who was getting his PhD.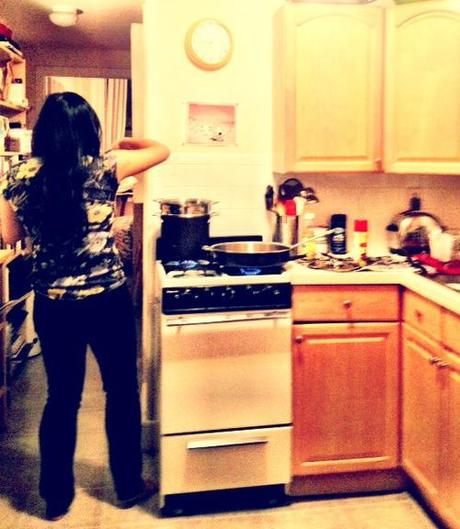 Her family makes all of sorts of delicious food, but Emily's speciality is their pork dumplings. She shared the recipe with me from memory, below, in case you'd like to make them yourself:
1 pound of ground pork 
1/2 pound (? head maybe?) finely cut napa cabbage 
1 package of dumpling wrappers (get it at the chinese grocery store)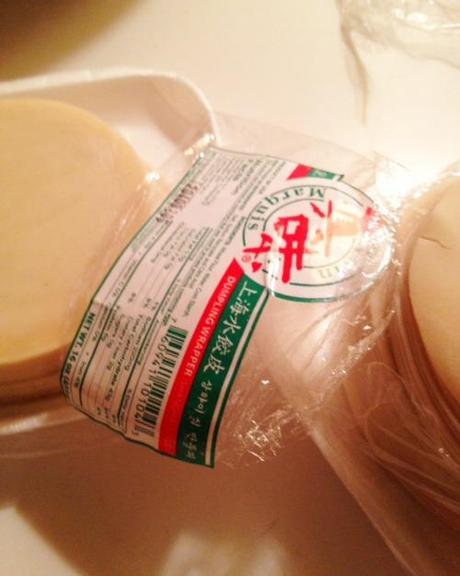 1 tsp ginger
1 tsp sesame oil
1 tsp salt (my recipe said 1 tablespoon but that was clearly too much!! so I'd experiment with this)
1/2 tsp pepper (or white pepper)
1 tsp minced garlic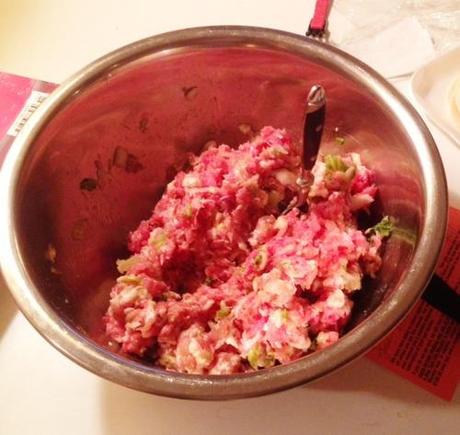 The trick is to take a little bit of the meat you have and either fry it up or microwave it to taste how it is (which is how I knew the batch I brought to you was too salty). 
Then you can boil it or you can steam/pan fry them like we did last night!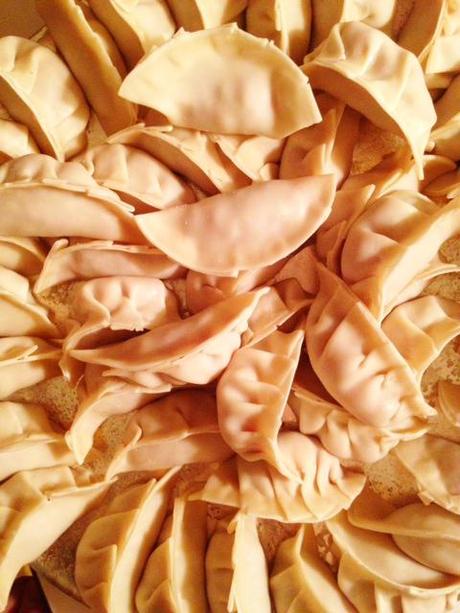 As you can tell, the recipe is really easy. What's difficult is making the dumplings themselves, which require some hand skills. I have hand skill aplenty (*wink*), so I was good at this part.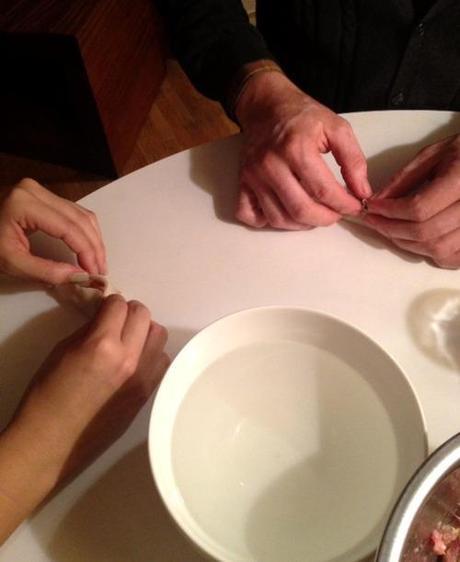 Basically, you put about a teaspoon of pork mixture into the center of a dumpling wrapper. Then you wet the circumference of the wrapper with warm water, using your fingers. After, you fold it in half, using the table to keep the distribution even. You create the seam by folding one side in small ridges, and pressing it against the other.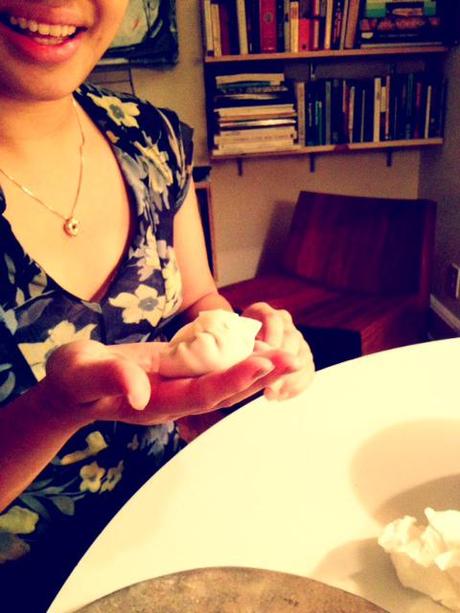 If you choose to sear them, be careful. Each dumpling is like a baby kitten. You have to pry them carefully off the pan, just like you would a cat clawing at a blanket, or else they rip open. Still, they're delicious even when disemboweled.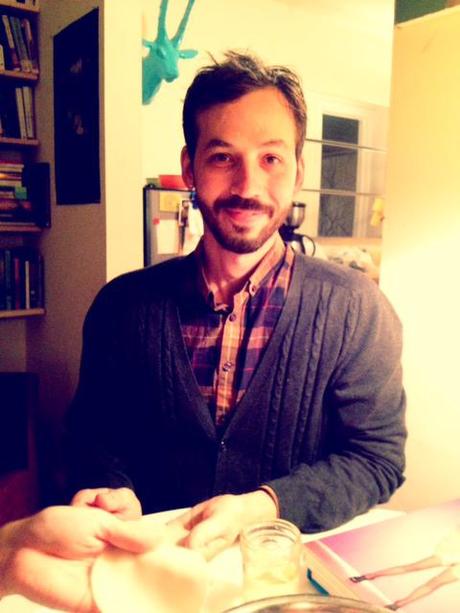 I ate about 25 dumplings, and then, to top it off, a box of chocolate chip cookies. It's the healthiest meal I've had at home in weeks.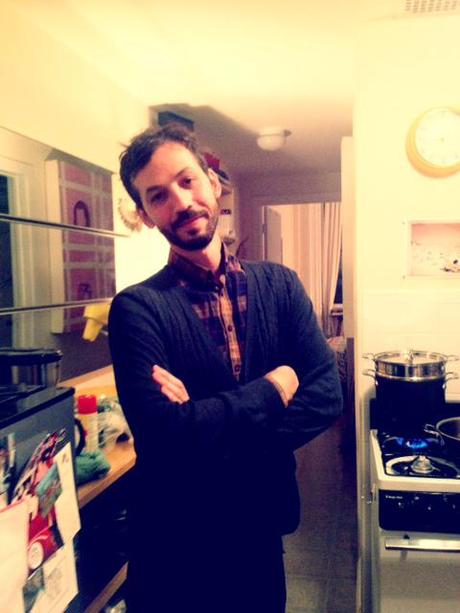 After dinner, Emily, Caleb and I sat around, and talked life. "Things will get better," I assured Emily.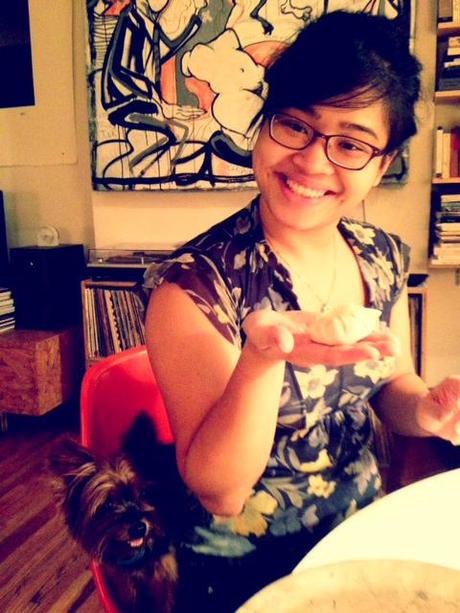 "Things aren't really that bad for me," she said again. She's 23. All I can remember from 23 is throwing up dirty martinis, giving dudes hasty blow jobs so they would leave my apartment, and wanting to kill myself. 
But looking at Emily's life—her fun office friendships, her confidence, her freedom, her sweet relationship with her roommates, the fun fake bachelorette party they are throwing each other this weekend—I realized that things, back then, for me, probably weren't so bad.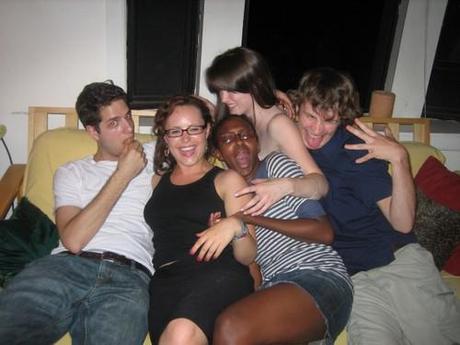 That being said, I sure will be happy to turn fucking 30.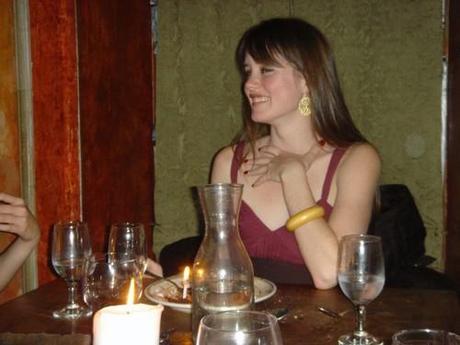 Emily texted me when she got home, later that night. "I'm already in bed," she said. "Thank you."
"I'm happy," I said, meaning that it made me feel good to know that she was home safe, going to bed early, so that she'd have a clear head when she went to work the next morning. She is bold, funny, smart, talented, honest, and really kind. If she stays on her current trajectory, she's poised to do anything she wants. The sentiment was motherly, and it was really nice.