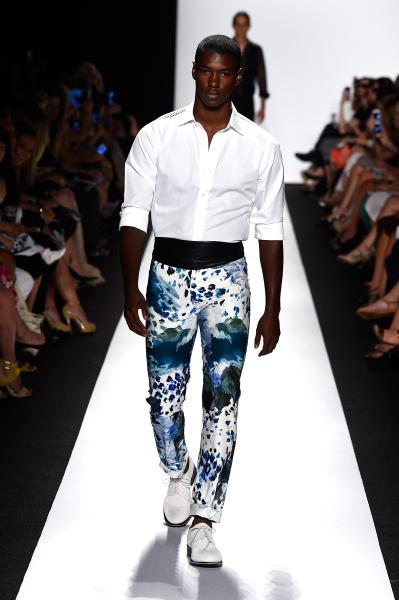 New York Fashion Week, officially called Mercedes-Benz Fashion Week New York wrapped up after eight fashionable September days in the Big Apple, during which well-established and uprising designers showcased their collections and presented their visions for the upcoming spring-summer 2015 season.
As usually, the menswear world was not as well represented as the women's, but there have been some fantastic designs that were brought up on the runways during NYFW.
Brands like Ovadia & Sons (which showcased for the first time at Fashion Week), Perry Ellis and Todd Snyder displayed their collections which caught the attention of the world press.
It is quite hard to talk about "NYFW trends" today, as during this week, we could see everything from formal wear to sportswear, from neutral outfits to colorful looks that featured numerous patterns, prints and textures and from classic suit-shoes combinations to more post-modern combinations, such as suit-sandals combos.
Fashion is all about surprise and excitement, so we were glad to see an array of bright patterns and colors go down the runways at NYFW.
One thing that we liked very much about the collections showcased at NYFW this season was that the wearability factor was very high. While some pieces featured very tailored structures and cuts, others made use of relaxed lines and loose. We feel that the majority of this year's NYFW looks were something that the regular guy can definitely pull off.
Because of the wide variety of fabrics, cuts, colors, textures and shapes, many of the presented separates can be easily mixed among them and worn in a large number of combinations.
In terms of accessories, we could see several pairs of casual shoes, bags, hats, ties and even bow ties. We are glad that many designers accessorized their looks, as the modern man is always interested in accessorizing and therefore these looks served as a great source of inspiration.
Now that the collections are out, the buyers can purchase their favorite creations and the magazine editors and store representatives will select their favorites and will present their customers with them in their stores and publications in the upcoming months.
And since a picture is worth a thousand words, we have also made a collection of our favorite looks from MBFW SS 2015. Take a look at the gallery and discover our selection of the best pieces.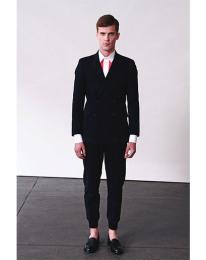 Carlos Campos' look is a strong visual that features a clean aesthetic and a subtle color combination.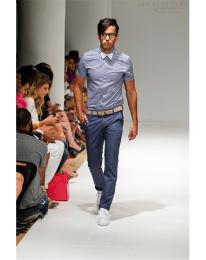 This Argyleculture look presents a very wearable look for the 2015 summer featuring a bow tie and tailored separates.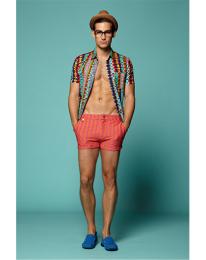 Mr. Turk had one of the most fabulous collections from this season's Fashion Week. It featured many prints, colors and patterns.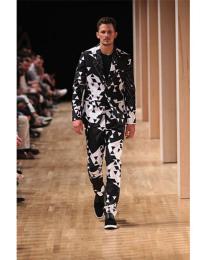 This Perry Ellis suit plays with black and white and with geometric shapes. This look is one of our favorites from the whole week.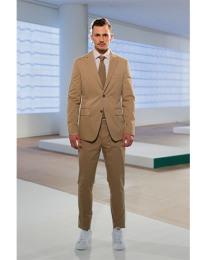 This Jack Spade look is one of our favorite looks from NYFW. Its simple yet powerful aesthetic make it a great outfit for the modern man!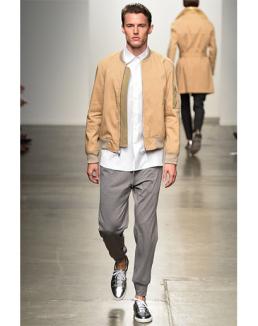 A very casual but smart look by Ovadia & Sons. We love the simplicity of the jacket and its manly structure.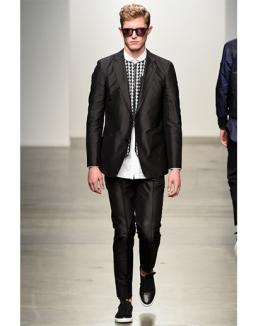 We love this great neutral pattern-solid combination by Ovadia and Sons.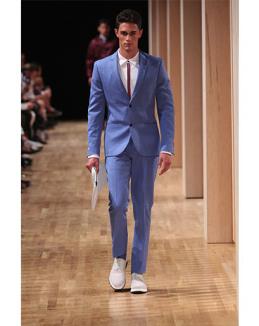 Featuring a slender silhouette and a thin tie, this Perry Ellis outfit is balanced out by the big, voluminous shoes.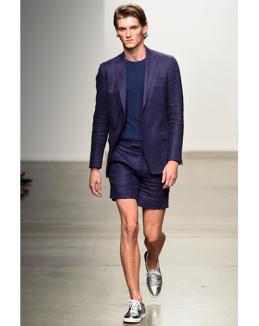 What we can learn from this Ovadia & Sons outfit is that a simple look can be more interesting too. Details such as the shine, an interesting structure (short pants) and surprising details, such as the shawl lapel of the jacket all qualify this outfit as a great suit.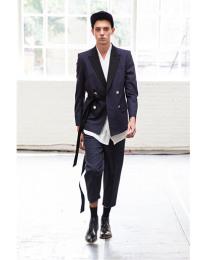 This Antonio Azzuolo outfit is reinterpretation of a very classic look. The short pants give it a futuristic vibe and the loose lines make it flexible and urban.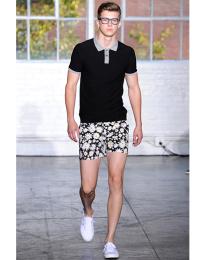 This Parke & Ronen look came as a nice surprise, as it features a floral print. Remember that prints can be easily paired with any neutral color. In this case, the printed pants are paired with the black and gray t-shirt (both these colors are neutrals) and the white pair of shoes (white is a neutral too).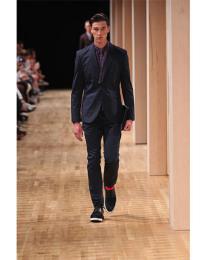 Mixing classic elements with new ideas, this outfit brings adds a modern touch to a neutral suit by pairing it with a pair of colorful socks and sporty sneakers.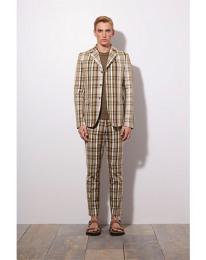 Michael Kors proposed fancy patterns as a trend for the spring of 2015. We hope the trend will catch on!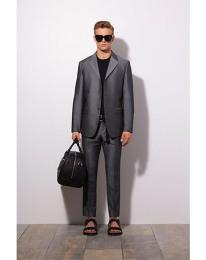 A futuristic suit and a big bag can always be toned down with a pair of sandals.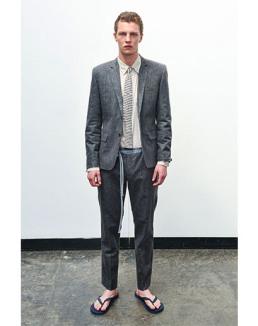 Lucio Castro's denim and sandals outfit is a reminder of a simpler time. The tucked tie is a detail that qualifies this apparently simple outfit as a veritable fashion statement.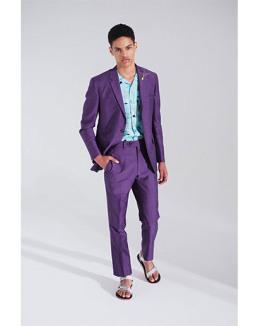 Featuring an analog color combination (mixing colors that are close to each other on the color wheel), this David Hart outfit is the perfect spring suit.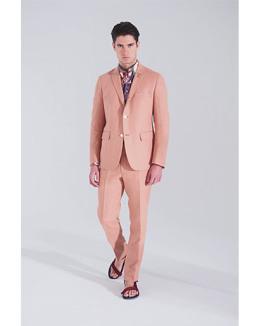 David Hart presented this fantastic pink suit paired with sandals. it was a risk, but we feel that he won the challenge.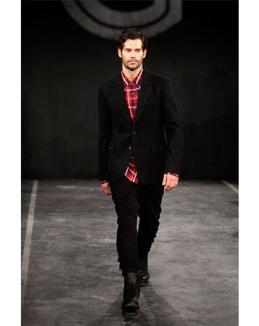 This Grungy Gentlemen outfit features a powerful color combination and a strong vision of what the 2015 man is. And… we want to be that man!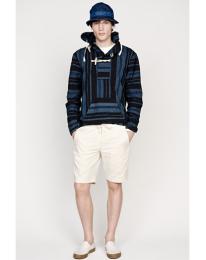 J.Crew made us think of a summer holiday in the woods or at the sea…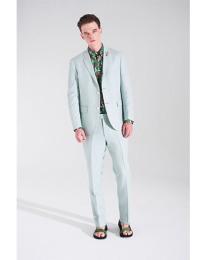 Chalky colors are always associated with spring and it was great to see how David Hart worked with a pale blue suit. By pairing it with a shirt that featured a bold print and a fabulous boutonnière, he took the outfit to another level.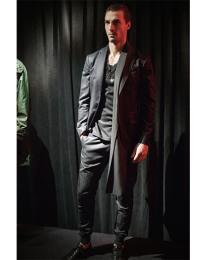 This Cadet outfit made us want to go to the future on holiday.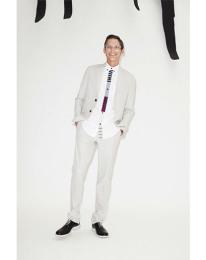 Working with simple, yet highly effective details, Band of Outsiders suggested a new look for the young men of today.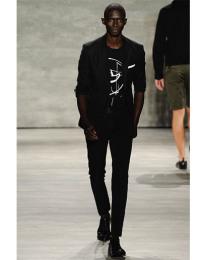 Todd Snyer worked with sophisticated prints and very simple colors.
Fraquoh and Franchomme
Further reading:
Paris Fashion Week Spring-Summer 2015 recap
Milan Fashion Week Spring-Summer 2015 recap
P.S. Which collection or look was your favorite? Why? What will be you looking for the most for the SS 2015 season? For more articles on style, fashion tips and cultural insights, you can subscribe to Attire Club via e-mail or follow us on Facebook or Twitter!
Share on Tumblr
0
'