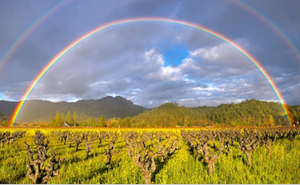 Last year, I had the life-changing experience of attending the Millésime Bio Organic Wine Fair in Montpellier (check out my blog about it). I was amazed by the diversity and quality of organic and biodynamic® wines from around the world. I tasted a variety of wonderful wines in Montpellier and wanted to share my experience, albeit on a smaller scale, with you, my readers. I contacted my friend, Veronique Raskin, Owner/Founder of www.theorganicwinecompany.com and she sent me samples of some of the wines she carries.
I set up a small tasting group with Jo and José Diaz of
www.diaz-communications.com and www.wine-blog.org and Mindy Joyce of www.sugarflymarketing.com and www.winerycritic.com and we tasted through the wines Veronique sent me. The main comment that kept coming up was, "I can't believe these are all organic wines, they are all so good!" Please note that the most expensive wine in the group is $31.99. These wines are available for purchase through www.theorganicwinecompany.com.
Following are the wines we tasted and our collective comments:
Blanquette De Limoux Brut NV $19.99: Rose, pear, apple, apricot, lily of the valley and sandalwood aromas and flavors all carried through in a crisp, clean mouthfeel. Vibrant mousse.
Perlage Altana Rosato Frizzante NV $14.99: Strawberry shortcake, pomegranate, yeasty, almond and honey aromas continue as flavors in the bright, sparkling mouth.
Perlage Riva Moretta Prosecco 2012 $17.99: Aromas of ripe peach, pear, mango and citrus are balanced by spicy floral and tobacco notes. Juicy and vibrant in the mouth.
Navarrsotillo Rioja (White Wine) 2011 : Aromas of pear, Golden Delicious apple, citrus and marzipan continue as flavors in the bright, yet creamy mouth.
Perlage Pinot Grigio 2012 $13.99: Aromas of apple, lemon, melon and toast continue as flavors in the smooth, supple mouth.
La Marouette Sauvignon Blanc 2011 $14.99: This was a panel favorite! Mouthwatering aromas of lemon, lime, French pastry shop (thanks, Jo!), sage and lemon thyme lead into a bright, juicy mouthful of consistent flavors.
Domaine Eugene Meyer Riesling 2012 $23.99: Personally, this wine has everything I look for in a Riesling – it's complex, dry, aromatic and consistent. Here's what we said about it as a group; aromas of white flowers, lemon, petrol and peppery spice continue in the juicy, rich mouth.
Chateau Bousquette Rosé 2012 $14.99: Aromas of strawberry, raspberry, cherry, honey and wintergreen continue as flavors in the juicy mouth.
Gypsy Melody Carignane 2011 $13.99: Another panel favorite! This playful wine is bright and juicy and bursting with aromas and flavors of ripe cherry, strawberry, plum, anise, tobacco and peppery spice.
Domaine Des Cedres Côtes Du Rhône 2010 $15.99: We fought over who got to take the rest of this bottle home – it was our overall favorite wine of the tasting! Aromas and flavors of blackcurrant, dusty roses, pepper, anise, licorice, violet and peppery spice abound, all wrapped up in a decadently rich mouthfeel.
Frelin Della Ventoux 2011 $12.99: Aromas of cherry, blackberry, plum, bittersweet chocolate, pepper, leather and cigar box (masculine wine!) delight the nose and continue as flavors in the soft, supple mouth.
Chateau Laubarit 2011 $17.99: This is an earthy red, with red currant, citrus peel, cooked raspberry and floral aromas and flavors.
Chateau Bousquette Prestige 2009 $24.99: Alluring aromas and flavors of black cherry, mocha, leather, sun-warmed earth, tobacco and violet abound, all wrapped up in a silky mouthfeel.
Chateau Bousquette 2009 $17.99: This is a rustic, earthy red, bursting with aromas and flavors of plum, black cherry, spice box and leather, all lovingly supported in a silky mouthfeel.
Chateau Veronique 2010 $15.99: Voluptuous and sexy, this wine begs to be shared! Aromas and flavors of plum, black cherry, blackberry, mocha and spice all play together nicely. Luscious mouthfeel.
Cartagene Dessert Wine $19.99/.375ml: Aromas and flavors of fruit compote, orange peel and potpourri spice delight the nose and mouth. Supple, rich and sweet!
Casal dos Jordes Port $31.99: Seductive aromas of chocolate, orange peel and baking spices continue as flavors in the richly textured mouth.
The moral of this story is that there is a world of amazing delicious, affordable organic wines out there. Go forth and taste!