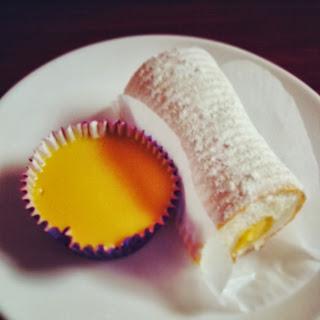 Cielito (left) and mercedita (right)
I walked into Homebakers planning to spend 50 pesos for some snacks. I got a cielito and a mini brazo de mercedes which they call a mercedita. When the cashier rang up my bill, I was taken aback that it totaled to Php 87. Ah, this is what I get for not following
my own advice
.
Might as well enjoy my pricey snacks.
The cielito tastes like a coconut macaroon with leche flan on top. A pretty good combination, but a bit too sweet.
Homebakers has really good brazo de mercedes but I can't say it was worth its price. Php 50 for just a mini roll? I think I'll go buy the
half roll from Casilda's
.
Homebakers
181-1 Juana Osmena St., Cebu City
(032) 253 6217 / 253 4265
Monday to Saturday 8AM to 10PM
Other branch:
Gov. M Cuenco Ave., Talamban, Cebu City
(032) 418 1102
Daily 9AM to 9PM
Is this pricey for you?
Cielito Php 37
Mercedita Php 50