May 23, 2014
Felt like I had to get something down on the blog about this.  If you missed it yesterday, all-time leading goal scorer for the US Men's National Team, Landon Donovan, was left off the World Cup Roster.  For many, like myself, this hit not only in terms of quality of players but it was a bit personal as well.  Donovan has been one of the players we could count on in big games.  He was one of the players that other squads had to keep an eye on and game plan for.  He wasn't the best player on the pitch but he was a dynamic player who made plays, especially when they were needed in crunch time.  For the casual fan this hurts because he's been the face of the US Men's team for a while now.  This probably hurts the USA Soccer brand a bit as a few less people will tune in to Brazil in a month now that the one player they knew isn't playing.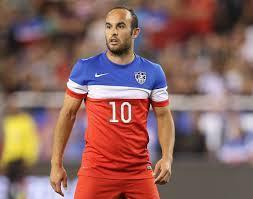 I've heard all the potential reasons as to why Donovan didn't make the final cut and honestly I have no idea who and what to believe.  Age can't be a factor since Kyle Beckerman is 32 and Chris Wondolowski is 31 and those players, in my opinion, are both of less quality than Donovan.  Perhaps the fact that Donovan himself said he couldn't go back to back days is a reason to leave him off, but you don't play every day in the World Cup, or in soccer for that matter, because it's just too much wear and tear on the body.  Donovan may not be good for 90 minutes every game but if he could give you 65 from start or 40 as a sub, he's a bit more valuable, again in my opinion, than some of the other names on the list.  These are just a few of the rumors swirling and honesty, I hope we never know what the answer is because whatever it is, people aren't going to be convinced.
More than likely this is a power play by Coach Klinsmann, who with his new contract that runs through the 2018 World Cup, can do and say what he pleases.  Part of me gets that as the US squad, and US soccer for that matter, seem healthier and stronger than every before.  Younger, stronger players are making their way onto the pitch and earning their spots and that's not a bad thing for the program, but will it help us in 4 weeks when we line up against Ghana, Germany and Portugal.  I'm not sure it does and if Klinsmann's eyes were really on 2018, than I think he's doing a great disservice to this group of players as well as the many countries who missed out on this World Cup.  In a tournament that happens once every four years, you go all in and let the chips fall where they may.  Hell, some of these players on the team right now may not advance the way Klinsmann expects and could be out of US soccer in four years.  Guys like Beckerman, Wondolowski and Brad Evans probably have no future (due to their age) but are getting the nod over Donovan.  Is it because their better or is it because they offer less of a limelight than Donovan?
The ESPN headline says "Pass the Torch" and maybe this is what it's come to.  Time will tell and I'll still be rooting for my boys in Brazil, but it's going to sting a little not seeing Donovan making runs and coming up big when it matters most.
Post navigation
← Hey Bro, Nice Catch