With their 1950s flair and holiday vibe, camp shirts or camp collar shirts are great fashion items that men should consider including in their wardrobe. These are great for the summertime or for when you want to bring the summer in your home during the cold season.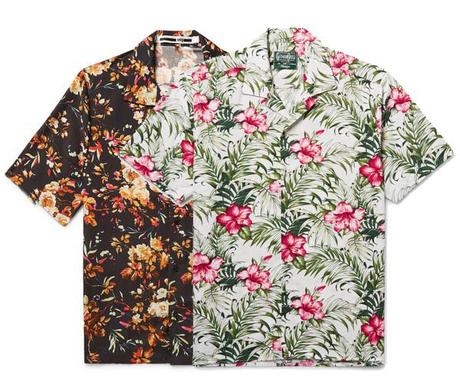 A camp shirt or lounge shirt is a loose, straight-cut, short-sleeved shirt that features a simple placket front opening and a so-called "camp collar". This is a one-piece collar (meaning it has no collar band) that can be worn open and spread or closed at the neck with a button and loop. A camp shirt generally features a straight hemmed bottom falling at hip level, which is not intended to be tucked into trousers. Camp shirts are usually bowling shirts, Aloha shirts and feature patterns and prints.
Camp shirts are very casual and thus should be worn with other casual pieces. You can wear them with shorts (since they are shirts and not t-shirts, they work best with ½ shorts) or even long pants, such as khakis or chinos. What is very important to remember is that camp shirts rarely look good tucked into your pants, which is why you should most likely leave them untucked. However, this does not mean that in some cases, wearing a tucked camp shirt can't look great.
In terms of shoes, camp shirts work best with casual loafers or moccasins, but also with sandals. Of course, they make great friends with slippers and sometimes they can be worn with running shoes. Generally, the simpler the running shoe, the better. Camp shirts don't usually go with dress shoes, it makes the wearer look like a child.
Camp shirts are mostly colorful and fun, which means that they can be worn with either neutral pieces if you want to tone them down (neutrals are colors like beige, brown, khaki, ivory, tan, black, white, dark blue) or with other bold pieces if you want to make them stand out. Contrasting color combinations such as pink and blue or yellow and blue will make you look more casual and crazy, while analog color combinations, such as purple and blue or green and blue will make you look more calm and mature.
In terms of prints, you can definitely wear a camp shirt with a print, even if it self already has a print. No matter how many prints you include in your outfit, make sure that these are different in size and, for a safe bet, very different in terms of schromatic.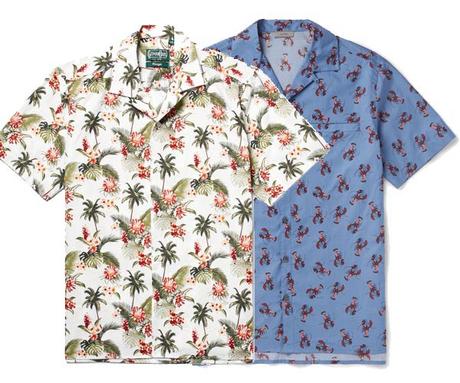 The casual vibe given out by camp shirts makes them right only for casual settings. They are relaxed and calm, which makes them great for day activities or evening activities that are very casual in nature.
A camp shirt should be worn on the beach, on a hiking trip, or at a pool party. You can also wear it at a BBQ or simply as a day-to-day piece. In the end, camp shirts are very comfortable and versatile.
Camp shirts have re-entered the mainstream trends around the summer of 2017 and are a strong trend. The tropics are a strong trend today, so camp shirts will remain in style for a while, which means that you are most likely to find plenty of them in stores. This way, you can include them in your capsule wardrobe, as camp shirts will probably always look resort-y and cool, and those things won't go out of style any time soon.
Fraquoh and Franchomme
Further reading:
The guide to wearing a Hawaiian shirt The rules of wearing an untucked shirt Fashion trend: Tropical prints How should a shirt fit?
P.S. We want to hear from you! What do you make of camp shirts? Do like them? How and where do you wear them? Share your feedback, questions or thoughts in the comments below! For more articles on style, fashion tips and cultural insights, you can subscribe to Attire Club via e-mail or follow us on Facebook, Twitter or Instagram!