In 2020, the only place we visited was Mughal Garden and Waste to Wonder Park in Delhi because soon the pandemic thwarted our life and our upcoming travel destination & tickets had to be cancelled. Nevertheless, at least we got to explore the new places in Delhi. 
I love nature, flowers and all things greenery. Hence, when I got to know about Mughal Garden which is an anthophile's paradise, we planned to visit it this year and engulf ourselves with its charisma. After all, who doesn't love the blooming affair?
One of my childhood friends lives in Europe and she shared Netherland and Switzerland tulip garden photos which were awe-inspiring. Therefore, tulips and rose being my favorite flowers I had to visit our desi garden where flowers are imported from the Netherlands and other distant places.
Mughal Garden, Rashtrapati Bhavan Delhi
Mughal Gardens are located inside the Rashtrapati Bhavan complex (The President House) and known as the soul of the Presidential Palace. 
The garden was constructed by Mughals and later redesigned by Sir Edwin Lutyens, who considered the two different styles of architecture and accordingly cultivated two different horticulture traditions for the gardens, theMughal style, and the English flower garden. 
Also proclaimed as one of the best Rose gardens in the world, you will find different types of flowers, plants, and bonsai section.
---
ALSO READ: Chill out at The Chillout Zone Adventure Park Near Delhi
---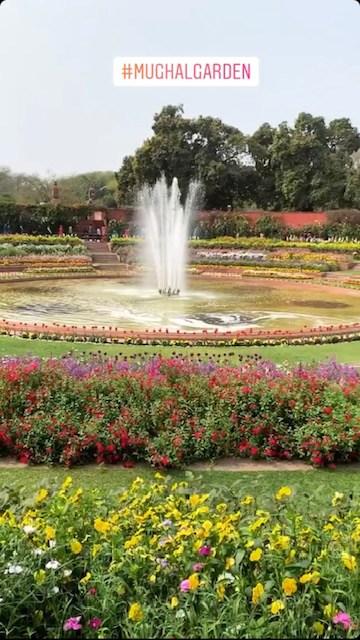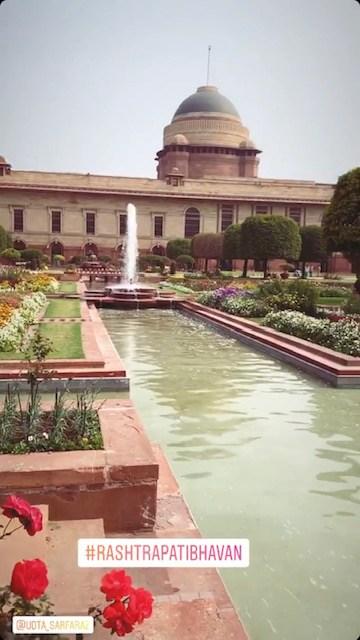 Attractions of Mughal Garden
As soon as you enter, the picturesque view of the Mughal & British era around the presidential estate keeps us alluring.
The seasonal flowers, fountains, and lush greenery are enchanting and fascinating. A perfect place for all types of visitors, including family, couples, and friends. Also, one gets closer to nature and obtains knowledge of these different types of species. During our visit, school groups and staff had come to explore and learn about the garden.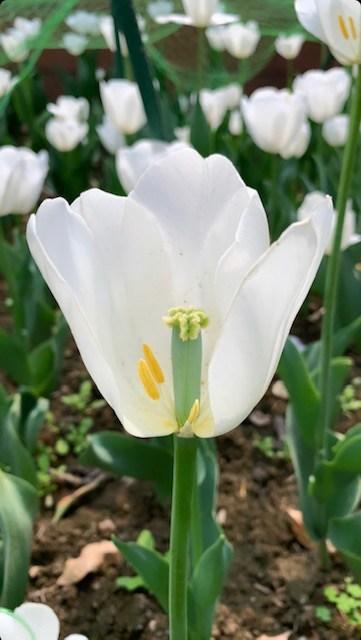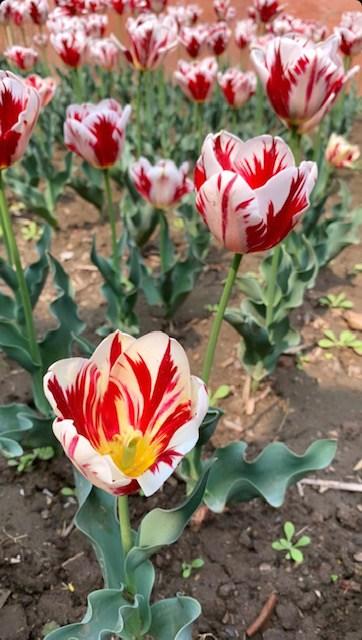 The Mughal Gardens are divided into six gardens:
Rectangular Garden

 Long Garden

Circular Garden

Herbal Garden

Spiritual Garden

Musical Garden
I had no intention to post about Mughal garden and therefore had deleted a few photos/videos from my gallery. However, this is the only travel of 2020 apart from Waste to Wonder Park, so as a travel memoir to reminisce later I penned down my experience.
---
ALSO READ: Waste To Wonder: 7 wonders of the world made up of waste
---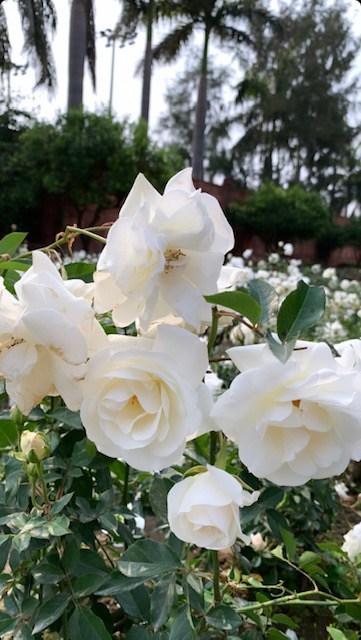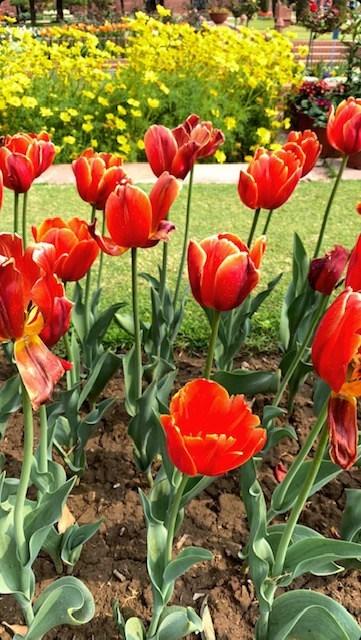 When to Visit
Every year Delhi's Mughal Garden opens doors for the public in the month of February and March. Hence, make a plan and visit accordingly. 
Further, if you are planning to visit Delhi during this time, then don't forget to visit this iconic place and add it to your itinerary.
---
How to reach
Delhi Metro is the most convenient way to reach the garden. The nearest metro station is the Central Secretariat and then you can hire a rickshaw. 
You can also book a cab to reach the garden.
---
Entry fee
There is NO entry fee. The Mughal garden is free to visit.
---
Timings
The entry timing is from 10 am-4 pm and open every day of the week except for Mondays.
Try to avoid visiting on weekends due to the crowd. (We went on Saturday due to busy weekdays and it was overcrowded)
Hopefully, next time we will visit on a weekday and capture the scenic view of the garden with ease & comfort.
---
ALSO READ: Delhi- Best Tourist Places to Visit
---

Things To Remember:
DO NOT carry bags, camera, and eatable items if you can, as it is not allowed and you have to submit your belongings at the counter.

DO NOT touch or pluck any flower in the garden or else expect to be fined.

A mobile phone is allowed and you can capture the place.

Food outlets are available at the exit gate.

There is a separate queue for men and women. Thankfully, waiting is not long even on weekends.

Try to visit on weekdays for fewer crowds and less disturbance.

Wear comfortable clothes and shoes as you will need to walk across the garden which is spread over a vast expanse of 15 acres.
PIN THIS POST!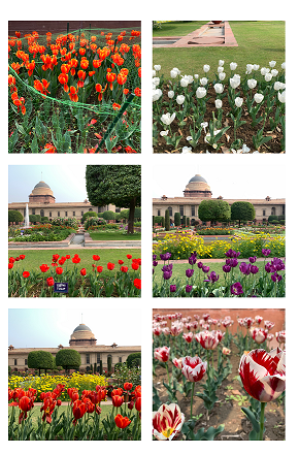 ---
---
---