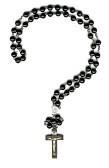 ... yet who disagree with most of Catholic teaching, who rarely go to Mass, who rarely if ever let people know about the beauty of Catholicism, who dissent largely from Catholic doctrine, who are more likely to talk up how they oppose the Church rather than support it.
You know who you are.
Why stay in the Church?  Why not go to a Church more in line with your thinking, with your ideology, with your mindset?  
Those are the questions I can't help but ask when I read about this sort of thing over at The National Review:
Escalating the attacks on Archbishop Salvatore Cordileone of San Francisco for continuing to uphold Catholic teachings, 100 self-described "Catholic leaders" have signed an open letter to Pope Francis, calling for the archbishop's removal. In a full-page ad in the San Francisco Chronicle on Thursday, the petitioners claim that Cordileone has "fostered an atmosphere of division and intolerance" by asking K–12 Catholic-school teachers in the Bay area to "violate their individual consciences by accepting a morality code" based on the Church's teachings.
Did you catch that last sentence?  Read it again.
These people think that the Church's teachings foster an atmosphere of division and intolerance.  So why stay in that Church?
Someone explain why you'd want to remain associated with a Church you minimally dislike and more likely hate?
Makes little sense to me.
Anyone?
Bueller?