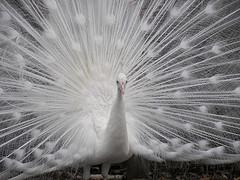 photo : Don Kennedy – Largo, FL
Set in Lower Austria near the border with Slovakia and its capital, Bratislava, is a princely palace with strong associations to the white peacock – a bird of distinction and rarity.
Schloß Hof
Built in the 1720′s Baroque design, Schloß Hof is a palace fit for a prince – except it was built for a nobleman of the Habsburg Court who originated from France, Prince Eugene of Savoy.
His claim to fame was having fought fiercely to protect the Habsburg dynastic control of much of Eastern Europe, for which he was royally rewarded with what was and is one of the finest summer palaces and hunting lodges on the continent.
In 1755 Empress Maria Theresia (wife of one of the Habsburg Emperors) acquired the palace and it became widely known as a venue for the most extravagant parties in Europe. When the family moved in for their summer holidays, they took a mere 200 servants in addition to their many children and invited guests, with them. The palace isn't one of the largest, so it must have been a bit of a squeeze!
After Maria Theresia, the Habsburg's had less interest in Schloß Hof and it's slow demise began. In the 19th century Emporer Franz Josef turned it into a military training camp. Then during WW ΙΙ, the German Wehrmacht moved in, followed 10 years later (1945) by the Russian Red Army. So over time wind, weather, weeds and warriors took their toll – the former baroque beauty fell into serious disrepair.
Before this desecration, the gardens of the palace in the 1700s were described as
the most beautiful of the Danube monarchs' parterre de broderie
Parterre de Broderie – a late 16th century design of pathways and flower beds made to look like a piece of embroidery. Hampton Court in England and Versailles Palace, France, are other good examples of 'parterre broderie', which is distinguished from more typical types of parterre where angular shapes predominate. The video shows what Schloß Hof gardens look like today after a sensitive and faithful return to splendour:
2002 Restoration
Not much happened in the life and times of the castle until 2002, when a group of enterprising Austrians founded a society with good ideas, lots of goodwill and an propensity for finding funding. They began the restoration of the castle, gardens and Mariahof (one of the biggest baroque complexes in Europe with agricultural land, stables, a residence, outbuildings and workshops). Since 2005 this ancient ambassador of Austria has been open to the public (April to November daily, 10:00 to 18:00).
Part of the restoration work has included the creation of the Zum Weißen Pfau (White Peacock Restaurant) in the Mariahof, which specialises in classic Austrian, Hungarian and Slovakian cuisine. Surrounded by gardens filled with vegetables, berries, flora and rare herbs, this is a diner's delight.
To add to the ambience of this ancient attraction, horse-drawn carriage rides around the estate culminating in coffee and cake in the 'Prince Eugene's Patisserie', take place Tuesday through to Sunday. Sensational strudels; gorgeous gateaux; and other Austro-Hungarian appetisers tempt the taste buds, in this elegant eaterie.
White Peacock
How interesting that the Schloß Hof has taken the name of one of D.H. Lawrence's novels – 'The White Peacock' (1911) Set in the Nottinghamshire mining town of Eastwood (UK), it tells the story of mismatched marriage and introduces a misanthropic game keeper. He bears more than a passing resemblance to  the character, Mellors, in Lawrence's later novel (1928), 'Lady Chatterley's Lover'.
The castle has indeed been the setting for passion and courtly love. It has also seen the worst of man's attitude towards mankind and neglect of such a wonderful architectural and cultural heritage.
But perhaps this thinking is wrong. Maybe the White Peacock with which this palatial home is associated is the national bird of India. A member of the blue peacock family, whose rarity is in its lack of colour.
That would seem fitting. When you go to Schloß Hof, you will see that its splendour and elegance is definitely on a par with a white peacock.