I do not normally write such posts. In fact, I have never done so on any of my sites, despite the numerous requests I keep receiving in this regard. But given the appropriateness and appeal of what I am going to speak about – the Nativity Stones Cross – and the attraction I felt towards it from the outset, even before I received and held it in my hands, I cannot help but write about it.
The Nativity Stones Cross is unique as it is not just yet another cross, millions of which abound throughout the world. It is a cross with a difference, that being the small stone which lies in the middle of the cross, as you can see in the picture to the left. What is this stone?
The Nativity Stones were excavated in 1963 from the wall adjoining Saint Jerome's Cave and the Manger Room of the Cave of the Nativity of Jesus Christ in Bethlehem. Reportedly the only stones ever authorized to be removed from the wall between these two famous, sacred caves, the Nativity Stones are said to have been taken from the north-left, inside wall of the Cave of the Nativity as shown in the map below to the right. This particular wall was excavated to create another exit for the ceaseless stream of visitors to the two caves.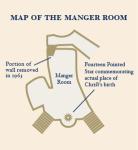 Certified as authentic by the mayor of Bethlehe
m
on June 1, 1964, and by Fr. Economies G. Bandak, high priest of the Church of the Nativity, on September 14, 1995, each Nativity Stone which is placed in a cross is assigned a number. Mine is #219738. The cross itself is layered in 18 kt gold. The authenticity of the Nativity Stones was reconfirmed by the Assembly of Catholic Bishops of the Holy Land on November 10, 2000, despite the stones not being a relic. The Vatican Treasury granted the display of its official Jubilee 2000 emblem on the Nativity Stones Collection. A plaque in relation to the Nativity Stones was also dedicated at the Vatican by Camillo, Cardinal Ruini.
I treasure the Nativity Stones Cross which was so kindly given to me. It is precious and has now been blessed. This cross, with its little stone right in the middle, means more to me than the relic of a saint ever could or would, because this little stone, in all its silence, forlornness and humility, may actually have experienced the Divine Light and witnessed the birth of Jesus Christ – the only-begotten Son of the Almighty Father and Savior of mankind.