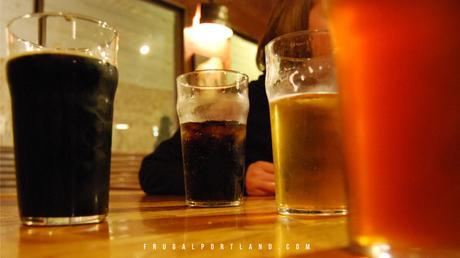 Photo by Sergio Ruiz
I just bought my brother a whisky advent calendar, so he gets to countdown the days to Christmas with a new kind of whisky every day. I thought it might be fun to put together a local Portland Beer ADVENTure. If you're in the Christmas Beer spirit, here are 22 Oregon beverages for you to try around town:
DECEMBER 3RD:
This dark winter ale is malty and strong, and typically available in stores around town. Grab a six pack or head to the Deschutes Public House in the Pearl District for a pint.
DECEMBER 4TH:
Ex Novo Brewing: Damon Stoutamire
Ex Novo is a non-profit brewery that serves up some of the tastiest brews around. Stouts are great winter drinks, so check out this stout named a former beloved Portland Trailblazer. It is basketball season, afterall!
DECEMBER 5TH:
McMenamins is an Oregon institution, kicking of the craft brewery movement in Portland over 40 years ago. While you can't get their beer in stores, there are 65 McMenamins Brew Pubs all over. A Rubinator is a combination of two of their flagship beers: Terminator Stout and  their raspberry-flavored Ruby Ale. They go together quite delightfully.
DECEMBER 6TH:
Breakside Brewing: Flagship IPA
IPAs might as well be the official beer style of Portland, and nobody does the bitter, hoppy brew better than Breakside.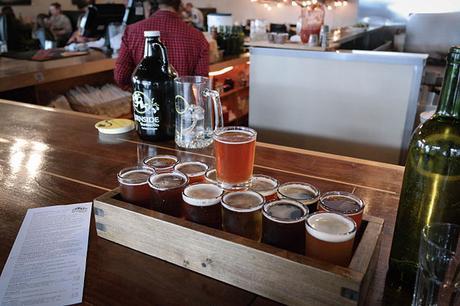 Photo by Visitor7 (Own work)
DECEMBER 7TH:
Stormbreaker Brewing: Total ReKolsch
Okay, okay, after all those dark, heavy beers, it's time for something a little more refreshing. North Portland's Stormbreaker Brewing on Mississippi Avenue has the best German-style Kolsch ale in town.
DECEMBER 8TH:
Bridgeport Brewery: Bear Hug Stout
Cherry chocolate stout? Sign me up, please. This winter warmer is like a heavy embrace in a glass.
DECEMBER 9TH:
Reverend Nat's: Revelation Newtown Pippin Cider
Cider break! Reverend Nat's Cider is at the cutting edge of the craft cider movement. Their Newtown Pippin is a dry and delicious change of pace from all the beer you've been quaffing. Check out their taproom in Northeast Portland for a crazy delicious selection of ciders.
DECEMBER 10TH:
Hair of the Dog Brewing Company: Adam
Big, bold with a ton of alcohol (10% ABV!) Adam is the brew that but this Central Eastside brewery on the map. Take it easy with this one, but it'll bring you Christmas cheer in spades.
DECEMBER 11TH:
Alameda Brewing: Irvington Juniper Porter
Stouts and porters are like cousins in the flavor department, and both are perfect winter beers. Stop by Alameda Brewery for a glass of their dark, delicious porter and maybe head over to Pips for a few made-to-order doughnuts to polish off a delicious day.
DECEMBER 12TH:
This Hood River brewery brews their seasonal winter ale only 90 days out of the year. And sometimes (like this week!) winter gets the better of the route to Hood River, making getting there impossible. Lucky for us, Full Sail distributes their tasty ale throughout the city.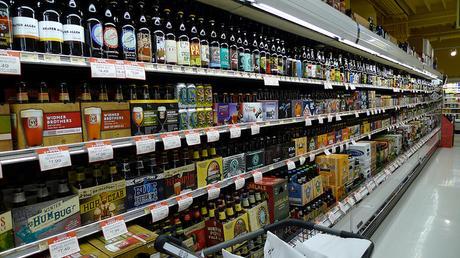 Photo by Ewan Munro
DECEMBER 13TH:
Once upon a time, this Sellwood brewery was a Philly cheesesteak restaurant with a brewery in the back. The owners must've wised up because they're featuring their delicious beer front and center, now (they still do have the cheesesteaks if you're jonesing for a sandwich). It doesn't get much colder than the Baltic states (I should know, my dad is from Latvia!). If this stark, dark Baltic porter doesn't transport you to the Arctic circle, you must have ice in your veins!
DECEMBER 14TH:
Lompoc Brewing: 8 Malty Nights
For the last night of Chanukah, check out Lompoc's delightfully malty American porter.
DECEMBER 15TH:
What would a holiday in Oregon be without a local wine? This winery in Roseburg has a tasting room in North Portland, and it's a party every Tuesday where you can eat free pizza when you order wine!
DECEMBER 16TH:
This brewery lives at the southern end of Mississippi Avenue in North Portland packed into a warehouse-looking building. But step inside and prepare to be bowled over by their very Northwestern beer selection. Their winter seasonal this year is Frosty Leo, an English-style winter warmer for our rainy season.
DECEMBER 17TH:
Hopworks Urban Brewery: Abominable Winter Ale
Sustainable brewery Hopworks has some of the best seasonal beers in Portland. Their Abominable Winter Ale is a strong (7.3% ABV) ale with great balance. It's like a Christmas present 10 days early.

DECEMBER 18TH:
Portland U-Brew: Whatever's on tap!
If you're looking to brew at home, Portland U-Brew in Moreland/Sellwood has all the supplies you need. But they also have a fun little taproom where you can sample some nanobrew beers only available here!
DECEMBER 19TH:
Rogue: Santa's Private Reserve
A double-hopped red ale punches up the bitterness without laying you out on the alcohol.
DECEMBER 20TH:
Groundbreaker Brewery: St. Denny
You can find this Gluten-free brewery in Southeast Portland, so the gluten averse can enjoy real beer brewed to be delicious and a great menu featuring gluten-free sandwiches and pizzas. Their St. Denny seasonal ale is brewed with roasted chestnuts. You can't get a more Christmas beer!
DECEMBER 21ST:
Cascade specializes in sour ales, which are usually quaffed in the warm months. But after all these heavy, dark beers it's about time we lightened up with crisp, refreshing sour.
DECEMBER 22ND:
Double Mountain: Fa La La La La
Another Hood River entrant (though they're opening a pub in Woodstock), their winter seasonal bucks the dark ale trend and serves up a strong Pilsner with citrus and pine notes.
DECEMBER 23RD:
10 Barrel Brewery: Pray for Snow
Oregon beer-lovers cried foul when Anheuser-Busch InBev bought this Oregon brewery, but they still churn out a decent pint. Their Pray for Snow winter ale is proof.
DECEMBER 24TH:
Twas the night before, and it's going to be cold. Swap out a cold beer for a hot toddy cocktail at the NE Alberta joint. They serve it with mashed-up ginger and cayenne pepper for the extra warm-up!
There are many more amazing winter-time drinks in Portland, too. What are some of your favorites? Maybe you can create your own Portland Beer Advent Calendar.