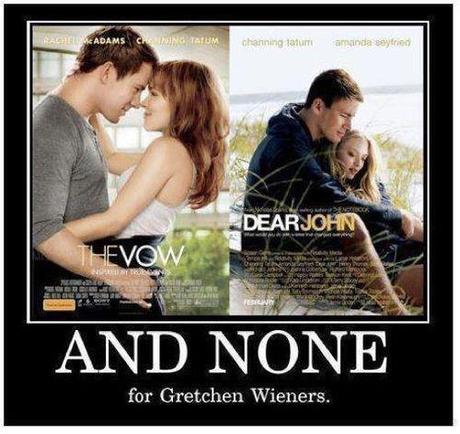 The only funny/entertaining thing to come from this movie
Have you seen the trailer for "The Vow"? If you haven't, go watch it. But, be warned, you may vomit.
In the film, a loving couple's lives are destroyed after a car accident gives the wife amnesia therefore the husband must make her fall back in love with him. "The Vow" has all the ingredients for the perfect, cringe-inducing romance movie: a stunning couple, their flawless relationship, and a tragic incident that tears them apart. The only thing it seems to be missing is that it isn't based off of a book by Nicholas Sparks.
Romance movies are, to put it lightly, just not my thing (full disclosure: I do have a soft spot for "When Harry Met Sally" but really, who doesn't?) I hate how generally unrealistic they are, how they portray people as goon-eyed love freaks, how sappy they are, and how there is such an element of drama.
I am not against the fantasy of films. I think that movies are a great escape from reality and that they all create idealistic worlds. But romance movies take that idea too far. They create an entirely new universe, one that I don't wish to be a part of.
I do not want to be written a letter every day. I do not want somebody to show up at my door confessing their secret desire for me. I do not want to be woken up at 3am with a boombox playing a stupid song. And I most definitely do not want to kiss in the rain. I prefer to stay dry, thank you very much.
So please, Hollywood, can we make a deal and stop making these horribly cheesy, unrealistic romance movies? Let's start showing the funnier aspects of love and life, the most reasonable things that happen that people can relate to. Let's erase this genre of movies that seem to always require a box of tissues and chocolate. I surely will not miss them.