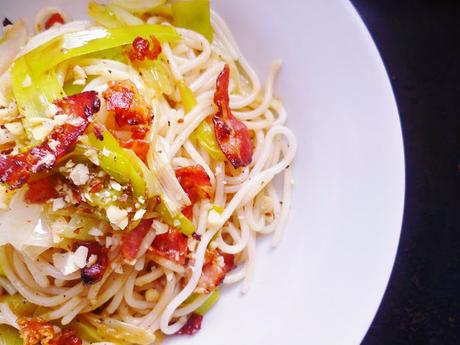 spaghetti with leeks, parma ham and hazelnuts
Have you ever seen a recipe on a website, or while flicking through a cookbook or magazine and thought, I must cook that? And have you, despite modern technology, mobile internet, digital cameras and other technical fol-de-rols, failed to make a note of it, instead relying on your memory and an ability to substitute those ingredients you haven't got or that are hard to come by? So what happened? Did it turn out as expected, or like me, did it turn out that you had substituted every ingredient such that the recipe was unrecognisable and sadly just not terribly exciting.

No? Oh well, just me then.
I'd seen a recipe in a cookbook at a friend's house. I hadn't bothered to make a note of it (nothing wrong with my memory, is there?) Cooked the dish from memory and felt distinctly underwhelmed. It was only when I'd popped round to see my friend again and managed to track down the cookbook that I realised that what was missing was the entire recipe. I had got the whole thing completely wrong!
I was trying to remember what had originally piqued my interest. The photograph? No, there wasn't one, despite some of Chris Terry's usual mouth-watering pictures. What had snared my attention was the simplicity of the recipe and the paucity of ingredients - buttery leeks, parma ham, balsamic vinegar and hazelnuts served up with spaghetti, and of course a few well-chosen words from author Lyndsey Bareham in her 2014 One Pot Wonders. I loved the idea of seasoning the dish with the fat and salt from the ham and a splash of balsamic. It really is utterly divine.
I've adapted this merely by using dried spaghetti rather than fresh. Who knows whether this is controversial or not, but in the case of anything other than stuffed pasta, I prefer my pasta dried and egg-free . . .
Adapted from Lyndsey Bareham's One Pot Wonders
 
Serves 4
Skill level: Easy
ingredients:
2 trimmed leeks, about 300g
8 slices Parma ham or similar cured meat
100g butter
450g dried spaghetti
lightly salted boiling water
2 tablespoons of balsamic vinegar
50g chopped hazelnuts
a fresh thyme or torn basil leaves, to serve (optional)
freshly ground black pepper
directions:
Cut the leeks in half and then lengthways (about 8cm long). Finely slice.

Cut the parma ham into strips, about the same length and width as the leeks.

Cook the pasta in lightly salted water according to the packet instructions (usually about 10-12 minutes). While the pasta is cooking, melt the butter in a large heavy-based frying pan and quickly stir-fry the ham (about 10 seconds) before adding the leeks. Cook over a low heat until the leeks have softened (about 8-9 minutes).

Drain the cooked pasta and return to the saucepan. Add the buttery ham and leek mixture together with the balsamic vinegar. Toss lightly to combine well.

Serve with a sprinkling of chopped hazelnuts, a little black pepper and a few torn herbs, if using.