El Nido has four island hopping tours (A, B, C, and D) with a standard rate of Php700, 800, 900, and 700, respectively. Rates are inclusive of lunch.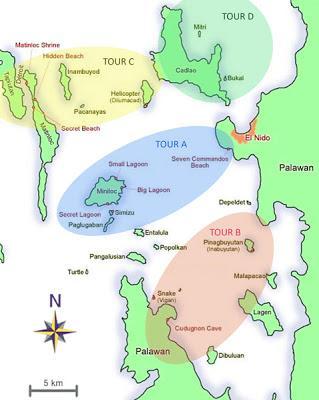 Click to enlarge (Source)
Two days were all we had for island hopping. We decided to take tour A first and tour C on the second day. Both tours were booked thru Telesfora.
Tour A will visit three lagoons (lagoons with very creative names: small lagoon, big lagoon, secret lagoon), Simizu island, and Seven Commandos Beach. The tour is from 9AM to 4PM.


Small Lagoon

To get to the small lagoon, one has to swim and pass through a space between rocks. It is mostly shallow going to the small lagoon but better bring life jackets for it can get deep in the lagoon itself. Watch out for the fish, even the small ones can get vicious — some of us got bitten several times.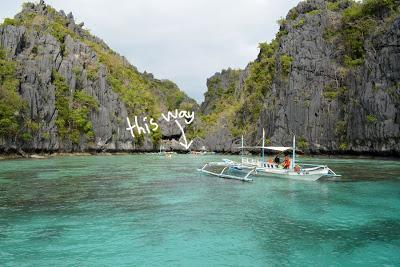 The small lagoon is beyond those karst walls
(Photo credits:  Dennis Unchuan)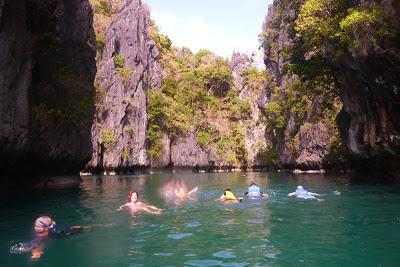 Even the small lagoon is too wide for the camera's lens(Photo credits: Paupau Alvarez)
Secret LagoonThe only way to get to the secret lagoon is through a hole. When you find the secret lagoon, take a look at the towering walls and spot the Last Supper. By the secret lagoon is a beach.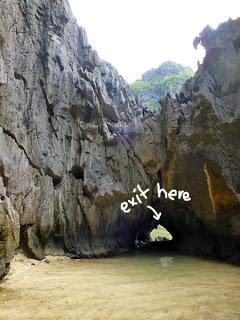 Only way in and out of the lagoon(Photo credits: Carla Adlawan)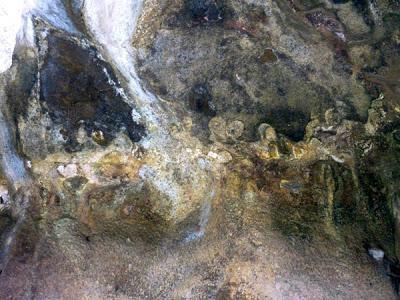 Can you see the Last Supper?(Photo credits: Carla Adlawan)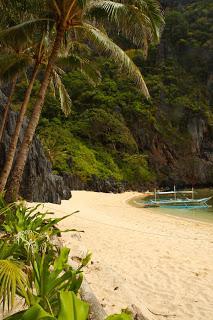 The beach outside the secret lagoon
Lunch at the beach
We had lunch on the beach next to Miniloc Resort's beach. Our lunch spot was a small patch that we had all to ourselves. Our boatmen prepared lunch of veggies, pork belly, rice, fish, fish, and fish. A huge lunch for the troop.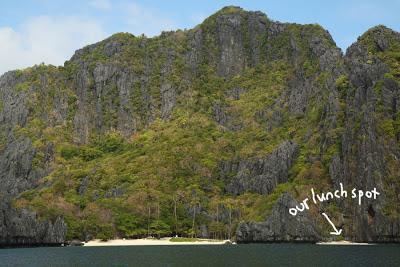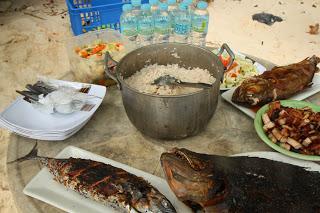 Bunch of lunch
Simizu IslandWhere is it? We skipped it. It's a snorkeling spot, that's all I know.
Big LagoonThe tide was low and all of us were asked to stand

o

n the boat's bow to avoid letting the rudder scrape the seafloor as we entered the lagoon. It was indeed big. We decided to forgo dipping in the lagoon and only went around the big lagoon in our boat. Again we stood on the boat's bow as we exited the lagoon... we did the job — we scraped the bow and not the rudder. :-D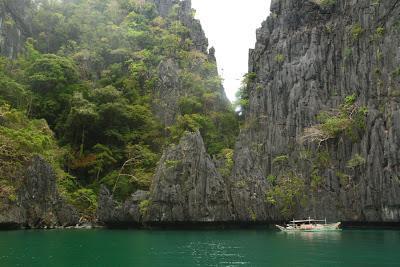 Just 1/15th of the big lagoon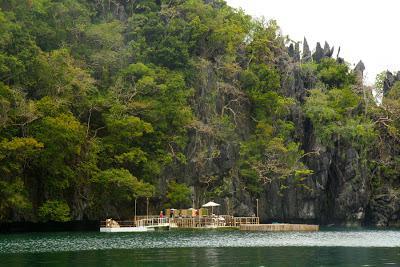 Don't know if this is a private bar or what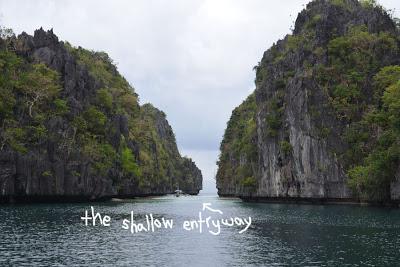 Careful with your rudder as you enter and exit the big lagoon(Photo credits:  Dennis Unchuan)
Seven Commandos BeachThe beach with a bar of overpriced drinks was our last stop for the day. I think it was everyone's last stop. It got pretty crowded. Seven Commandos Beach is a long stretch of fine white sand. If you want to know why it was named such, google it. There are different versions to the story and I have no idea which one is correct.



These photos do not do justice to the lovely lagoons and beaches of El Nido. In this tour, my favorite would have to be the big lagoon. It was quiet and calm in the big lagoon.
We wouldn't have gotten to these places without our three excellent boatmen. Because they were kind and never hesitated to lend a hand, we requested for the same boatmen for the next day's tour (tour C).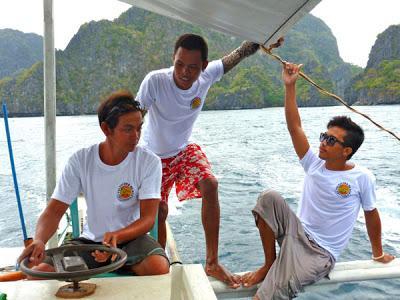 The excellent boatmen: Jun, Gilbert, Jobert
(Photo credits: Carla Adlawan)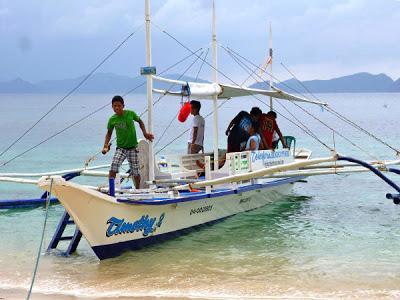 Our boatmen and their friends hanging out in our boat during our stop at Seven Commandos Beach (Photo credits: Carla Adlawan)


Puerto Princesa and El Nido:


Puerto Princesa: Zzzzs, Wheels, Meals
Vietnam in Palawan
The Gypsy's Lair
Puerto Princesa Underground River
Welcome to El Nido
Telesfora Beach Cottage in Corong-corong
A Perfect Day for Lagoon Hopping (you're here!)
and more soon!