The arrival of October marks a turning point in the garden for me – the daylight hours are slipping away and all my favorite plants and flowers are showing signs of retreating into their winter slumber – there are still warm days to savour and plenty of late color though, so it is not quite time to talk of winter yet.
In many ways October is a month of two seasons for me. Here in the UK we are most certainly in autumn with all the beauty that this season brings. Towards the end of the month however, we fly off to Florida for our last summer holiday of the year. Much of our family live in Florida, so this late holiday is very much a family time with the bonus of ending the month in soaring temperatures.
As the nights draw in, the leaves begin to turn and the evenings are getting decidedly chilly, these are the things I will be looking forward to this month!
Spending Time With Family In Florida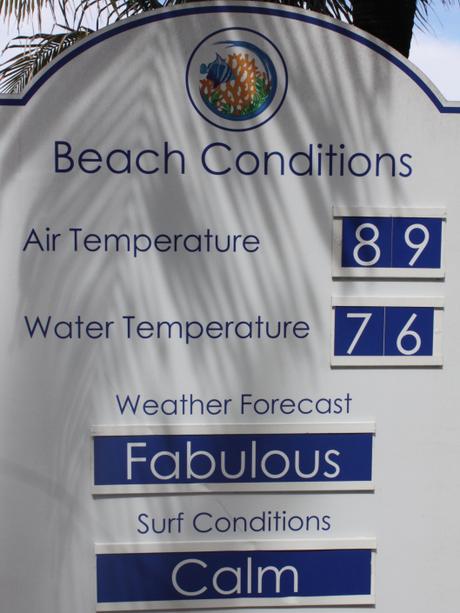 Our annual trip to Florida usually happens in late October to coincide with the half term school holidays. It is a chance catch up with family, make the most of my two young nephews, wake up to a stunning ocean view and enjoy the last summer days we will see for a while.
Making The First Pie
October is a fabulous month in the kitchen! With the Aga back on again (hurrah!!)  hearty soups, stews and roasts are back on the menu and it is time for a personal favorite of mine – baking a savoury pie. On a cold dark October evening there is nothing to beat cutting into crisp pastry encasing a delicious slow cooked filling.
Lighting The Woodburner
Speaking of cold dark evenings, October is the month when we will start to light the wood burner again as dusk settles around the house earlier each evening. The wood stores are full and I am looking forward to cosy evenings tucked up with a hot chocolate and a good book. It is not just my fire that I love – there is also the smell of other folks chimney's and the cosy sight of whisps of smoke escaping from chimney pots as I peek out on chilly mornings.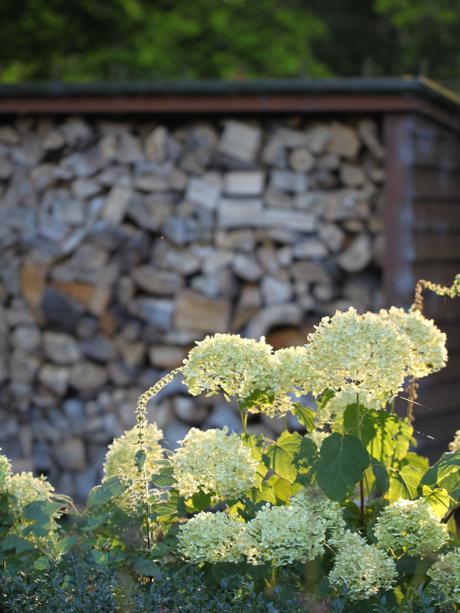 Planning My Winter Containers
I love planting up containers for winter! After layering up lots of lovely bulbs – tulips, hyacinths and finally a layer of early spring iris or crocus, I like to add lots of winter greenery in the form of tiny ivy, skimmia and green and white euonymus plants. As I cannot resist adding a few flowers there will be cyclamen and pansies in various shades.
Pumpkins
After a childhood spent in Canada, pumpkins and Halloween are the first things I think of when October is mentioned. We will be 'Trick or Treating' with our young nephews in America on Halloween this year, but that does not mean that I will be forgoing pumpkins in the UK. These are one of my favorite crops to grow and they will all be harvested in the first week of October, left to dry outside for a few days after cutting and then brought inside to be used for soups and as a roasted vegetable side dish to complement those winter pies and casseroles.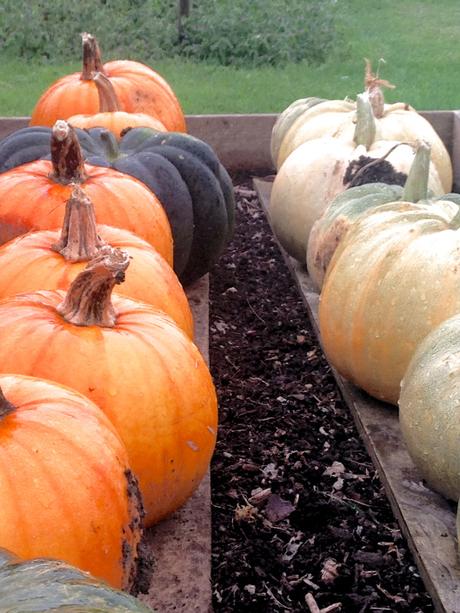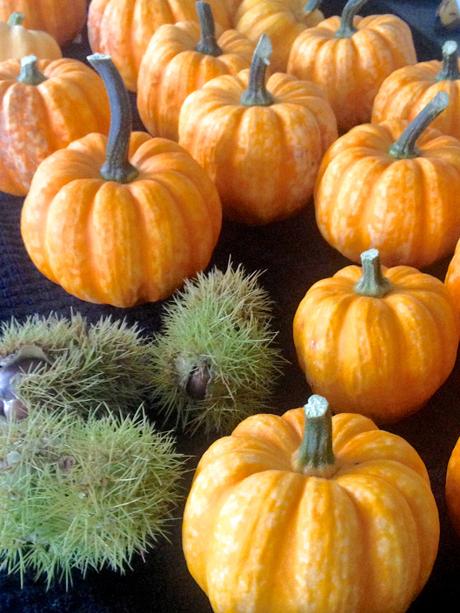 Bringing In The Beetroot Crop
In October I harvest the last of the beetroot and use it as a roasted vegetable or in a beetroot & red onion relish to accompany sausages and roasted pumpkin.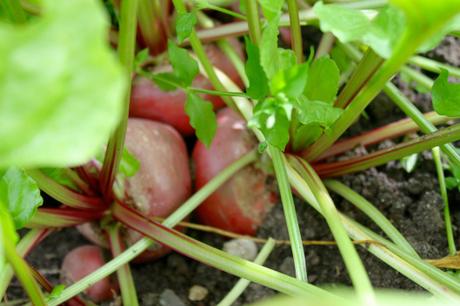 Falling Leaves
As the leaves start to fall I love the feeling of dishevelment that takes over the garden. Having struggled all summer to maintain control I now relax and let the garden do its own thing. Beautiful leaf colours, the last burst of dahlias and roses, cosy evenings after hot days – what is there not to love about October?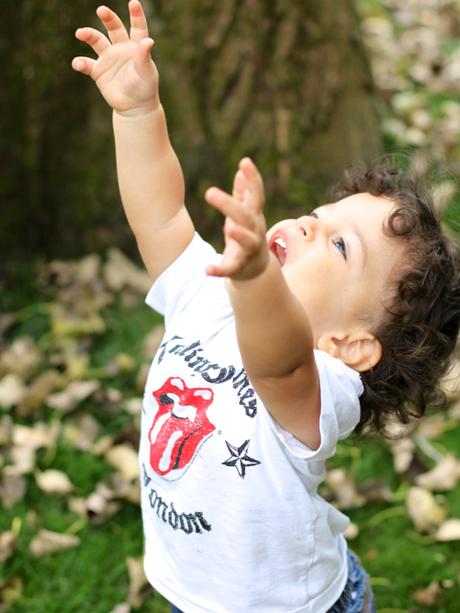 Pears
Although we have already eaten quite a few pears, the bulk of the crop ripens in October. I will wrap some in newspaper to be stored in the potting shed, but the rest will be eaten raw with yogurt for breakfast and in lunchtime salads, or poached as a luxurious dessert.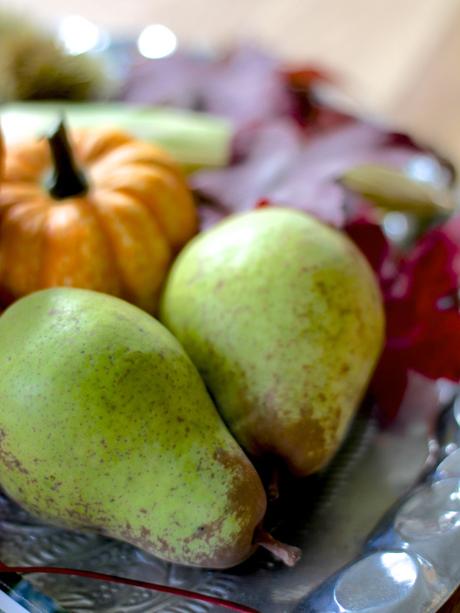 The Cutting Garden Grand Finale
After literally months of flowering the dahlias pump out their last flourish in October. There is something about the light in October that just suits dahlias – the colours are deeper and the shapes stand out against the slightly ragged foliage in the rest of the garden. I will be making the most of these magnificent flowers this month, before cutting them to the ground in November when the garden is 'put to bed'.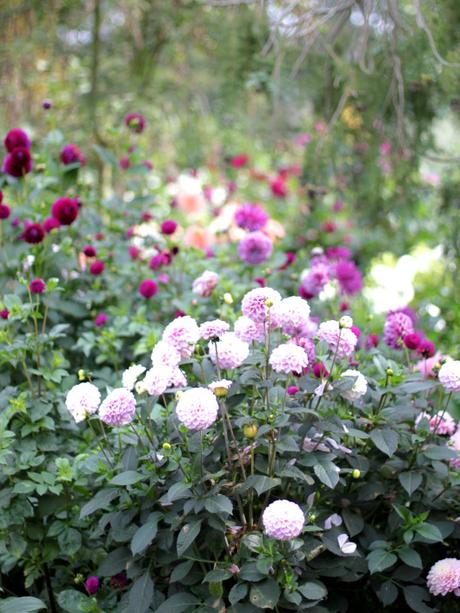 Bulb Planting
I have a passion for autumn bulb planting. There is something life affirming about wrapping up on a chilly morning and heading out with a wheelbarrow full of narcissi bulbs to plant for spring flowers. When I moved here just 6 years ago spring bulbs were in short supply – every autumn I aim to plant more bulbs, so I hope that soon our garden will be a spring delight with beautiful narcissi bobbing in the breeze followed by ranks of stately tulips and stunning alliums.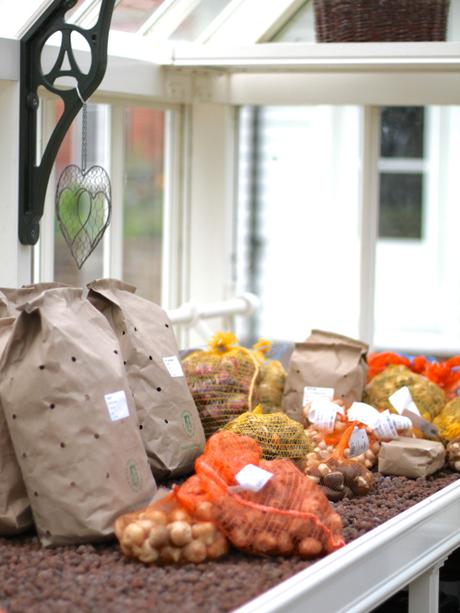 Dare I Mention the 'C' Word?
With Christmas only 12 weeks away, October is when I start my first preparations for the festive event. I am not talking about anything major – just soaking the dried fruits I will be using in a sugar syrup and brandy mix, making the first jars of mincemeat whilst the apples are still fresh, starting a present box so that I am not faced with too much shopping in December and rooting out last years left over wrapping paper, cards etc to start preparing 'operation Christmas'.  A little gentle preparation in October leaves me with much more time to enjoy all the lovely events that go on throughout December.
Autumn Walks
Autumn is just the best time of year for long walks collecting seed heads, conkers and berries. Summer in the garden is so busy it is often hard to find time to get out and appreciate the countryside beyond my garden gate, but after the flurry of bulb planting is over the emptier autumn days open up with possibilities – walks, pub lunches, maybe even a trip to the seaside.
Time To Read Again
I know that many of you will think me mad, but I actually like the dark evenings. Being forced to come inside at an early hour gives me lovely long evenings to pursue other interests, in particular reading a good book whilst sitting by the wood burner. My recommendations from my September reads would be The Truth About The Harry Quebert Affair if you like crime novels and Letters To The Lost if romance is more your style. I am now looking for some good books to take on holiday – although with my nephews around there will not be much chance to read – other than Dr Seus of course!
I hope you have enjoyed reading about my favorite things to look forward to in October – do let me know what yours are! Also don't forget to leave a comment on my September Cutting Garden Review if you would like to be entered into the draw for 3 packets of Sarah Raven hardy annual seeds – I will be announcing the winner tomorrow evening.