notloB Parlour Concerts presents...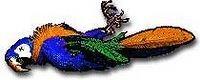 A NOVEMBER DOUBLE-HEADER
Both concerts presented at the historic 
Loring-Greenough House, Jamaica Plain
Becky Tracy and Keith Murphy


http://blackislemusic.com/


Becky and Keith are dynamic performers of traditional music from Newfoundland, Quebec, Ireland, France and beyond. Tracy's fiddling pulses through tasteful arrangements of dance tunes and resonates with beauty on traditional slow airs. Keith's gentle and expressive singing in English and French is balanced by the drive and power of his guitar playing and foot percussion. Combined, they produce a range and richness of sound that is striking for a duo. 

 Their playing is seamless, the result of years of playing together and touring across the U.S., Canada and in Europe. Their repertoire also includes Keith's original compositions (many of which are included in the Black Isle Music tune collection). He is a prolific tunesmith with a writing style strongly based on traditional dance music. Keith and Becky were two thirds of the popular Vermont trio, Nightingale and are veterans of several other bands including Childsplay and Assembly (Keith) and Wild Asparagus (Becky). They can be heard on recordings of all these bands and many others. Becky released her first solo recording, Evergreen, in 2001. Keith's album, Bound For Canaan (traditional songs from Eastern Canada and New England) was released in the summer of 2005 and he has recently rededicated himself to his work as a solo performer.
Keith Murphy
A native of Newfoundland, Keith's traditional song repertoire is based in Eastern Canada and Quebec as well as his current home, Vermont. His direct and intimate style of traditional singing in English and French infuses old ballads and songs with a powerful immediacy while his rhythmic and percussive finger style of guitar playing brings new shape and color to his songs. His 2005 album, Bound for Canaan showcased his refined sense of balance between innovation and tradition.
Keith was a founding member of Nightingale, a trio which broke new ground in its sophisticated approach to traditional music. He is a mainstay of the Boston fiddle extravaganza, Childsplay and has also worked extensively with Tony Barrand on the song repertoire from the early twentieth century of the Atwood family from Dover, Vermont. He also appears frequently with his wife, fiddler Becky Tracy.
Keith is an accomplished composer and arranger in the realm of traditional music and has also composed for theater and film. He is a featured performer on well over a dozen recordings and a guest musician on numerous others.
Becky Tracy
Becky Tracy has dance music in her blood. Her grandparents were active in the dance scene around Boston in the 1930′s and were involved in the early years of NEFFA (New England Folk Festival Association) – still an important institution in the New England dance scene. Becky's parents met through dancing and were leaders of community dances for many years.
Becky herself began playing for contra dancing in Maine, bending her early classical training to the demands of dance music. Later, she studied Irish fiddling styles with Brendan Mulvihill and Eugene O'Donnel and French Canadian fiddling with Lisa Ornstein. She brought things full circle when she appeared as the featured soloist with the New Hampshire Symphony Orchestra in their performance of Evan Chambers' Fiddle Concerto.
All these elements combined to give Becky her distinctive clarity of tone, a rhythmic attack owing much to French Canadian playing and the melodic quality of Irish music. Her sound is unmistakable. She has been a defining presence in some of the most popular and innovative contra dance bands to come out of New England, being the fiddler for both Wild Asparagus and Nightingale. Becky is featured on recordings by both these groups. She has performed for dance events and concerts in about 40 states across the US, as well as Canada and Europe and is a popular fiddle teacher at summer music camps. Her solo recording, Evergreen from 2001 is an album of haunting beauty, intimacy and exuberance.

======================
Welcome back, Mike+Ruthy!
http://mikeandruthy.com/

As a duo Mike + Ruthy have refined their sound down to the very core of acoustic American music, demonstrating an uncommon ability to create songs as lyrically sophisticated as Bob Dylan or Leonard Cohen and as harmonically beautiful as Gillian Welch & David Rawlings or Simon & Garfunkel. With their arsenal of fiddle, banjo, guitar, ukulele and their hallmark harmony singing, a Mike + Ruthy concert is overstuffed with soulful songs and stories and a timeless sound that is s pellbinding and pure.
Over a decade of touring has taken them worldwide where they've performed well over a thousand concerts in listening rooms, living rooms and festivals as well as performances at NYC's Carnegie Hall accompanying Arlo Guthrie in 2005 (with their former band The Mammals) and Madison Square Garden as part of Pete Seeger's 90th birthday celebration in 2009.
2012 will see Mike + Ruthy's 4th release entitled The NYC EP featuring the premiere recording of "My New York City" a beautifully revived Woody Guthrie lyric from the Woody Guthrie Archives. The song will also be included on "My Name is New York," a 4-CD compilation being issued by Woody Guthrie Publications including new recordings by Pete Seeger, Arlo Guthrie, and Bob Dylan and more.
Mike + Ruthy are on tour in 2012; with a springtime CD release tour and another national swing in the fall.
"The essence of American music . . . this summer's must-hear acoustic album." - Performer Magazine
"Quite a few folks have done this 'set-Woody's-lyrics-to-music thing' over the past couple decades. I'm not sure anyone's ever done it better than this." - Peter Blackstock (co-founder of No Depression)
"Extraordinary . . . some of the most exquisitely expressive vocals you will hear in the roots music field" -AmericanRootsUK.com
"Mike + Ruthy are carrying the torch for simple, heartfelt acoustic music . . . the rustic kind without any smoothing out of the edges with a direct line back to the Carter Family via Woody Guthrie, Hank Williams, Bob Dylan and even the Byrds" - Maverick Magazine, UK
"Mike + Ruthy have become a force to be reckoned with in the acoustic music world, and [The NYC EP] proves their mettle . . . Bold banjos rule, fiery fiddles run wild, and an expansive sound that threatens to raise the rafters prevails." – The Daily Freeman"
"There's perhaps no better way to summarize the lasting impact of Woody Guthrie's music than to note the quality of the very newest music being made with his words. Husband-wife Mike and Ruthy Merenda got the lyrics to "My New York City" from the Guthrie archives and set it to one of the most gorgeous melodies ever to accompany one of Woody's songs. It came out in April 2012: Brand new right now, it's destined to become a classic." - eMusic's 20 Best Woody Guthrie Songs (Sung By Other People)
"Mike + Ruthy channel Woody Guthrie." - Journal & Courier
"The first couple of folk rock." - Radio Free Americana
"Everything else starts from music like this." - AmieStreet.com
"Infectious new folk rock" - Boston Globe
"Seemingly descended not just from one famous folkie, but the entire folk tradition itself." - Willamette Week
"Some of the best songwriting of their generation - literate, political, melodic, alternately angry and satirical and sensual." - Michael Simmons

======================Coffee from JP Licks
Pastries from Fiores
Both concerts are the same suggested donation, $14-19 (less 20% discount for JPTC members) +$1 preservation fee 
reservation requests to notlobreservations at gmail dot com
notloB website -
https://sites.google.com/site/notlobmusic/
"Like" our 
Facebook page 
Sign up for our
newsletter
(you will receive a confirmation email which needs to be accepted).