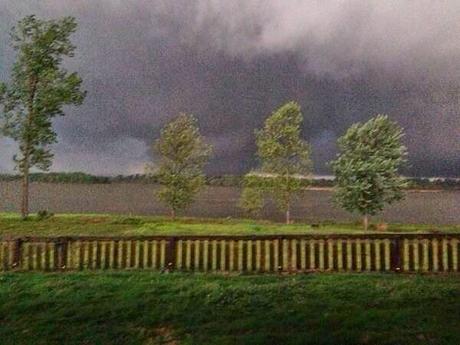 And, finally, the recent devastating storms in my neck of the woods: I hadn't planned on posting about them, since what can I say except that Steve and I and our friends and loved ones are fine, but (as you know) just up the road from us, many people have experienced terrible destruction, with loss of life? I always feel . . .  eerie . . .  about expressing gratitude when I evade a disaster that inflicts damage on others. But, of course, I am grateful that we escaped harm, and I thought I might write a note about the storms since several of you left comments here asking how we were doing, and a number of you sent emails to ask about us — for which I was very grateful.
Since we live within the city of Little Rock, through which the tornadoes did not pass, we had only the experience of being made anxious for much of the night by blasting sirens and warnings on television and via our cell phones to take immediate shelter, since a tornado had been spotted in our area. By watching the news and paying close attention to online reports, we realized that the tornadoes that had been spotted on the ground were to the north and west of the city, and we hoped that we were safe, though one of the dangers never to be forgotten when cyclones are brewing up is that one can brew up immediately just in your vicinity, and you may be the very first victim of it, before anyone else has time to spot and report it.
I had known for a number of days, of course, that forecasters were predicting a dangerous outbreak of tornadoes late in the day on which the tornadoes came through here, since the conditions were shaping up to be ideal for such an outbreak. Having grown up in tornado alley, I take such predictions seriously, and I've learned to heed a kind of electric prickling in my nervous system and bones, which tells me that unsettled weather (tornado weather) is close at hand.
Steve grew up in northern Minnesota where tornadoes are much less frequent, and he lacks this somatic pre-warning system, and is (as far as I'm concerned) less alarmed than he perhaps should be, when tornadoes are nearby. We spent a good bit of Sunday, in fact, with the family of a distant cousin of mine who lives north of Little Rock in the town of Maumelle, less than 10 miles from the area devastated by the storms. We had invited my cousin Bill, his friend Mary, and Bill's mother to lunch, and then went back to their place for dessert, watching the skies all the while as we had coffee and bananas Foster and talked about the possibility of bad weather.
And then the cyclones hit, and as you know by now, they were horrific, more or less obliterating several small towns just to the north of Little Rock, one of which had been hit by a tornado only a few years ago. The storms on Sunday were particularly brutal ones, both due to their size and their ferocity. Those most at risk in any tornado are those with the most insubstantial housing — mobile homes, in particular, are very dangerous places of refuge during tornadoes — but the storms of this past Sunday were so strong that not even well-constructed houses shielded some folks who took shelter in them.
I do think that the loss of life would have been greater had we not had good early-warning systems. It really helps that the National Weather Service now transmits warnings via cell phones, when a tornado has been spotted, though, again, people who don't have access to cell phones don't receive such warnings — and that's to say that, as in so many other aspects of life, it's often the people at the bottom of our social and economic ladders who bear the brunt of events like Sunday's tornadoes in my region.
The graphic: a photo of last Sunday's tornado approaching Mayflower, Arkansas, by Rob Haynie, by way of the Forbidden Hillcrest Facebook page.