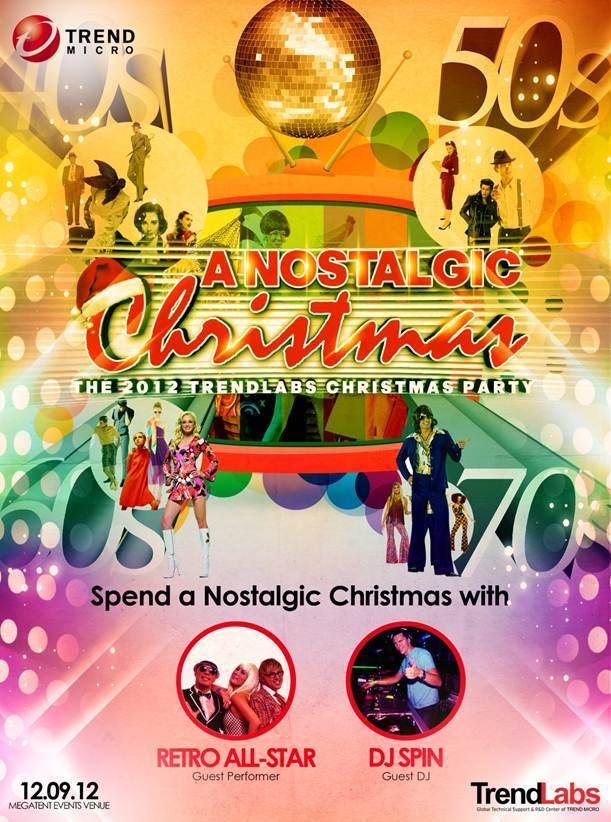 Nothing beats 4-peat! Every year here in TrendLabs Philippines one of the most anticipated and awaited part during our Christmas Party is the Department Presentation where in all departments showcase their talents, showmanship and craft according to theme and this year's theme "A Nostalgic Christmas" the Consumer Department (my team) did it again winning a 4th title 4 years in a row.
Our concept is bring the future to the 50′s by incorporating latest gadgets, technologies like iPad, laptops and the very famous and one only leader in "Cloud Security" called "Smart Protection Network" Trend Micro in our winning performance and bring back to life the celebrities, chartered hits of the 50′s like Bobby Day, James Dean, Audrey Hepburn, Marilyn Monroe, Clak Kent a.k.a. Superman, The Chordettes and collaborate with Psy who became famous and most visited or watched YouTube video and hit single "Oppa Gangnam Style" we mixed it with "Great Balls of Fire", Elvis songs etc.
And now, our winning presentation called "The Consumer 50′s Presentation", uploaded by Aubrey Ann del Rosario via YouTube, performed by 25 selected engineers from 11th floor Consumer Support Services with special participation of our executives from Australia, Japan and Directors/great leaders from the country. Directed by Dense Modesto our choreographer and the man behind for almost all of our wins.
Please watch, enjoy, like and share:
The Consumer 50′s Presentation
All Rights Reserved 2012
16.033333
120.550000