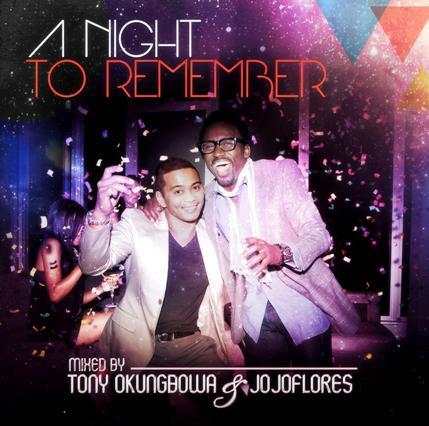 This is a great 32-song compilation put together by DJ Tony Okungbowa and JoJo Flores that highlights some great moments in dance music from the 70s and 80s. The release is available as a 2xCD physical version or digital download. So many good songs it is hard to even get started highlighting them all. Some of my personal favorites included in this collection are "Last Night A DJ Saved My Life", "Double Dutch Bus", "Let's Love Dance" and "Keep On Jumpin'". As you can see, the release does a great job showcasing a variety of sounds from that era, and the common theme is these were all fun to dance to in the clubs.
from the press release:
"A Night to Remember was an opportunity to deliver a DJ playlist to a wider audience, music that we would listen to ourselves," says Tony Okungbowa. "People always ask me, what kind of music do you listen to? What do you like? And this is it. This is the music I love."Jojoflores continues, "This project was a journey through the past for us musically. When we added in France Joli's "Gonna Get Over You" I was flushed with memories of growing up. It's just such a good feeling, so uplifting. I hope our listeners will enjoy the record in the same way and that it will take them on a journey of their own."
A Night To Remember Tracklisting
Disc One
1. Jocelyn Brown – Somebody Else's Guy
2. France Joli – Gonna Get Over You
3. Fat Larry's Band – Act Like You Know
4. Empress –Dyin' to be Dancin'
5. Inner Life – I'm Caught Up
6. D-Train – Keep On
7. Chemise – She Can't Love You
8. Unlimited Touch – Searching To Find The One
9. Gayle Adams – Stretchin' Out
10. Suzy Q – Get On Up And Do It Again
11. Geraldine Hunt – Can't Fake The Feeling
12. Secret Weapon – Must Be The Music
13. J.R. Funk & The Love Machine – Feel Good Party Time
14. Shalamar – A Night To Remember
15. Toney Lee – Reach Up
16. Indeep – Last Night A D.J. Saved My Life

Disc Two
1. Frankie Smith – Double Dutch Bus
2. Nightlife Unlimited – Let's Do It Again
3. The Whispers – And The Beat Goes On
4. Weeks & Company – Rock Your World
5. Bobby Thurston – Check Out The Groove
6. Bombers – Everybody Get Dancin'
7. Carrie Lucas – Dance With You
8. Carol Douglas – Midnight Affair
9. The Strikers – Body Music
10. Gino Soccio – Dancer
11. Gary's Gang – Let's Love Dance
12. Machine – There But For The Grace of God Go I
13. Sylvester – Do You Wanna Funk
14. Musique – Keep on Jumpin'
15. Tavares – It Only Takes a Minute Girl
16. Carol Jianni – Hit 'N Run Lover

Click Here to buy the entire digital album from Amazon for $13.98 or individual tracks for just $0.89 per song.
Click Here to purchase from iTunes. $13.99 for the entire compilation.
JoJo Flores Facebook page
Share