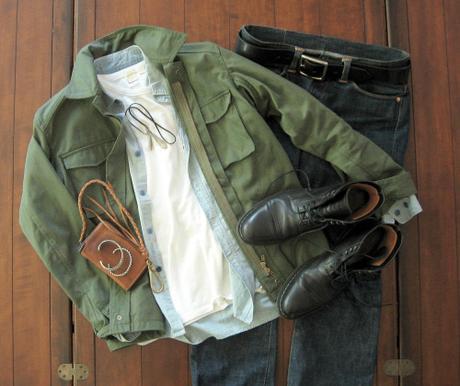 In a recent NY Times article about how army jackets became part of civilian garb, Troy Patterson traces the popularity of the garment back to the youth revolts of the '60s and '70s. "Country Joe at Woodstock, John Lennon at Madison Square Garden, and Jane Fonda on the Free the Army road show all treated costume as commentary," he wrote. "The counterculture kid in Army gear could razz the warmongering machine that had endowed the jacket with symbolic power, and he could honor boys destined to die in their boots, and he could also effectively affect a bohemian pose." Combine this history with films such as Taxi Driver, Annie Hall, and Serpico – where army jackets were central to how the protagonists were portrayed  – and you have the makings of a classic piece of casualwear. 
I recently picked up an army jacket from Niche, which I've been wearing with Stevenson jeans, Chimala chambrays, Barns t-shirts, and Heschung boots. The open chambray shirt helps create a layered look, while things such as the mid-length wallet and silver jewelry serve as accessories. It's an easy, no-fuss ensemble that I can throw on in the morning without doing the kind of shoe brushing or shirt ironing that comes with tailored clothing.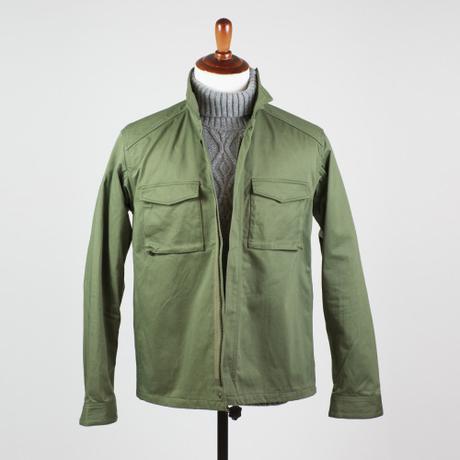 Niche is a relatively young label, although it's founder and designer, Takumi Oomura, is an old hand in the fashion industry. Prior to starting Niche, he worked for fifteen years at Nepenthes, which – as some readers may know – is both a retailer and umbrella company to cult-labels such as Engineered Garments and Needles. Oomura's designs still retain some of that Japanese quirkiness, but they have a bit more South American flavor these days. His designs are often inspired by the traditional garb of gauchos in the Pampas, the colorful landscape of Patagonia, and the small flower shops around Buenos Aires. Some of his floral and Western shirts, for example, have buttons with tiny, embedded flowers from Argentina, where he's spent some time. 
This army jacket is less South American, but it has some appreciable detailing. There's a two-way Talon zipper at the front; a distinctive cross-yoke construction at the back; and a throat latch, which – when fastened back – helps the collar stand up in a rakish way. The shell is also made from an original piece of 1970s military fabric. It's a nice touch that lends a bit of authenticity, even if this is clearly meant to be worn for fashion purposes. 
You can find Niche at No Man Walks Alone this season. The army jacket above is mostly sold out, although they also have a cotton-poly version in blue. For style inspiration, I've included some of Niche's lookbooks below. Whether you can look as good as that Asian model, however, I can't guarantee.