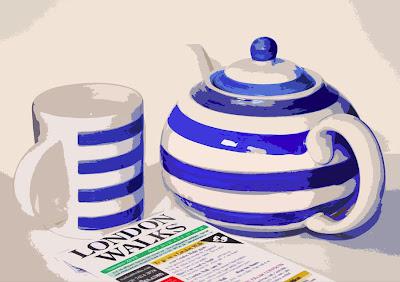 It's 4.00 o'clock (ish) London time, and our search for the Best Tea And Coffee in London, in which we are collecting recommendations from London Walks guides on the best cuppa in town, continues…
That Fiona don't half look after us nice. Yesterday it was shoe recommendations, today she's stirring up the debate on where to get the best tea and coffee in London, with a tip for those who just can't break free of the chains…

"If you must buy tea from a coffee establishment, ask for milk on the side. That way it has slightly longer to brew before being cooled by the milk. Anywhere using a coffee machine for the hot water for tea will produce tasteless bleurgh, because the water is not hot enough. Tea likes boiling water, coffee just under boiling."
Fiona Fiona, a descendant of John of Gaunt, is an actress who also teaches juggling, circus skills and escapology (she made a famous break from the London Dungeon). Fiona leads the Jack the Ripper walk on Saturday afternoon and the Famous Square Mile walk on Thursday mornings.