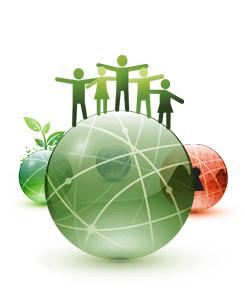 Image source: http://technorati.com
Earlier this month, Cone Communications and Echo Research released a report on the importance of corporate responsibility to consumers around the world that provides some interesting insights.
The findings came from a survey conducted among ten thousand consumers in the United States, Canada, Brazil, the United Kingdom, Germany, France, Russia, China, India and Japan – countries that comprise about half the world's population. In those countries:
93% of consumers say companies must go beyond legal compliance to operate responsibly;
94% say companies must analyze and evolve their business practices to make their impact as positive as possible; and
94% are likely to switch brands to one that supports a cause if both brands are similar in price and quality.
Consumers are looking for impact and expect companies to explain and substantiate their efforts:
59% of consumers credit companies with helping to educate them on important issues;
56% say they have been inspired to support a new issue by information provided by a company that champions it;
36% have researched a company's business practices or support of issues;
93% say they would boycott a company for irresponsibility, and 56% say they already have.
As far as issues that consumers believe are important for companies to address, economic development was tied with environment for the top spot (96% of respondents). Asked to choose just one issue, surveyed consumers clearly chose economic development (34% of respondents).
 "Supporting all issues is expected of any responsible company today – but it's not necessarily differentiating. Consumers are looking for a company to stand for something," explains Alison DaSilva, executive VP of Cone Communications. "Companies who frame their efforts within the larger macro issue of economic development will be most compelling and relevant to consumers. Many issues, from poverty, to women's rights, to education, may be approached in a way that stimulates people, communities and economies."
Consumers also clearly indicated that they consider the need for corporate responsibility to go beyond philanthropy. Thirty-one percent said that the single most important way a company should address social and environmental issues is to change the way it operates. 
At the same time, country-level findings show that there is no one-fit-all approach. Instead, to be successful companies have to customize their corporate citizenship strategies based on where they operate. That means that while consumers expect all companies to have a broad corporate responsibility vision guided by core principles, they also expect particular initiatives to be tailored to local needs based on an in-depth understanding of local markets.
In today's interconnected world, consumers have access to research and information once accessible to few. In this new world, companies can only build their reputation and their business through being transparent and engaged with consumers wherever they are – in other words through being good corporate citizens.