Music ruled in my home in my Wonder Years. Dust, Buffalo, Black Sabbath, Led Zeppelin, Blue Cheer.It was all great then and so diversified. Time portal to 2021.Steven Scavuzzo guitarist extraordinaire of Clouds Taste Satanic brings his diverse, huge talent and love of music to us here for a special conversation
By Mark Partin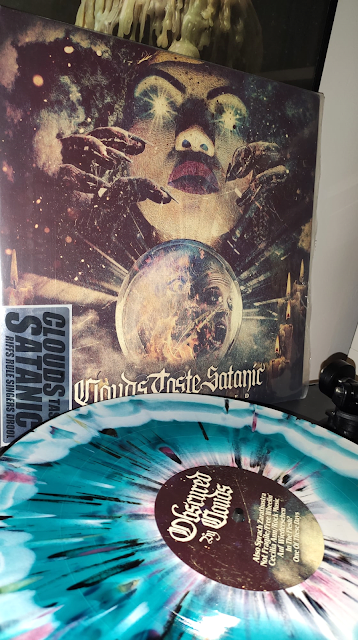 Thanks for sharing the time with us Steve. What music was an influence for you in your youth?
The three most significant influences were Black Sabbath, Pink Floyd and Husker Du.Black Sabbath gave me a love of heavy music, Pink Floyd instilled in me a desire to appreciate more complex music and Husker Du gave me the belief that I could make music.
The band's debut album in 2014 "To Sleep Beyond The Earth" how did you get there from forming in 2013?
Prior to 2013, my musical pursuits were more Post Rock orientated.Godspeed! You Black Emperor was a major influence but the band I was in could not meet my ambitions.During this time I discovered Sunn O))) and Sleep and started to revisit my Earth albums from the 90's.From there it was an easy progression to writing heavy, riff orientated music that didn't follow the usual rules of songwriting.One song that was 40 minutes long with no vocals at all was actually preferable to the standard 5 minutes or less with the focus on the singer.
I hear the likes of Bongripper, Bongzilla, Belzebong, Bong, Pelican, Sleep and Earth at different times in your music but in your own sound. Were they some of your earliest Influences?
Without a doubt.Once entering the world of Stoner/Doom, those bands were seminal and absolute guideposts for going forward.First as a fan, then as a songwriter.It's both interesting and encouraging that such different bands seem to be gathered in one category but it just shows how fertile the genre is.
The live and overall scene in Brooklyn at the time you were starting up, what was it like then compared to now?
If we are talking about the metal scene, Brooklyn has always had a long metal history so there has always been places to play.That has continued but like other musical genres, New York City is a tough place to build a following because there are too many musical and entertainment options with people who can be difficult to impress when they think they've seen it all.That said, a band just needs to work harder when playing live and not rest on any recognition that comes its way.
In November 2020 Clouds Taste Satanic released a stunning four-part 7" set called The Satanic Singles Series that feature covers of tunes that have had a profound influence on the band then and now have released them as an lp called "Cloud Covered"How did you get from start to finish on this stunning project?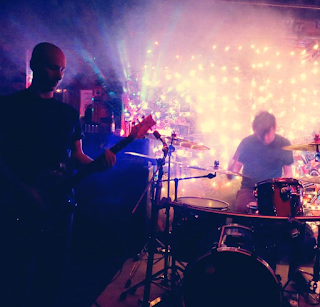 We knew we wanted to do a covers record and started the process well before the pandemic.As we were weighing our options, we realized that doing shorter songs would give us the ability to work in a format that up until that point had been unrealistic, the 7 Inch Single.While we had written shorter original songs in the past, we were at a point in our writing that an 18 minute song was a minimum time length and we were not inspired to write in shorter blocks.We are all vinyl fans and from day one the band mandate has been to put everything we release out on vinyl.Having singles in our collections and having been fans of the Sub Pop Singles Club, we decided to do a series of our own singles that would lead up to the release of the full length album.We always felt that people would be interested in the full length album but were quite unsure how they would take to the singles.Like cassettes, singles are greatly appreciated but not always someone's first choice for purchase.We were surprised and happy at the reception for the singles and even more surprised with the reception the album got.
Unlike so many other talented bands there has been very little band member changes made in 8 years.What do you attribute that to? Introduce your fellow band brothers.
While there has been some changeover, people do tend to stick around for a while.The band is now me, Brian Bauhs on Guitar, Greg Acampora on Drums and Rob Halstead on Bass.Aside from the desire of musicians to be musicians, I like to think that this band gets things done and has goals that are reasonable and achievable, which makes members more dedicated if they believe that the work they are putting into something will actually result in something concrete.I also think that everyone's situation is different and flexibility in the short term means success in the long term.
"The Glitter of Infinite Hell "....I mean wow. Your 4th release in 4 years back on Halloween 2017. It is for me a demonic masterpiece of doom that packs a hell of a punch. Tell us how it came about?
Thanks.It was the culmination of our first three records and the realization that we were meant to create songs that were longer and more complex than what we had done in the past.We also realized that all our projects needed to be as ambitious as we could possibly make them and that we could afford.I hate to use the "go big or go home" cliché, but it has its merits.
"Clouds Taste Satanic", one of the better band names to come around. Group choice or after a good long party someone had inspiration?
My choice at the beginning of the band.I learned from past experience that a band name had to be compelling over a long period of time.I always loved the Flaming Lips record Clouds Taste Metallic and every time I pulled the album out for a listen, I never got tired of the title and was always intrigued by what it meant.I could have gone with that as the band name, it certainly would have made sense for a metal band, but I didn't want people to think that we were a Flaming Lips cover band.I also wanted something a bit more Satanish.
Frank Sinatra crooned in his anthem 'My Way' "Regrets, I've had a few, But then again to few to mention".Anything you might have done differently from what you know now?
I would have started this band in 1999.
Advice to the many many Doom influenced artist's who are just starting out?
Playing in a doom band means never having to be concerned with commercial or financial success.Therefore the sole reason for your band's existence is to satisfy your artistic and creative needs.If that's not why you are doing it, your band is literally doomed.
What's the next project you guys might be working on?
A Double album called Tales Of Demonic Possession.We are recording it in June and July and hope to have it out early next year.I wanted it to be a triple (See Question 7) but cooler heads prevailed.The idea of a triple has not been abandoned, only postponed.
Clouds Taste Satanic's new release can be found on their bandcamp page:
https://cloudstastesatanic.bandcamp.com/album/cloud-covered-2
Youtube: https://www.youtube.com/watch?v=BOdxVEDH5Vo
https://www.facebook.com/100063718443211/videos/851306072382920