Mother's Day is synonymous with fresh flower deliveries, pamper hampers, sweet treats and anything else your dear mother's heart may desire.  It only comes around once a year and, since mom always wanted nothing but the best for you, it's time to do the same for her.
Prestige Flowers has a wonderful range of Mother's Day arrangements ready to be delivered.  Of course, for those who prefer a gift that keeps on giving, a potted plant might make an even better Mother's Day gift.  Cut flowers are beautiful and there are some truly spectacular bouquets available.  However, some of us can't help but feel somewhat sad when we see our once magnificent bouquet start to wilt.  The good news is that a flowering plant will give them the best of both worlds!
Part of the potted plants collection available are Hyacinths, Narcissus, Azaleas, Begonias, Orchids, Muscari (Grape Hyacinths).  Each of these potted plants require a certain amount of care so, before making your selection, it is important to understand the plant's needs.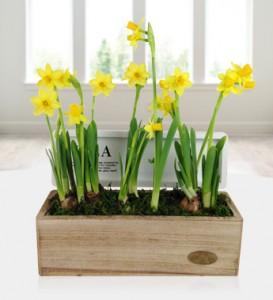 While some plants require fairly humid conditions in order to thrive, others may prefer a fair amount of direct sunlight.  If you intend on giving your mother a potted plant for Mother's Day, it would be a good idea to realistically evaluate the conditions in her home as well as how much time she has to care for the plant.  Pruning, watering and the right amount of sunlight are all essential parts of plant care whether they are indoors or outdoors.
Another important point to factor in is whether or not your mother has any pets.  Certain potted plants can appeal to dogs and cats as a tasty treat but they can also have some negative side effects.  Before placing your plant order, check whether your potted plant of choice is indeed pet friendly.
For any husbands out there who are planning on spoiling their wives for Mother's Day, make sure that the potted plant will have a home far out of baby's reach.  Dirt, flowers, stems and leaves are not the kind of things you want you little one to get their hands on.  Fortunately, there are many places in the home that little ones cannot get to so this shouldn't be too tough at all.