"Every night is a Saturday night in the Gold Coast."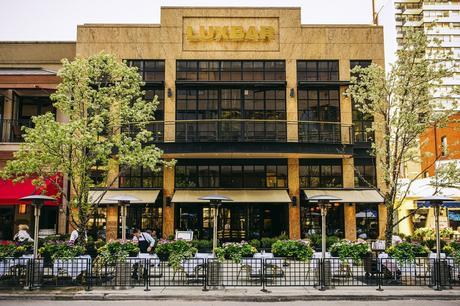 Photo Credit: Timeout
This week, we had one of those days where we just needed dinner. We mean the kind of dinner you remember for days, even weeks afterward.
Our friends at LUXBAR invited us to their beautiful location in the Gold Coast to sample items from their new menu which was rolled out in June, and we were thoroughly impressed. The establishments of Gibsons Restaurant Group never disappoint.
Accompanied by refreshing glasses of rosé from their popular all-day rosé cart, we were treated by an incredibly warm and attentive staff to four courses of amazing flavors fitting for a summer evening. Here's the delicious lowdown.
The Food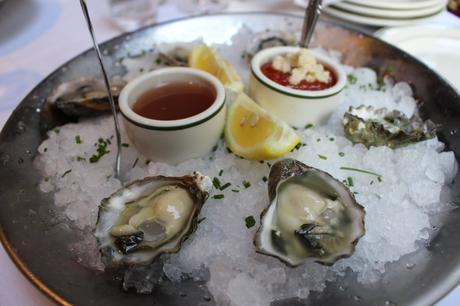 Oysters on the Half Shell
A fresh assortment of oysters from the East and West Coasts was our first introduction. The briny East Coast and the slightly sweeter West Coast Shigokus were delicious and just the right item to whet our appetites.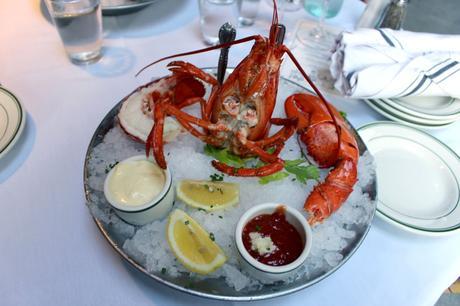 Luxbar Lobster Cocktail
Described by staff as a "dining room head-turner," the gorgeous presentation of the signature lobster cocktail certainly turned our heads. With a slight buttery aftertaste and a light texture, we instantly fell in love with this simple yet luxurious dish.
Kale & Avocado Salad
Creamy avocado, finely shredded Grana Padano, crunchy croutons, and sweet tomatoes come together in this satisfying take on the traditional Caesar salad. This one is an easy crowd-pleaser.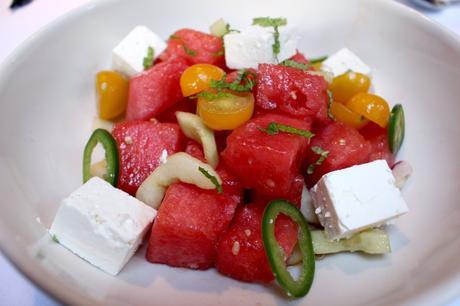 Summer Watermelon Salad
Each bite of this is better than the next. You can't go wrong with this unbelievably refreshing salad. The unique combination of tangy feta, sweet watermelon, with a subtle kick from jalapeño was spot-on for summer.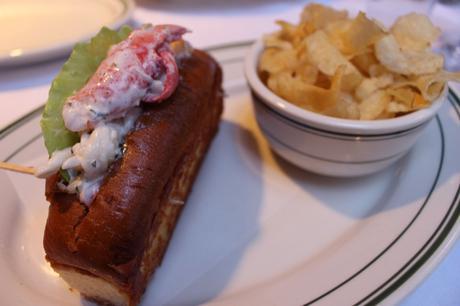 Maine Lobster Roll
A classic Maine Lobster roll and chips is a no-brainer if you're looking for an entree that's delicious and light. This version is served on fluffy, toasted challah bread.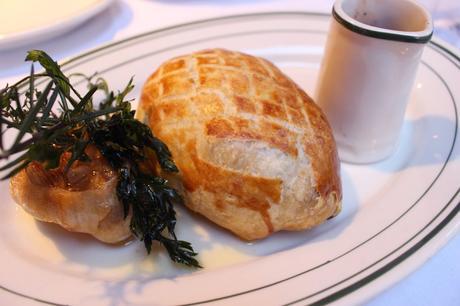 Beef Wellington
This rustic dish is a throwback to eras long gone, and it was an absolute show-stopper. Upon the first bite, our eyes nearly popped out of our heads. The beef was tenderly cooked in a savory red wine and mushroom jus with fresh herbs, surrounded by a flaky crust. This entree warmed us up right to the core.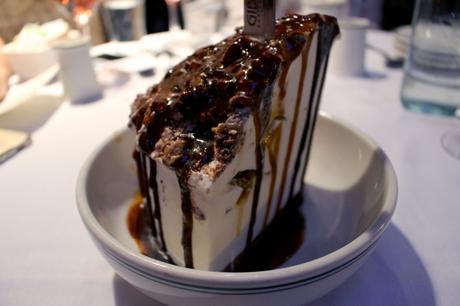 Luxbar Snickers Pie
'Whoa' is all we can say for this decadent, after-dinner treat. After seeing the thick block of vanilla ice cream, Snickers pieces, chocolate, and caramel sauces, adorned with a large serving knife, we knew this homemade dessert meant business.
The Story
Throughout our meal, Assistant General Manager Michael Avella appeared to ensure a pleasant and seamless experience. He provided some background on LUXBAR and their newest menu.
We noticed that your staff has an amazingly high standard of service. How important is this to LUXBAR?
Absolutely, our staff is on point at all times. Here at LUXBAR, food and drink are secondary to taking care of our customers. We want to treat people like family here, we want them to feel comfortable. Above everything, our main objective is to create a memorable experience.
What prompted the change to your menu?
Well, we celebrated 10 years last fall. That's a huge accomplishment in this industry. We wanted to acknowledge this by bringing some new life into the menu. We were able to expand our capabilities in an exciting way.
Can you tell us about your chef?
Our chef has a wonderful story. Jose Sosa grew up in a small town outside of Mexico City, and he always had a really strong connection to nature which, of course, was a huge influence in his cooking. After working in kitchens throughout Chicago, he began here at LUXBAR as a sous chef. He eventually became the Executive Chef of Hugo's Frog Bar in Naperville, and now he's back here as our Executive Chef, so he's been with Gibsons Restaurant Group for a while and we're so glad to have him. He has really worked his way up. He was instrumental in the success of this menu.
What are the influences behind this menu?
Elevated flavors that are still familiar is kind of what we went for. Dishes like the Beef Wellington, these are things that are mainstays to most people, things that we grew up with at home. We want to bring that to our customers in our own unique way. We also wanted to go with items that really speak to the neighborhood. It's such a vibrant part of the city. Every night is a Saturday night in the Gold Coast. We think we captured that here.
For a summer evening like no other, spend your next night out at LUXBAR. Call 312.642.3400 to make a reservation today.