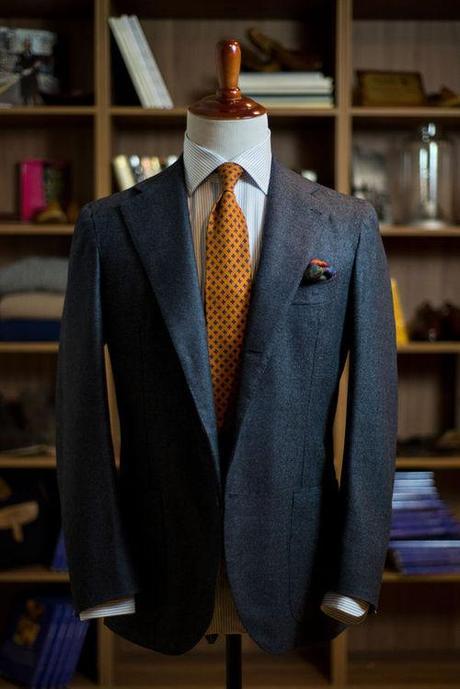 I wrote last year that the online menswear marketplace is the best it's ever been, but in some ways, also feels a bit homogenous. You can grab any number of stores, and chances are, they'll stock the same brands and share the same aesthetic view. There are some relatively new operations, such as Bench & Loom, that are changing this. Another is one that my friend Greg is opening in a few weeks.
Greg used to work in finance, but for the better part of the last ten years, he's also been a regular participant on StyleForum. I've long considered him to be one of the best-dressed men on that board, and appreciate his unique sense of style. His new store – No Man Walks Alone – comes very much with that unique viewpoint. Alongside English and Italian tailored clothing, there will be designer brands with interesting, but still very wearable, takes on outerwear, knits, shoes, and accessories. The store is set in the exact intersection of where I like style to be – tradition conscious, but not stuffy; modern, but not avant garde; indulgent, but not flamboyant; masculine, but not costumey.
Most of all, it'll carry a selection of brands that you won't easily find anywhere else. There will be umbrellas from Talarico, sport coats from Formosa, knits from Inis Meain, shoes from Vass, shirts from Mazzarelli, and much more. I can't even tell you how excited I am for this store given how difficult it's been to find any number of these things. Talarico, for example, makes the best umbrellas in the world, but last I checked, they're only available in Naples. 
To disclose, I was set to be the editor for No Man Walks Alone's blog, but Jesse at Put This On rightly pointed out that there would be a conflict of interest between writing for a commercial enterprise and a more journalistic one. Although I think I can keep these interests separate, I wouldn't want to lose the trust of Put This On readers. I couldn't bail on Greg at the last minute either, however, so I'll be stepping down in a few weeks, when Greg finds a suitable replacement.
The store is set to launch very soon. Until then, you can sign up for the No Man Walks Alone's "Founder's Circle," which will carry certain exclusive benefits once doors open. Signing up will also enter you into a drawing for a $1,000 shopping spree, and if someone you refer wins, you'll also get a $1,000 shopping credit (you're welcome to use my referral link or not). You can also follow the store's blog, where some of my friends and I have been writing, and "like" No Man Walks Alone on Facebook.
Sneak tip: You can probably deduce what other brands will be stocked by seeing what's been written about at the blog and "liked" on the store's Facebook page.