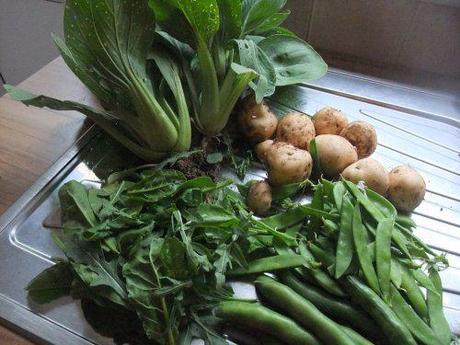 I think I may have fallen in love.  Now anyone who knows me well will know I don't mean with another human being, I am far too single-minded for that.  No I think I have fallen in love with having an allotment.
I have been feeling increasingly run down, depressed, exhausted for a whole host of reasons mainly through doing too much as I said in my last post. I have found it difficult to engage with anything that used to matter to me – the garden, the greenhouse, the allotment.  However, after having a break for a few days from everything I  was drawn to the greenhouse and then today to the allotment.
I haven't been for a week for lots of reasons and I was really pleased to see that the rabbit spray I had applied on Monday before work seem to be working as there was no sign of any more damage.  Even more exciting was that the flowers on the potatoes had gone over and so this means I can think about harvesting.  I have been told to wait 10 days after the flowers but being a patient gardener is only an aspirational name.  After a bit of rooting in the earth I found some tubers – a whoop of joy followed luckily I was the only one at the site.
There was also Mangetout, Broad Beans, Pak Choi and Salad Leaves to harvest.  A real haul as you can see above.  It was amazing the impact this had on me.  From being in a wobbly place  when it wouldn't take much for me to burst into floods of tears I was feeling buoyed up, recharged and positive.  I set to with gusto to clear the last small bed of weeds ready for the leeks which have been languishing on the patio.
An hour later with the sun shining on my back I had cleared the bed, sowed some lettuce and mustard seeds, harvested my crops and was feeling very pleased with myself despite a few aches.
I find it amazing when some people are sniffy about the notion that gardening can be therapeutic.  I have always found being in the garden a good way to unwind to clear my mind and de-stress.  It has helped me while I have bought up two children on my own, it has been light relief when I was studying for my degree and helped me unwind from a demanding job but my garden hasn't quite managed to support me with the grief of losing my sister and the trauma and distress it has brought to my family over the last 18 months.
However, the allotment has risen to the challenge with gusto.  Firstly, it gave my parents a reason to get up back in late winter/early spring when they were helping me dig most of it.  My mother loves being there and is now on the waiting list – if I had suggested this 2 years ago she would have looked at me as though I was mad.  For me the triumph of turning a piece of grazed field into a productive area which has provided all the vegetables for this evening's dinner has given me a real boost.  It is a positive thing, there is a real tangible outcome, it is bringing good healthy food to our table and simply being at the plot which is quite  and peaceful heals the soul.
I know that evidence shows that many plot holders give up in their first year and I can really understand this.  Clearing a plot new or neglected is hard relentless work.  Then there are the pests which destroy your hard work, worrying about the weather, wondering if you have sown things in the right way etc etc but the pay off is when you harvest your first crops.  I think I have been helped this year  by two key decisions: firstly to ask for help with the initial clearance of most of the site and secondly realising that some of the site could wait while I  concentrated on looking after the crops I had already sown.
Now I know that there are people out there who will  be reading this smiling indulgently not least because some of them know me well and remember vividly my declarations about not growing edibles.  What can I?  Finally, the penny has dropped!