Probably because I am so keen myself on the activities of reading, deducing and interpreting, I am the kind of consumer of crime fiction who's in it for the puzzle. I can read the gore and violence stuff (to a certain level) but playing mental games with fear and vulnerability just isn't as interesting. No, what pleases me above all else is the arrival on the scene of the master detective – professional or inspired amateur, I really don't mind – who will discern revealing clues in otherwise ordinary objects and events, and who will read the difference between what the suspects say and the subtext they try to hide. Nothing makes me happier than a really good dénouement when all the pieces fall into place in a surprising yet convincing order. And so my heart lies with the Golden Age of crime, when detecting was all about being clever, and the victim was so often someone the community was glad to see dead.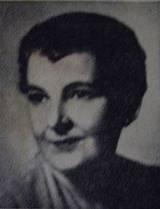 Elizabeth Daly looking suitably benign and cozy
Imagine my delight, then, when the wonderful Danielle reviewed a 'lost' Golden Age author, Elizabeth Daly (what would we do without Danielle's recommendations – I think half the books I've bought in the past seven years have come from reading her blog!). I immediately bought a couple of books by her, and after I'd read the first one, I did something I practically never do and immediately read the second. And then I ordered two more. I had taken with a pinch of salt the much trumpeted claim on the book cover that Elizabeth Daly had been the favourite author of Agatha Christie. But having read her books, I now believe it is probably quite true. There is something very Christie-esque in the way the plots unfold and the ingenuity of the solutions. I've been trying to find out a bit about Elizabeth Daly's life but she is a regular woman of mystery. She was the daughter of a New York justice of the peace, had enough private income to pursue her interests in writing and putting on plays, but didn't publish her first novel until the age of 62. In the next ten years she wrote 15 more novels, featuring her gentleman detective, Henry Gamadge.
Henry Gamadge is an expert in antiquarian books and manuscripts and known to be discreet, trustworthy and shrewd. Although he's a gentleman, he's not the effete, foppish sort; rather, he takes advantage of his undistinguished features to blend in wherever he finds himself, and he's not above involving himself in war work (intelligence, we presume). His location is a subdued New York in the 1940s and his clientele is made up of the kind of wealthy old families who are on the brink of extinction.  Whilst a louder, smarter set are close on their heels, these are the families for whom name, reputation and respectability are still worth killing. And given their innate secrecy, this is apt to happen when such families harbour a certifiable nutcase in their midst.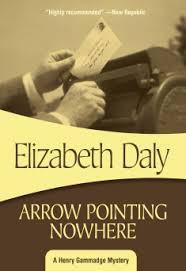 In
Arrow Pointing Nowhere
, Gamadge receives – through the deployment of much subterfuge – an anonymous cryptic note asking for his help. More such missives follow, each one thrown from an upper window of a grand mansion belonging to a family of spotless respectability. Gamadge infiltrates their midst and has to figure out first of all what crime has been committed and who his client is. In
Somewhere In The House
, Gamadge has been asked to come and witness the unsealing of a room that has been blocked for 25 years and which may contain a valuable part of Grandmama Clayborn's legacy. Harriet Clayborn has decided her family are so untrustworthy that attempts may be made to lift the treasures and so she reels Henry Gamadge in as an independent adjudicator. When the room is finally open, a gruesome discovery is made, and Gamadge finds himself involved in a series of crimes committed a generation ago.
I loved these novels! Sharp, elegant, clever and fast-moving, and Gamadge is a delight; a man whose compassion is matched only by his intellect, he effaces himself the better to observe others and always has a care for the dignity of the innocent. Most of all, though, I appreciated truly satisfying resolutions to the cases, ones I never saw coming even though I might have guessed I was being distracted and diverted. Golden Age crime in classic form.