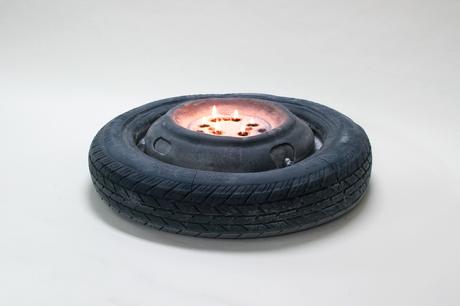 Alexander Heffesse's Construction Site scented candle recalls the warm glow of roadside fires. Light the wicks in this tire-shaped piece and be transported to the vacant lot of your dreams. 
Just in time for this weekend's NYCxDesign festivities, Kristen Wentrcek and Andrew Zebulon Williams of Wintercheck Factory have transformed their 3,000-square-foot Bed-Stuy studio space into a gallery. 
In a cheeky counterpoint to the myriad design events going on around the city, the one-night-only group show they're presenting is inspired by Skymall, the airborne catalog filled with quirky didn't-know-you-needed-it products. For the show, the design duo called on their artist and designer friends to reinterpreted the mission with a collection of one-off objects that definitely won't change your life.
NYCxSkymall takes place on Friday, May 13, 2016, at Wintercheck Factory, 1241 Bedford Avenue, Brooklyn, New York.