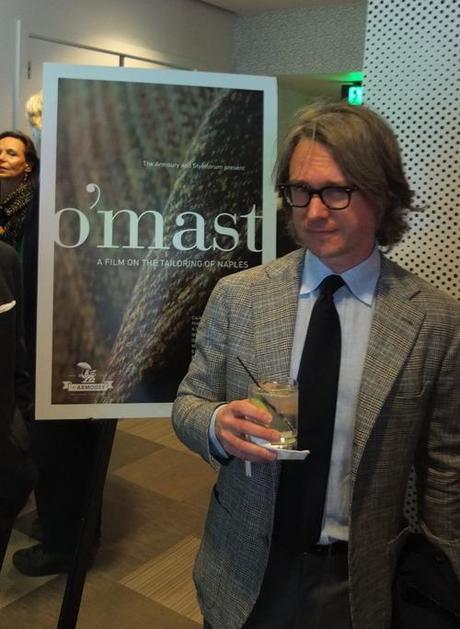 Ascot Chang delivered eight new shirts to me last week, one of which included a new collar style that I've been wanting for a couple of years. It's a classic, semi-spread collar, but with slightly bigger collar leafs. It sounds simple, but of the four or five other custom shirtmakers I've used, none of them could get it quite right. Some were too stiff, some too big, others just oddly shaped. With Ascot Chang, I simply sent them the photo you see above, where StyleForum member Parker is seen wearing the style at the forum's tenth-anniversary party, and asked them to make me a similar version. I'm rather happy to say the copy is exact. (Sorry, Parker, you just got DTO'd).
As expected, the style wears excellently with a tie. The bigger leafs, with their soft interlinings, express a lot of life when the shirt is all the way buttoned, and the size of the collar gives a nice counterbalance to the face and necktie. It feels a bit less ideal, however, when worn open collared. There the collar points just seem unwieldy. So, for now, I think I'll order three different collar styles from Ascot Chang. The first is a regular sized semi-spread collar, which you can see in the first photo below. Those feel comfortable with or without a tie, and make up the majority of my shirts. Then there's the button-down collar for casual shirtings – oxfords, ginghams, madras, and the like. And finally a few more shirts in this new style, which I think I'll only wear with a necktie.
In an interview with A Suitable Wardrobe last year, custom shirtmaker Alex Kabbaz recommended that men stick to only one collar style. He made an exception for button-downs, which everyone has a few of in their drawers, but for the regular business dress environment, Alex recommended sticking to one, and only one, style based on your personality. Perhaps with time, my interest in this slightly bolder look will pass, but for now I have two collars for weekdays, and one for weekends. 
(Photos via StyleForum, GDL203, and Voxsartoria)