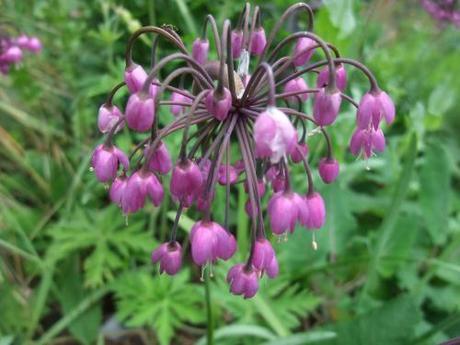 Allium cernuum
As Ronnie Barker used to say at the end of Open All Hours  – "Its been a funny old day" but actually its been a funny old  weekend.
I had no plans for this weekend which was great.  I love it when I realise that apart from the usual weekend chores the two days are free for me to do whatever I want.  Having decided the weekend before to postpone my RHS exam from next week until February (nor never!) the time was really free with no pressure to study.
As ever I started the weekend with the weekly food shop and for some reason while I was meandering up and down the aisles my thoughts turned to cats and the perennial consideration of whether or not to get a cat.  I have been thinking about this off and on for several years.  The main reason I have dithered is because I spend a fortune feeding the birds in my garden and this has really paid off in recent weeks with two pairs of Bullfinches daily in the garden even sitting on the patio table and also the odd Goldfinch.  If I got a cat surely I am just luring in the birds for them to eat.  However, in recent months my garden seems to have become a popular haunt for at least 3 local cats presumably because they are after the young birds.
I wouldn't say it was a light bulb moment more of a flick of the dimmer switch  but it suddenly occurred to me that if the local cats are coming in the garden I might as well get my own cat.  A wise person may also point out that I am frequently at home on my own in the evenings now as the boys are both out and about living their lives and I am probably suffering from empty nest syndrome but we shall ignore that wise person.
So never one to hang about once an idea has germinated I polled my twitter friends to see what they thought while I had my cuppa, I asked my mother if she thought I was mad (No – well no more than normal) and whether she would come and feed the cat if I was away (Yes).  Decision made.
I decided that I wanted to rehome a cat that had been rescued so I contacted the local RSPCA and they put me in touch with the local  cattery.  Having waited all afternoon to tell the boys my decision they came with me to the cattery and there a family domestic nearly ensued.  Hardly to be expected given the variety and characters of the cats available.  The cattery owner was very helpful in trying to help us find the right cat.
I  had  started off looking for a young cat and we were introduced to Pickle – a beautiful ginger and white male cat about a year old.  He was full of beans and won my youngest's heart straight away but I just knew he wasn't right for us or should I say me.  Pickles needs lots of interaction, stimulation and I work all day – this was not a good combination.  Finally I decided to look at some slightly older cats and was introduced to Pansy – a 3-year-old tabby cat.  By  this time it was feeding time for the cats and us and we decided to go home, think about things and decide what to do.
After much discussion it was agreed that whilst Pickles might be highly entertaining when the boys were home he would probably trash the house when left to his own devices and drive me mad.  I declared in the authoritative tone I adopt from time to time, not always successfully, that Pansy was the  cat for us – end of subject.   However, we agreed that the name would have to change; especially as I don't even like Pansy flowers!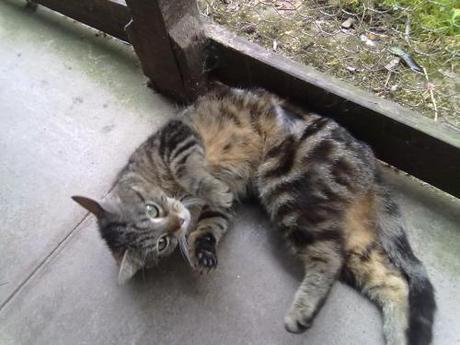 So this morning we went back and met Pansy again.  She is a lovely friendly cat who has had a rough time but maybe I will save that for another time.  We have reserved her, filled in a difficult form asking such questions as "Why do we want a cat" "What would we do if  she wrecked the soft furnishings etc" and now we have to wait for a home visit to see if we can provide a suitable home.  Hopefully that will be this week and by this time next week we will have a new member of the family – Maisie