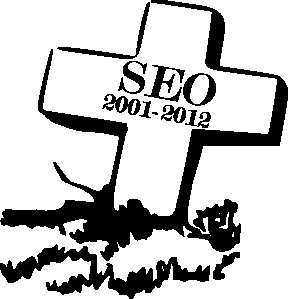 Search engines are changing and so must SEO
While before, search engines were young and naïve and unaware of the cruel tricks an SEO strategist could play upon them, the future holds a different story. It's now Google the wise, a search engine which will now play cruel tricks back if anyone takes the game of SEO too far. And this search engine severity is only going to become greater as time goes by and those SEO strategies that once played Google for a fool are brought to their knees.
The 'Death of SEO' Draws Near
A new age is coming while Google continues to roll out new updates and we can only look on as the standard practices of SEO become obsolete. Only last year, it was predicted that SEO would be dead in a couple of years .
So What SEO Strategies Will Stand Google's Scrutiny and the Test of Time?
Clear, Clean Website Structure
One thing that will always be important to maintain is good website structure easy for both web crawlers and searchers to follow. Clean html code, clear menus, and relevantly linked pages are not only important for web crawlers but for your traffic as well. Even if web crawlers can decipher your website, if real people can't then bounce rates are high, interaction is low, and ultimately this will harm your rankings. See here for a little more information on creating a SEO friendly Web Design .
Content that Can't be Criticised
So long as you have good quality unique content on your website, Google will have no problem, and your website will be regarded as valuable, trustworthy, and high ranking material. If someone is searching for a topic relating to your quality content, then Google will want to show it to them. Before search engines became wise, any old content stuffed with keywords and duplicate content could be thrown on a page and be rewarded with a high rank.
Those days are over.
Only the best content will do and the fresher the better. Content that is fresh and unique is something that Google can't get enough of. Keep blogging, keep posting, keep keeping your website fresh and up to date.
Integration with Social Media
Social media is fast becoming a crucial strategy for SEO. Google appears to be giving more and more weight to social media. Matt Cutts has already hinted that Google look at numerous social media characteristics when deciding where to rank a website and this social media attention is only likely to rise in future. Being involved in social media shows dedication, commitment, and interest in sharing content, while receiving popularity back shows trust, consumer interest, and reliability. One of the best ways Google can measure your true popularity and trust is through social media rather than through artificial links that an SEO strategist has generated.
Linking Practice
One of the greatest things that has changed and that has much further potential to change is the ranking signal that a website's backlink profile provides. In the past it may have been all about how many links point to your website because the more links the higher your ranking. Nowadays, this is but one part of how Google ranks a website. Google knows a poor backlink when it sees it, and it even dishes out penalties for poor backlinks. Be careful with your backlink generation, natural backlinks, relevant backlinks, and backlinks from trustworthy websites is a requirement. It's quality not quantity.
The Age of Real Content and Social Interaction
Content has always been called King and now it couldn't be more true. Google spots and rewards fresh, real, and interesting content. Content is an undeniable SEO strategy that will undoubtedly stand the test of time. Backlinks are but part of Google's algorithms which must be backed up and supported by other data such as social media interaction and popularity. Google sees everything and is hungry for more. The present is giving rise to a new Google, a power-hungry Google that wishes to bring an end to SEO and the ability of a website owner to decide their ranking instead of Google itself. But SEO is not dead, as long as search engines live on, so will SEO. SEO is simply redefined, a set of characteristics that Google seeks is always what SEO will be, and this bring us into an SEO age of real content and social interaction.