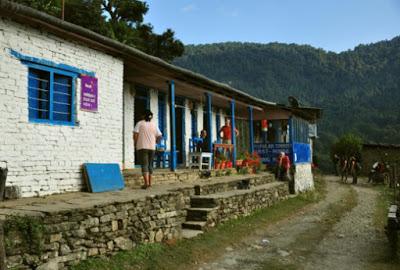 Nani's Teahouse in Tolka, Nepal
My friend and fellow children's book author Caroline Hatton went trekking in the Annapurna region of the Nepal Himalaya in November 2018. She took all but one of the photos in this post. For info about her books, visit
www.carolinehattonauthor.com
.
For the grand finale of a spectacular hiking trek in the Annapurna region of the Himalaya, our Nepali guide, Gyanendra, gave our group the option of staying at a small teahouse instead of a big tourist lodge. My husband and I and the other couple in our group all jumped at the chance.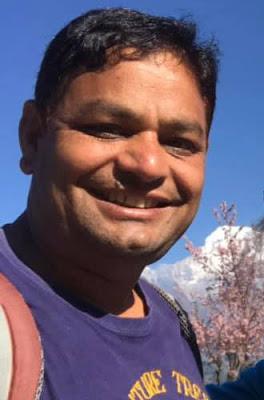 Our guide, Gyanendra(Selfie courtesy of Gyanendra)
When we arrived at the teahouse in Tolka, the hostess, Nani, welcomed us warmly. Our duffle bag was already in our room. It contained our night stuff (sleeping bags, towels, toiletries…). Our porter, Vishnu, carried it on his back all day every day, then delivered it to our room every afternoon.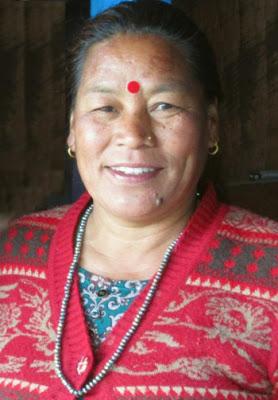 Our hostess, Nani
We dropped our two daypacks in our room. These contained
what we needed hiking all day: water, snacks, sunscreen, jacket, first-aid kit… same as when day hiking at home in California. We never carried lunch food, because every day, we ate lunch at a restaurant on the way.
Everything at Nani's teahouse was basic but impeccably clean: rooms, beds, one shared toilet, and one shared shower. The shower water temperature was exquisitely hot at 42
o
C (~108
o
F).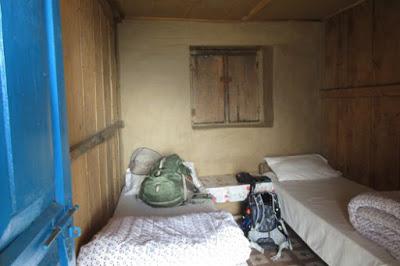 Room for two
"Would you like to see Nani's goats and buffalo?" Gyanendra asked, bravely—he knew, after guiding our group for a week, that I love animals and can make him wait forever while I take photos. Two of us followed him up steep stone steps to visit terraced fields where Nani grows different crops (spinach, millet, chilies…). Above the chicken coop level, steps carved in the brown soil led up a slope that felt nearly vertical.
I'll never be able to go down this
, I thought. But I didn't say a word because I really wanted to see the animals.
I made it to the shelter where a baby goat and mama goat were busy sharing a meal of fresh greens with a buffalo. I took tons of photos. I would have taken more, but the buffalo kept giving me concerned stares, so I backed away, afraid I'd give it indigestion.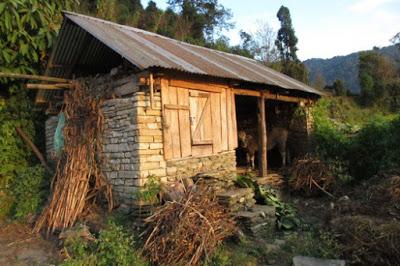 Nani's goat and buffalo shelter
The sun was going down. It was time for me to go down too. But how? Slide down on my bottom? Instead, I turned to face the slope and climbed down, as if on a ladder. On the way, Gyanendra picked tree tomatoes and different chilies for dinner.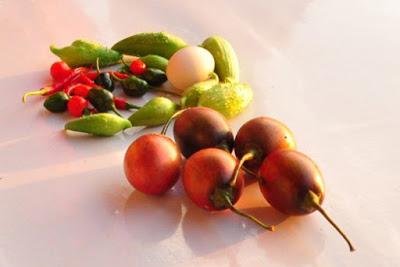 Front to back: tree tomatoes, balsam apples, chilies, egg
In the cozy kitchen, lit only by the wood fire under the wok and one electric light, Nani offered to teach us how to make
momos
, the popular, quintessential Himalayan dumplings. Filled with seasoned, minced vegetables or ground meat, they are steamed or deep fried, then served with chutney. One member of our group was thrilled to sink her hands in wheat flour and water to knead dough and roll it out to make momo wrappers. She minced vegetables for the stuffing and made momos, some balls, some crescents.
Gyanendra cut up buffalo meat and used a stone to grind seasonings for his secret curry recipe. As for me, my favorite part of cooking is inventing excuses to avoid doing it, such as the need to take photos. The two husbands peeked in from the open doorway.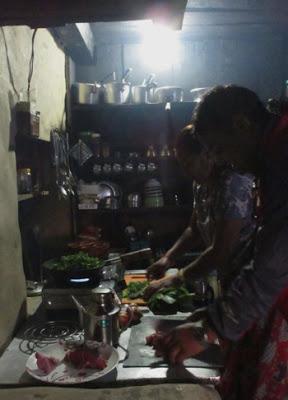 Gyanendra cuts buffalo meat. Nani cooks vegetables.
Before dinner, Nani put away her goats to protect them from potential attacks by a tiger (
bagh
in Nepali) or leopard (
chituwa
in Nepali). Tolka is within the range of both wild cats, although it would be rare for either one show up. It would be more likely at night when there is no human activity.
When dinner was ready, the four of us guests were invited to sit at the kitchen table. The steamed vegetable
momos
had the finest stuffing of all those I've ever tried between Los Angeles and Kathmandu—tasty, rich with mixed, balanced flavors. And darn, now I'll never know Nani's recipe, since I was too lazy to help make dinner. The buffalo stew was delicious with rice, but too spicy for two of us with timid stomachs. Our two hardworking porters gladly helped eat it all up.
Up at 6 o'clock the next morning, we found Nani working quietly in the kitchen. "Go see the mountain," she said, pointing up the trail, back the way we had arrived the day before. Two minutes away, from the top of the slope, where I'd seen nothing but clouds the day before, rose a snowcap gleaming in the rising sun: Annapurna South.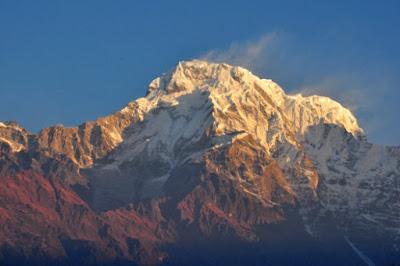 Sunrise on Annapurna South as seen from Tolka, Nepal
For breakfast, we sat at the outdoor table, facing the trail and the hills beyond. Our porters brought coffee, tea, eggs to order, big fluffy pancakes made by Gyanendra, jam, and honey.
I asked Gyanendra whether Nani grows enough vegetables for her needs. He said yes, and much more to sell. He and the porters bought from her, at prices lower than at home, soy beans, kidney beans, tree tomatoes, dried chilies, and buffalo ghee. They had ample room to carry extra weight back home, because all of us guests had minimized our overnight duffles. Each couple was allowed two duffles weighing a maximum total of 22 kilos (~ 48 pounds), but we had only one 10-kilo duffle for two.
At Nani's teahouse, we found the differences with larger lodges to be fewer rooms, so our group had the whole place to ourselves. We saw how a local person lives, grows food, and cares for her animals. She welcomed us into her kitchen for a hands-on experience. But everyone ate the same starter and main dish for dinner that night, not like at bigger lodges where we could each order from a menu of a dozen starters and two dozen main dishes.
We are glad we chose Adventure Treks Nepal, from the list recommended by Lonely Planet, to organize our trip. It included only the guests of our choice, one guide, and one porter/couple of guests. Before the trip, manager Gyan Karki always answered e-mails within minutes. During the trip
, everything went smoothly. We had a Plan A, but the itinerary was adjustable day by day, with Gyanendra contacting all the lodging places by phone in advance of our arrival.
After coming home two months ago, I still wake up every day eager to relive my adventures, reread my trip notes, review my photos, and share the experience of a lifetime.
For more info
See more photos [https://www.facebook.com/media/set/?set=a.1643011845799564&type=1&l=13b5328fd3] of Nani's teahouse.
Caroline recommends her trek organizer, Adventure Treks Nepal, https://www.adventuretreksnepal.com/.
Visiting Nepal: the essentialhttps://www.lonelyplanet.com/nepal/essential-information