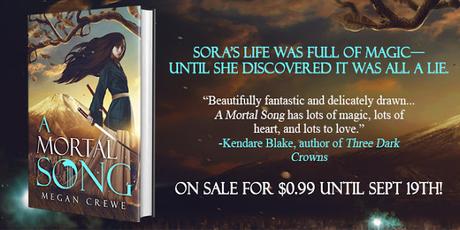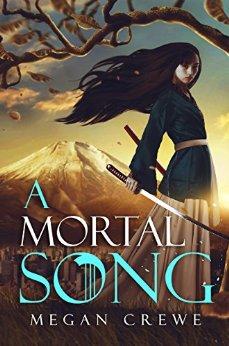 A Mortal Song
By Megan Crewe
382 pages | September 13th 2016 | Another World Press








Sora's life was full of magic—until she discovered it was all a lie.
Heir to Mt. Fuji's spirit kingdom, Sora yearns to finally take on the sacred kami duties. But just as she confronts her parents to make a plea, a ghostly army invades the mountain. Barely escaping with her life, Sora follows her mother's last instructions to a heart-wrenching discovery: she is a human changeling, raised as a decoy while her parents' true daughter remained safe but unaware in modern-day Tokyo. Her powers were only borrowed, never her own. Now, with the world's natural cycles falling into chaos and the ghosts plotting an even more deadly assault, it falls on her to train the unprepared kami princess.
As Sora struggles with her emerging human weaknesses and the draw of an unanticipated ally with secrets of his own, she vows to keep fighting for her loved ones and the world they once protected. But for one mortal girl to make a difference in this desperate war between the spirits, she may have to give up the only home she's ever known.
With its breathtaking action, heart-wrenching conflict, and unexpected romance, this vivid standalone YA fantasy will delight fans of Julie Kagawa and Laini Taylor.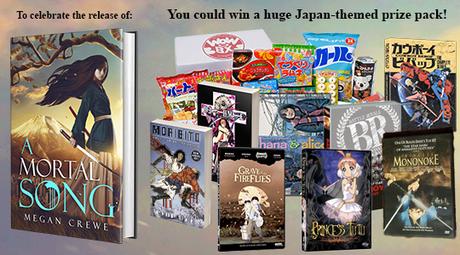 ENTER NOW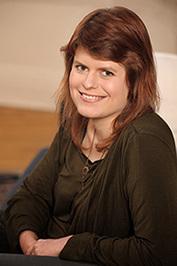 Like many authors, Megan Crewe finds writing about herself much more difficult than making things up. A few definite facts: she lives in Toronto, Canada with her husband and son (and does on occasion say "eh"), she tutors children and teens with special needs, and she's spent the last six years studying kung fu, so you should probably be nice to her. She has been making up stories about magic and spirits and other what ifs since before she knew how to write words on paper. These days the stories are just a lot longer. 
Megan's first novel, GIVE UP THE GHOST, was shortlisted for the Sunburst Award for Canadian Literature of the Fantastic. Her second, THE WAY WE FALL, was nominated for the White Pine Award and made the International Reading Association Young Adults' Choices List. Her Fallen World trilogy (THE WAY WE FALL, THE LIVES WE LOST, THE WORLDS WE MAKE) is now complete and she has a new trilogy forthcoming in October 2014, beginning with EARTH & SKY. Her books have been published in translation in several countries around the world. She has also published short stories in magazines such as On Spec and Brutarian Quarterly
Website - Goodreads - Twitter - Facebook