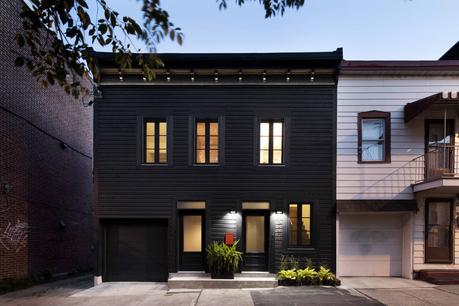 The owners' goal was to transform the 19th-century building into a bold single-family residence. Historical architectural details were made modern with a striking black facade, while inside, a flexible living space that opens into an exterior garden enables a simplified lifestyle. 
Architect 
Maxime Moreau
After plans to completely redesign the edifice and interior of this this late-19th-century building were thwarted by city preservation regulations, architect Maxime Moreau was forced to come up with a creative solution. Instead of sacrificing the facade as his clients had requested, Moreau rebuilt the original 1890s wood siding, molding, cornices, and window frames, but proposed painting the entire exterior black. The bold, monochromatic hue served as a nod to avant-garde architecture and satisfied his clients' wish for an adventurous, contemporary home.
Inside, a flexible open-plan with minimal furniture continues the modern aesthetic. The couple, both art and design enthusiasts, opted to demolish everything inside the existing structure, opening the living space and extending it into an exterior garden terrace that sits on the same level. With what little furniture they have fitted with wheels, the couple can move seamlessly from indoors to outdoors.
Log in or register to post comments