Published as:  Take a Bough Design firm Baumraum's modern tree house in Belgium sparks a dialog about nature and architecture.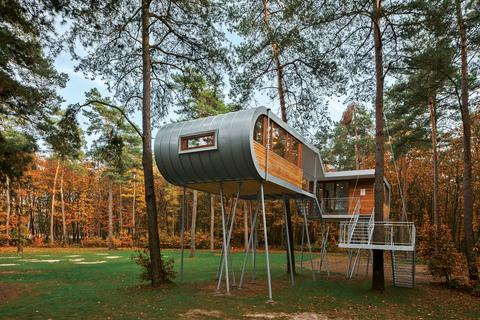 Photo courtesy Baumraum
Trees and small experimental spaces always enchanted Andreas Wenning. In 2003, he launched a company dedicated to building structures in close contact with nature. Today, his firm Baumraum counts over 40 houses, sited in both rural and urban locales, in its portfolio.
Aesthetics vary, but, as Wenning says, "the house should always be in dialog with the tree, whether in contrast or a symbiotic way." The same holds true for Baumraum's most-recent project, a 450-square-foot retreat, nestled between the limbs of pine and oak trees in northeastern Belgium. As a part of their green mission, the city of Hechtel-Eksel, the Flemish Forest and Nature Agency, paper company Sappi, and communications firm Proximity BBDO commissioned the structure clad in zinc and larch as a place for businesses to host sustainability oriented conferences.
To reduce impact at the site, Baumraum prefabricated the house and craned it atop 19 steel columns, arranging it so that the surrounding trees' roots wouldn't be harmed. From within the structure, people experience a perspective that inspires more respect and consideration of the environment at large.