A design-build firm with a flair for modernism creates a stylish indoor-outdoor living space in Winter Park. Slideshow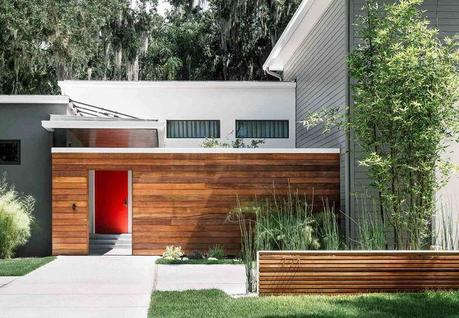 An enclosed courtyard, bordred by ipe, is arguably the most distinctive feature of the house that the Phil Kean Design Group created for Adriana De Azevedo, Daniel Coelho, and their two daughters in Winter Park, Florida.
Image courtesy of Phil Kean Design Group.
Architect 
Phil Kean Design Group
Adriana De Azevedo and Daniel Coelho's relationship with Phil Kean, president of the Phil Kean Design Group, goes back a couple of years, when the couple first approached him seeking help remodeling a house that they were thinking of buying in Winter Park, Florida.
The house was a relatively modest cottage that had been added onto a few times, and "they wanted to change everything," Kean recalls. "So it got to a point where it became clear that it would be more financially fruitful for them if they just started from scratch."
The couple, who have two young girls, found a lot near a lake in Winter Park—an old-by-Florida-standards community near Orlando. De Azevedo, an interior designer, had particular ideas about what she wanted in her new home. She wanted it built in a modern style with plenty of healthy and sustainable elements, including low-VOC materials and furnishings.
"One of their reasons for building new versus remodeling was that they could really control all the pieces that went into the house," Kean says. "Things like foam insulation, all of that stuff. There is no off-gassing. The cabinets, even the furnishings, were all formaldehyde-free. All of those things were important to them."
Security was another priority for the couple, who are originally from Caracas, Venezuela. It was this concern that drove what is arguably the most distinctive feature of the resulting house—an entrance courtyard that is enclosed in ipe. The windows on the front facade are small; the house gets most of its natural light and ventilation via expansive accordion-style glass doors that open onto a rear patio with a swimming pool.
Some of the materials—notably the ipe—are found both inside and outside the house, giving the building and property a cohesive look and blurring the distinction between indoors and out. A lanai, or covered veranda, immediately off the living room enhances this effect. A set of retractable screens allows it to be used even during the six or so months out of the year that Kean describes as the "buggy season."
"You hit a button and those screens go down, and that whole lanai is screened off," he says. "You can open up the house and, if it's buggy, keep the bugs out of the house."
The house was completed in the spring of 2014 after about a year, with Kean's company, a design-build firm, handling the construction. Two designers worked with De Azevedo on the interiors—Rob Turner, president of interior design at the Phil Kean Design Group, and Jose Cabrera, the owner of C L Studio of Orlando.