A Model Alleges Russell Simmons Sexually Assaulted Her While Brett Ratner Watched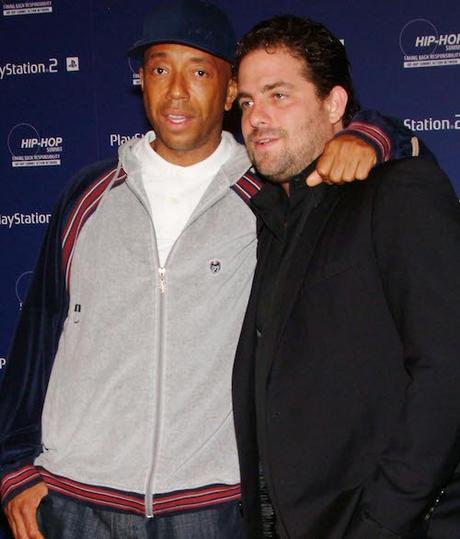 Russell Simmons and Brett Ratner have been friends for a long, long time. When Brett started out in show business directing music videos, he was sort of Russell's protege. Kind of like the Luke to Russell's Yoda. Except if recent allegations by a model are true, their relationship was more like that of Darth Vader/whatever dark-sided underling Darth Vader took a shine to.
The Los Angeles Times recently spoke with a model named Keri Claussen Khalighi, who claims that she was sexually assaulted in 1991 by Russell Simmons. Keri was 17 at the time and had just moved to New York City when she met Russell and Brett at a casting call. (Russell would have been 34, Brett 22). She claims that Russell and Brett took her to dinner, then invited her back to Russell's apartment under the alleged guise of showing her a music video they had been working on. One there, Russell allegedly began making "sexual advances" and yanking off Keri's clothing. According to Keri, she asked Brett for help, but Brett was allegedly no help.
"I looked over at Brett and said 'help me' and I'll never forget the look on his face," she recalled. "In that moment, the realization fell on me that they were in it together."
Keri accuses Russell of trying to force her into sex, something she claims she "fought wildly." Russell allegedly relented and pressured her for a blow job. Keri says she gave in and performed oral sex on him, adding: "I guess I just acquiesced." Brett Ratner was allegedly watching the whole time.
When it was over, Keri says she felt gross and went to have a shower. While in the shower, Russell allegedly walked up behind her and put his penis in her without her consent. She says she jerked away from him and he left.
Russell Simmons released a statement to The Times disputing Keri's accusations. Russell's side of the story is that everything that happened between himself and Keri was consensual and occurred with her "full participation." Brett Ratner's lawyer, Marty Singer, claims that Brett has "no recollection" of Keri asking for help, and denies witnessing her "protesting" Russell's actions.
This is all a little worrisome when you realize how Russell Simmons wrote about Brett Ratner in his 2007 book, Do You!: 12 Laws to Access the Power in You to Achieve Happiness and Success. Brett was basically Russell's little truffle pig who sniffed out models.
"He was willing to do anything to be of use. After he hung around a bit and figured out that I liked models, then he made it his business to take me to every model's apartment he could find."
Keri's story isn't a good look for Russell Simmons, and it's actually not the only allegation Russell has to deal with this week. After Keri's story came out, Terry Crews tweeted an email exchange between himself and Russell Simmons. Last month, Terry spoke about his own experience with sexual assault. Terry claimed WME agent Adam Venit grabbed Terry's crotch at a party last year. A few weeks after Terry opened up about the alleged groping, he received an email from Russell Simmons asking Terry to give his alleged groper a pass.
Message Russell Simmons sent to me regarding my sexual assault case against Adam Venit of @WME:

Dear @UncleRUSH——
NO ONE GETS A PASS pic.twitter.com/DmEvqWVxkc

— terrycrews (@terrycrews) November 19, 2017
That email was sent the same day Adam Venit went on leave from WME. The Times says that a rep for Russell Simmons could not be reached for comment regarding Terry's email.
Unless that email was Photoshopped or was sent by someone pretending to be Russell Simmons, that email tells me a lot about Russell Simmons. Mostly that Russell composes his emails like he's using a refrigerator poetry magnet set for zen creep apologists.
Pic: Wenn.com
Source: A Model Alleges Russell Simmons Sexually Assaulted Her While Brett Ratner Watched
2 total views, no views today