This minor milestone of mine – my 300th posting - will be an easy one to remember, because I did it on Good Friday, 2011. Now, for some people such as

Helen at Patient Gardener

, or

Allison at Life in a Pink Fibro

, both of whom keep up a steady beat of one very good posting per day, a mere 300 postings will be notched up each and every year. For me it has taken almost three years to get here, but I'm sure because I am so long-winded for any regular readers you've probably read as many words here as you would have at someone else's blog with 3000 posts to their name.
Anyway, to celebrate my 300th posting, I thought I'd just do a completely ordinary posting about what I did in the garden this morning. It's a fine, autumnal warm and sunny Good Friday here in Sydney, and I'm afraid folks I didn't go to church today, but as usual I did get closer to nature, my own personal place of worship. Let's start off with the first job – filling a gap.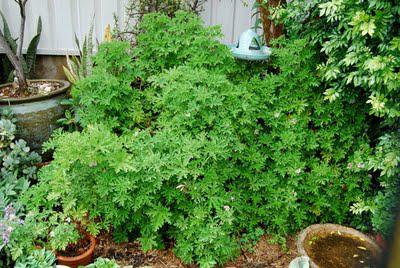 Sadly, this is the gap before it was a gap. You'll see the gap a few photos down. The problem with this lovely lemon-scented pelargonium is that it was a shocking bully of a plant, and a wimp at the same time (isn't that always the way with bullies?). This plant would monster everything near it, then blow over in any strong wind and look like muck for weeks on end while it regrew itself after the storm damage was trimmed off. Pam has never liked this plant all that much, and so we decided to get rid of it and replace it with something better behaved, a steadier chap.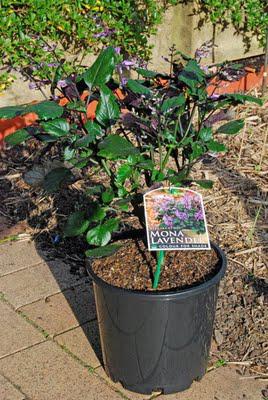 Time will tell if this is the 'steady chap' we're wanting to recruit. This is a Plectranthus 'Mona Lavender' a small-growing form of plectranthus which reaches 80cm high and 60cm wide, says the label. The label also reassures us that it doesn't spread and self-seed like other plectranthi do. It's a shade-lover, or a semi-shade lover, and the spot we have in mind for it is classic dappled semi-shade. It will also have to survive the competition from our old olive tree's roots, so all I can do with this plant is wish it luck, and plant it.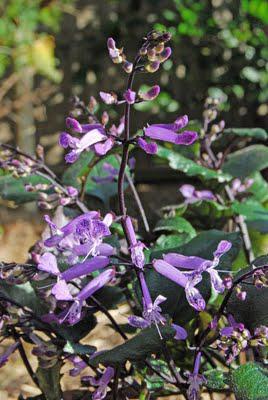 These are the Plectranthus's blooms, which start in summer and continue into autumn. They get the seal of approval from Pammy, and I am sure a painting of them will be in our house one of these years, if the plant proves to be a success.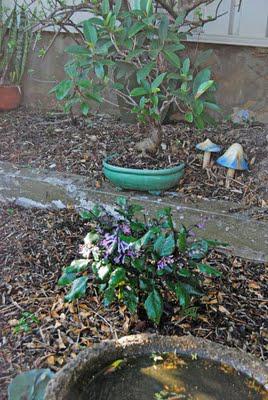 Aren't gaps unfortunate looking things? All bare leaves and ugly bits. Nothing can be done about a gap, apart from waiting for time to put on growth and fill the space with foliage and flowers. To help the plectranthus settle in, I raised the soil level a few inches by adding stacks of home-made compost and digging it through the soil, then planting into that. Behind the plectranthus is my sole bonsai plant, a Port Jackson fig which must be more than 10 years old. Finally, after many years, its trunk is thickening up nicely. This poor plant was a bullying victim at the hands of the pelargonium, and if bonsai could speak I am sure it would muttering a few 'good riddances' this morning.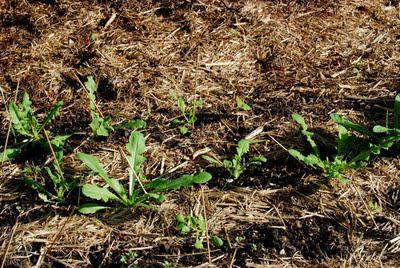 Over the other side of the pathway, I'm plugging some more gaps. These are the two rows of Shirley poppies which came up from seed and seem to be getting on with life. The trouble is that there were three other rows where I sowed seed but which are still bereft of success, and so I decided to call in the rescue squad.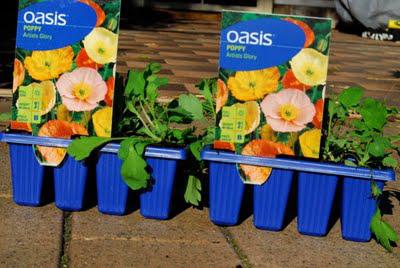 Iceland poppy seedlings, two punnets, enough to fill the three bare rows. Shirley poppies are notorious for being hard to transplant, so you have to grow them from seed sown directly where the plants are to grow. There's no such fussiness with Iceland poppies, which grow well from seed or seedlings. The Icelands are slightly smaller plants than the Shirleys, but that won't matter. By late June Pammy should have poppies galore, which is becoming a colourful winter tradition for us.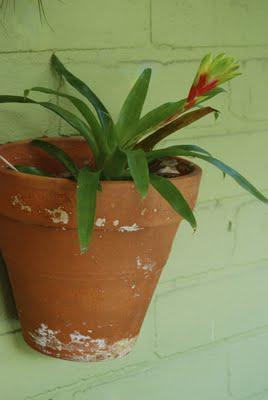 Elsewhere, flowers are appearing. The three wall pots under my covered pergola haven't been a huge success so far. I tried impatiens there but they were wilty and high-maintenance, and so when it came time several months ago to divide some 'pups' from one of my potted bromeliads, I decided to give them a go in the wall pots. And they're starting to send out flowers. They've been easy-care there, and so they might be the answer.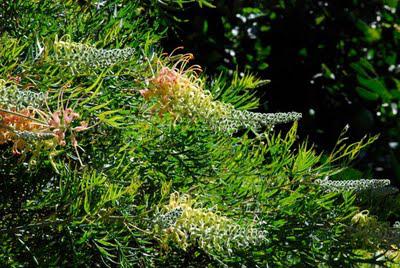 About two months ago I trimmed the living daylights out of my 'Peaches and Cream' grevillea, and it's starting to flower its head off. Grevilleas are a bit 'beat me, whip me' in personality, real masochists which love the discipline of a good, hard pruning. It's covered in blooms and flower buds, and should be at its peak in a few weeks, by late autumn.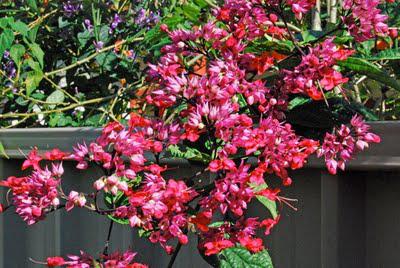 While photographing the Grevillea, I noticed behind it another of my neighbour Nick's plants popping its head over the fence to say hello to my plants. Not sure what this is, but it's a wonderfully colourful effusion of hot pink that's a very welcome visitor here. Thank you Nick!
And so that's it for posting number 300. According to my Sitemeter people-counter thingy at the very bottom of this page, I have a bit over 77,000 people to thank for dropping by to read my ramblings and peek at my photos. So thank you very much for your interest and your comments, they're much appreciated. I guess my next blogging ambition is to make it to 500 postings, something which at the current rate will occur in 2013. See you then!