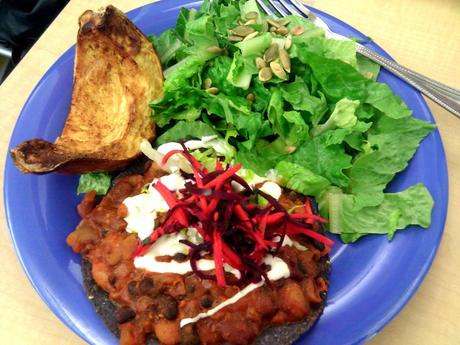 It's no secret that I love Mexican food. Fresh guacamole with lime. Spicy refried beans. Fresh salads. Salsa. I could eat it all day. I'm salivating at the thought. And I don't discriminate, I love it all – from the traditional Taqueria to the more upscale, modern variety.
I had this meal at a cafe a while back, and as I was going through the pictures on my phone this morning, thought I'd post this for a few reasons:
1) I <3 Mexican food. Did I already mention that?
2) I was looking for inspiration for things to cook while we're hosting my sister-in-law and my nephews, and I decided to do a tostada party for one of the nights they're here – since my nephews love tostadas

3) I'm hungry.
One of the things I love about this meal is that it stays true to the heartiness of a traditional Mexican meal, with a few upscale twists.
First – the ENTREE: Three Bean Tostada with Beet and Carrot Salsa
d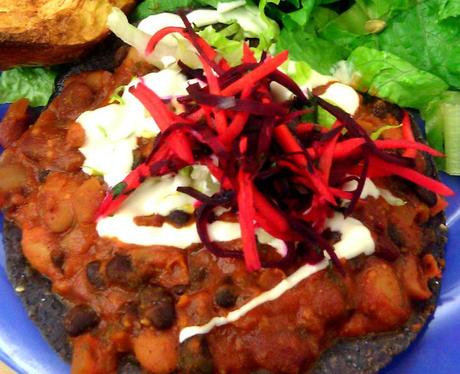 Ingredients:
Black Beans, Pinto Beans, Red Kidney Beans, Tomatoes, Blue Corn Tortilla, Vegetable Stock, Onions, Red Pepper, Celery, Beets, Carrots, Ancho Chilis, Cumin, Cilantro, Oregano, Smoked Paprika, Cashews, Jalapenos
Directions:
Cook the beans, tomatoes, onions, red pepper, celery with the veggie stock and all the spices to make that wonderful stew. The blue corn tortillas were either fried or baked – but either way they were awesome! And the rest of the ingredients were used to make that Beet & Carrot Salsa. What did they do with the cashews? Well, that is the coolest part of all. The cashews were used to make cashew cream – which was substituted for the sour cream on the top of this tostada! Cashew cream is super easy to make – you just combine cashews and water in a food processor, and blend until you have a consistency similar to sour cream. Cool huh?
a
Now – the SIDE: Warren Creek Farm Roasted Acorn Squash
d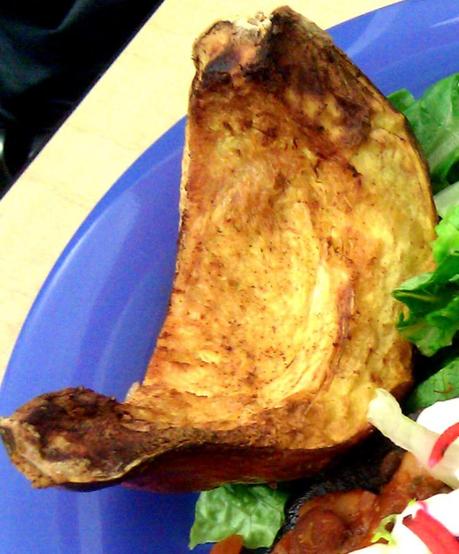 Ingredients:
Warren Creek Farm Acorn Squash, Cinnamon, Chipotle, Rice Bran Oil
Directions: These should be pretty simple – just roast / bake the squash after tossing it in the cinnamon, chipotle and rice bran oil

Lastly, the SALAD: Crispy Romaine with Pepitas
d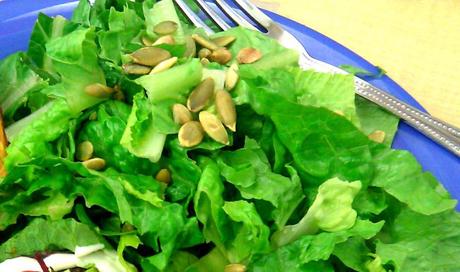 Ingredients:
Romaine Lettuce, Pumpkin Seeds. For the dressing: Lime, Lemon, Cumin, Cider Vinegar, Garlic, Scallions
Directions:
Whisk all the ingredients for the dressing together, pour over romaine and pumpkin seed salad.
Gourmet, healthy, super flavorful, and not that hard to make. Now that's my kind of dish. Let's see how well I do adapting this inspiration for my tostada bar later this week!