Last week a man from France contacted me via e-mail: Sylvain wanted to bring me a gift from friends living on Ko Pha-ngan island of Thailand. (I had written a blog-post about their activity of spreading the knowledge about rudrakshas.)
Last Saturday evening , Sylvain arrived – a tall young man with a special present in his hands, caringly enveloped with a fine string. I opened it and discovered inside two light-brown rudrakasha seeds (called "white rudrakshas"), embedded in a rudraksha shell and embedded in white cotton-like fibres.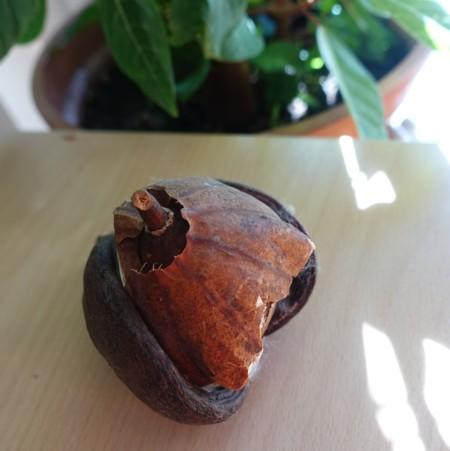 The mysterious gift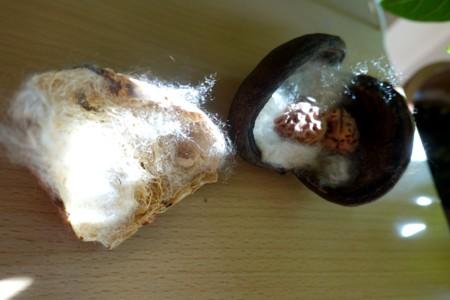 The rudraksha seeds inside the shell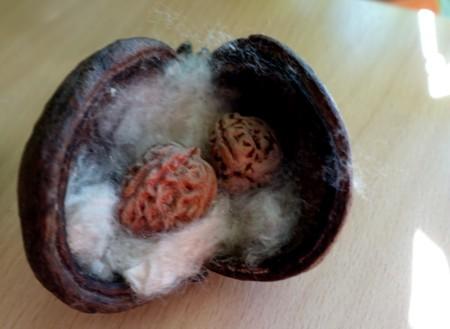 A three-mukhi (faced) and a four-mukhi rudraksha
It is a very special special gift and the messenger had traveled quite a distance – it was his way of giving thanks to our friends with whom he had lived for some months on the Thai island.
We were not prepared for an overnight stay in our apartment but somehow could arrange. And this was very good. Sylvain and I had an intense exchange. Sylvain told me about adventures on a bicycle tour from France to Kyrgystan, nearly to the Chinese border, about other journey to North and Central America, about his spiritual search and a project related to Ayurveda he is trying to realize in the French Alpes. He carried a fresh energy of bringing inspiration to people and of knowing how to realize his visions.
Sunday morning, he joined the meditation and fire ritual; afterwards we did a walk over a nearby field and enjoyed the magic of the sunrise. Before he left again back to France, we did a selfie with my wife on the balcony. A hearty encounter.