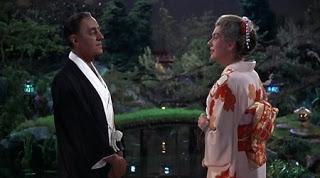 Mervyn Leroy's A Majority of One (1961) offers an entertaining culture clash romance. Based on Leonard Spigelgass's successful play, it offers a sensitive, affecting portrait of two aging, lonely people who connect despite their vast differences. Yet many modern viewers will find it difficult to excuse Alec Guinness's casting as a Japanese man.
Widow Bertha Jacoby (Rosalind Russell) lives alone in her Brooklyn apartment, having lost her son in World War II and her husband to cancer. Her daughter Alice (Madlyn Rhue) invites Bertha to join Alice and her diplomat husband Jerry (Ray Danton) in Tokyo. On the ocean voyage, Bertha befriends Mr. Asano (Alec Guinness), a Japanese businessman whose firm contracts with the US Embassy; despite Bertha's initial prejudice, the two connect, only for Alice to persuade her to break off the friendship. When this seems to jeopardize a business deal between Jerry and Asano, Bertha - and realizes his affections run deeper than friendship.
A Majority of One is a pleasant blend of tones: it's a comedy that offers more humanity than uproarious laughter, a character study that tastefully probes cultural differences and personal loss. Bertha's a Russian immigrant who's struggled to fit into the United States, thus understanding how her family rubs Japanese the wrong way. Jerry jeopardizes a business deal through an unintended slight while fumbling protocol for their cranky servant (Marc Marno). For most Americans, Japanese protocol is a game to master rather than a separate lifestyle. Only Bertha seems genuinely interested in connecting, joining Asano for a hibachi and sake dinner that, he assures her, is nonetheless kosher.
Spigelglass's script is measured and intelligent, providing charming Jewish-American patois for scenes between Bertha and her nosy neighbor (Mae Questel, the voice of Betty Boop) and amusing banter for scenes with Eddie alternately brown-nosing and mocking his hosts. The movie's most charming in its human moments, whether in Bertha and Asano bonding over dominos and cough drops or Jerry and Alice's spats. It's more predictable when addressing matters of prejudice and cultural divide, with the uber-liberal Jerry becoming incensed at the idea of his mother-in-law marrying an Asian.
On the other hand, it's hard to ignore the elephant in the room. Alec Guinness is a chameleon-like performer who played assorted ethnicities (Arabs, Jews and Indians) throughout his career with little comment. Intelligent and sensitive as he is, Guinness avoids caricaturing Asano beyond occasionally trading L's with R's: he makes the character charming, intelligent and subdued, reserved but eminently likable. Even so, he's still an Englishman in dun-colored make-up with slanted eyes, and he's only sporadically convincing as an Asian. It's to Guinness's credit more than the filmmakers that his presence is a minor annoyance rather than a deal-breaker.
Rosalind Russell isn't any more Jewish than Guinness is Japanese, but she subdues her Yankee hauteur for a wonderfully convincing Brooklyn-by-way-of-Minsk accent. Russell specialized in playing tough, brassy dames in films like The Women and His Girl Friday, so seeing her as a sensitive, somewhat confused but strong-willed Jewish mama is delightful casting against-type. She sells the character, who in lesser hands could be obnoxious but instead proves endearing and heartwarming.

A Majority of One ends on a hopeful, though not unreservedly happy note: Bertha and Asano reconnect in Brooklyn on friendly terms, their future status uncertain. It's a warm, complex ending to a subdued film for adults, preferring understanding to sentimentality. Nothing groundbreaking or overly original, it's nonetheless a low-key charmer.