You get out of bed sometimes wanting to feel pampered somehow, maybe crave to get that special royal treatment?  A silver tray with all your heart's desire served on silverware? I suggest you drive down for breakfast at Sydney's – located on the 11th floor of the Hotel Le Vendome Beirut on Ain Mreiseh, Beirut.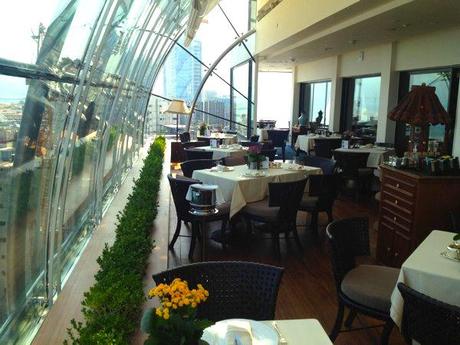 To start with, Hotel Le Vendome is one of the finest hotels in town managed by the Intercontinental Group. A real five star boutique hotel with all the international standards you wish for in any city. Entering the lobby, a certain freshness and warmth welcomes you into a cozy yet luxurious setup of colors, design and fine furniture. The feeling that you have left the country for even a bit overpowers you… Great feeling. The grandiose feel of the hotel goes up all the way to the 11th floor, where the hotel's breakfast is served daily from 6:30 am to 11:00am on weekdays and to 11:30am on weekends.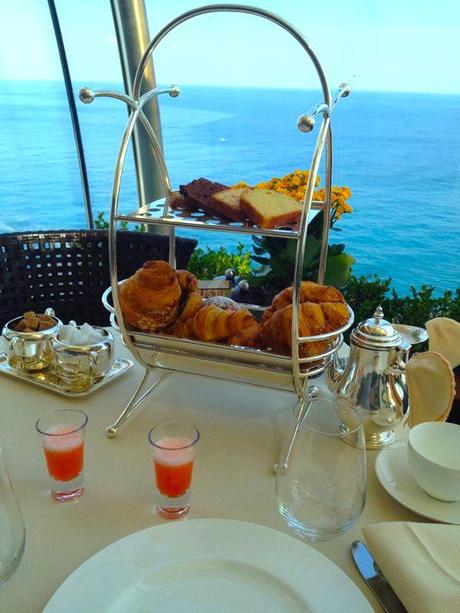 A very professional staff:
It all starts when the valet takes your car, followed by the staff that welcomes you into the hotel. Their smiles are worth a million since it has become a rare thing in our hospitality industry today. A smile that marks a positive and musical start to your day.
Sydney's is special in many ways. The whole set up feels like home. Fluffy rich royal red couches and sofas all around separate rooms giving each corner its special space.
A nice lady, with an impeccable French and English welcomes you again with a beautiful smile to the table of our choice. I chose to sit on the terrace near the window. A huge window facade with an outstanding big view of the sea. A perfect spot to enjoy this one of a kind breakfast.
The waiter then takes over offering a magnificently pampered treatment that has no limits. Sarah is the name of the waitress, who's sweet and welcoming as she places their complimentary shots of juices on the table (a fresh mix of strawberries and melon); followed by a leveled silver tray filled with light, crispy and fresh selection of croissant, brioche, toast and chocolate bread. The whole set up looks like a painting.
As the coffee is being served, also in silverware, I walked to the buffet table that was full of colorful fresh dishes. While passing by the buffet, the waiter noticed that I was trying to take the last piece of Brie cheese. It only took him minutes to get us a full plate of Brie to the table. He was attentive at all times while I roamed around the table lost for choices.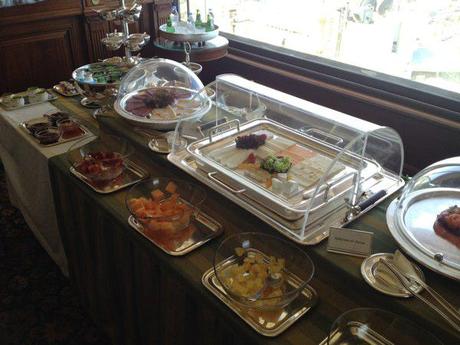 The buffet selection:
- Cold cuts and a nice selection of international and local cheese carefully presented.
- Labneh (regular, goat and light)
- Fresh Lebanese thyme from the village served with kaak.
- A selection of confectionery for all tastes.
- Lebanese sweets filled in closed jars as well as Halawa presented in individual silver plates.
- Exotic seasonal fresh fruits.
- A wide selection of baguettes, square bread an Lebanese loafs.
- Cakes and mini pastry artistically crafted.
- A huge selection of nuts and fibers tower.
- Corn flakes and fresh milk.
- A giant ham imported from Spain commonly known as Gammon .
- Fresh juices, water and Perrier stocked in crushed ice.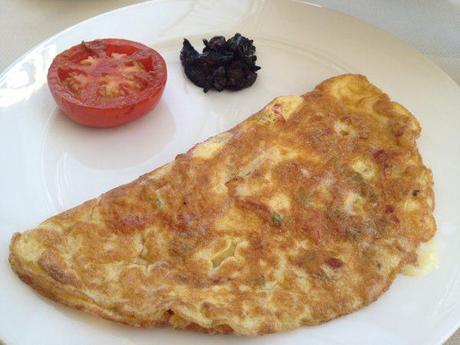 Everything is fresh and meticulously presented as if prepared at that same minute. It's a nice feeling that you have – the feeling that you're the first person to have started at the buffet.
A long with the buffet, you can order your choice of eggs, I had their Spanish Omelette – one of kind. Wow! Delicious and really showing that it was prepared with love. Hot on the inside, warm on the outside, filled with ham, cheese, diced green pepper and tomatoes. The best part in this order is the fact that although all mixed and cooked together, you can still taste and crunch every ingredient.
Before finishing this epic experience,  I tell you the story of the best pancakes in town. A simple round, thick and fluffy golden pancake served with sliced caramelized bananas and maple syrup. There's a passionate story in every bite.
I don't know if I have described this breakfast of ecstasy properly, this is why I encourage you to go try it and experience this one of kind moment of pleasure.
A $30/person is really not much for this pampered and delicious breakfast, which will definitely start your day with a smiling boost.