It has just been Mad Men Madness lately!
Not only did the AMC favorite return  to the small screen to one of its highest rated season premiers this last Sunday, April 7th, but we also hear Mad Men wedding bells ringing!
It has been confirmed that Alexis Bledel and Vincent Kartheiser  whose characters have gotten involved in an extramarital affair on the series, are to tie the knot in real life!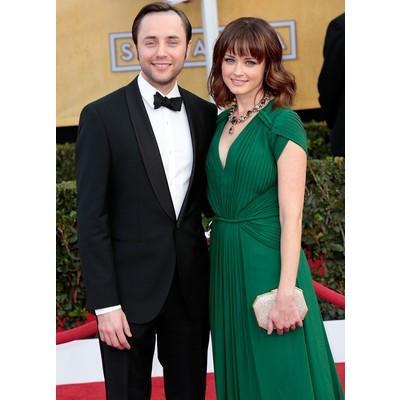 I absolutely love it when actors whose characters are in relationships on the show actually get married in real life! So naturally, our heads started spinning of the potential wedding possibilities! Who will design Alexsis Bledel's dress? Will it be a grand occasion, or something small and private??
Of course I would love to see them do a retro-inspired wedding! Tea Length dress, bird-cage veil and all! Here are some of our favorite retro-inspired pieces, perfect for the occasion!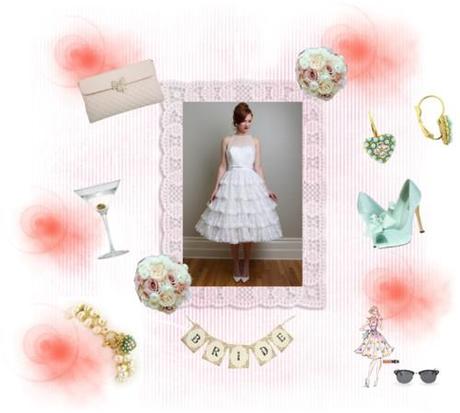 To go along with the retro-inspired theme, I chose to accessorize her look with some of my personal favorites from our collection! These 1960′s Vintage Turquoise Heart Drop Earrings are the perfect retro shade to compliment the peachy florals of her bouquet and contrast against her creamy white dress for a fun flirty pop! Add on the matching Vintage Couture Pearl & Gold Stretch Bracelet for a little extra feminine flair and she will be one retro glam bride! The best part is that both of these pieces are completely on trend with spring fashion trends, so they easily transition into your daily wardrobe!
Pick up these fabulous pieces today and receive 25% off everything site wide thru April 30th! Use code WOW25