DC Editor Adam writes…
It's a London Thing, Monopoly. Sure, there are different city editions these days. But for anyone living in the UK or the countries of the Commonwealth (excluding Canada) over the age of 25, the Monopoly board was often a first introduction to the legendary names of London.
And we should, I suppose, concede… it's a 

little bit

 of a Yorkshire thing, too. The game was first produced in the UK by John Waddington Ltd of Leeds. In 1935 Waddingtons wanted to branch out into other areas such as playing cards and when Parker Bros of the U.S sent them a set of the original Monopoly board game, the timing was perfect. Norman Watson (Head of Waddingtons Card Game Division) and his secretary Marjorie Philips made a trip to London to research locations, and the rest is history: a history that is revealed memorably in the comic travelogue Do Not Pass Go by Tim Moore.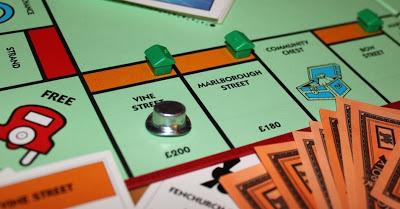 The names on the board still conjure up vivid images even for those yet to visit us here in London. Such people would surely baulk at a night out down the Old Kent Road, for example. Not that there's anything wrong with a night out in that neck of the woods, of course: but such is the legend of the London Monopoly board that estate agents have had to work hard down in that neck of the woods for more than 80 years now. No bad thing, estate agents working hard.
Similarly Mayfair still speaks of glamour and riches untold – so much so that purveyors of such nefarious goods as cheap cigarettes and top shelf magazines have appended (ahem) the name of that Holy Grail of the Monopoly board to their products in the hope of making them seem glamorous.
The London board is also studded with delicious anomaly and eccentricity: coming from outside London one would expect Fenchurch Street Station to be something far grander than the modest, almost hidden city terminus-cum-Burger King branch that it is in "real life". And why are Vine, Marlborough and Bow Streets adjacent to one another on the board yet so far apart on the map?* And why isn't Marlborough Street given its full name of Great Marlborough Street? And what's this about Free Parking? 

Free parking in London?!


The ins-and-outs of the game itself are, of course, a global phenomena. But the traditional British board is up there with the Underground map as an iconic design classic. From Old Kent Road to Mayfair. No doubt about it. It's a London Thing.
* Bow Street, Marlborough Street and Vine Street were linked in 1935 by the theme of law and order: Vine Street Police Station and the Magistrates' Courts at Bow and Great Marlborough Streets. In the 21st century the police station and both magistrates' courts no longer exist.



Keep In Touch…