Hello, hello everyone!
Happy Monday!
How was your Easter?
Ours was fine...super laid-back...online church, card games, driving practice for Grayson, Easter dinner & movie night.
We're going through a cold snap here in Chicago, so, unfortunately, the next week staying home may be a little more difficult...ugh.
BUT, that's OK...we're one day closer to normal, right?
How about a look at Day 5 in my "think HAPPY" TN?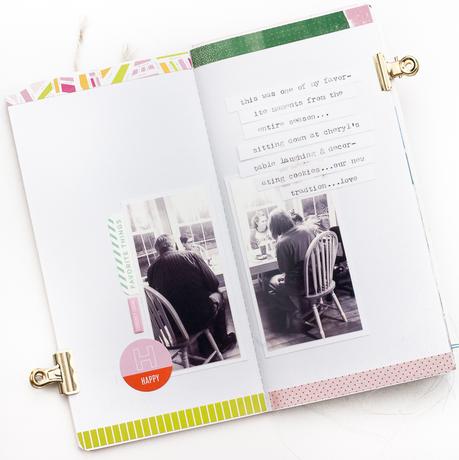 This is another super simple spread that came together quickly, and without too many supplies.
To create this design, I printed out a single photo, and cut it down the middle. I matted each side of the photo on a cut of white cardstock, and then adhered them across the middle of my notebook.
I typed up my journaling on some white cardstock and then cut and added each strip to the right-hand side of my spread.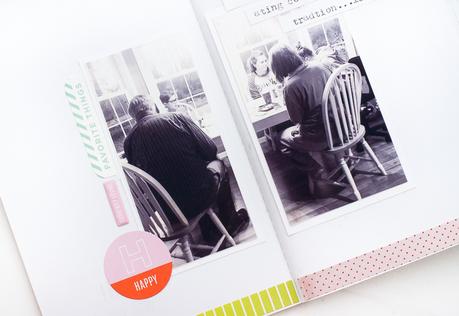 Next, I cut some strips of patterned paper (just slightly over 1/4" wide) and added them to the top and bottom of each side of my notebook.
Finally, I added a few more little embellishments and called it a day!
This basic layout can be customized simply by...
*Changing the orientation of the photo or paper strips *Using washi tape instead of paper to embellish the edges of your notebook*Handwriting your journaling*Keeping your photo on one side of your spread, and moving all of the journaling & embellishments to the other side*Adding patterned paper to your notebook pages to create a background for your photo
I hope you have a wonderful week! 
Come on back on Wednesday for Day 6!
SUPPLIES

:


Heidi Swapp Journal Studio Inserts - Happ
Heidi Swapp Journal Studio Sticker Book
Heidi Swapp Color Fresh 6x6 Paper Pad


See more about these pages 

HERE

 on Heidi's blog


Disclosure: This post may contain affiliate links, which means I may receive a commission if you click a link and purchase something that I have recommended. Don't worry, clicking these links won't cost you any extra money. Please check out my disclosure policy for more details. Thank you for your support!