I can't say I am the expert when it comes to travel packing for family holidays. However, having traveled at least a dozen times after being a mum, from 3-day road trips, 8D7N cruises to a 3-week tour around Europe, not to mention after experiencing more than a handful of 8-hour car rides and 14-hour flights, I dare say I'm not bad at doing it. In fact, even though I like to start packing at least three days in advance (sounds a little last minute?), the truth is I can probably finish packing in a day if I have to.
When it comes to packing, I am neither the
kiasu
, everything-also-must-bring type nor the nonchalant, everything-also-no-need type. I think I am kind of in between the two and thankfully we never had the need to pay for overweight luggage at the airport.
Today, I am sharing with you my travel packing checklist and this is what I usually make sure I bring for the
K
I
D
S
when we go on a family holiday.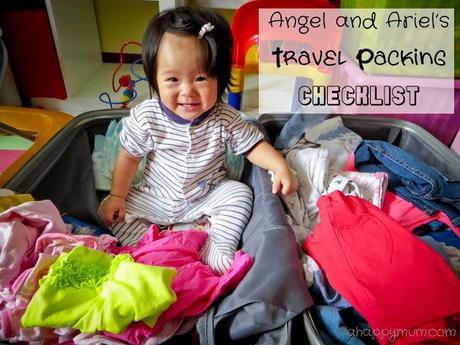 1) Diapers and baby wipes
Sure, you can buy diapers at your destination but you won't wanna run around hunting desperately for one when poo starts to leak. I usually pack four for a day and multiply it by the length of the holiday. Also, make sure you have enough baby wipes to use because these always come in so handy.
2) Clothes and pyjamas
For clothes, excluding pyjamas, I usually bring two sets of outfits a day for the baby and one set a day for the preschooler + two extra sets for each. Try to bring lightweight clothes but also don't forget to bring a jacket and long pants.
3) Swimwear and towels
Always remember to bring swimwear because you never know when you might find a swimming pool or water playground somewhere. If you have space, bring along the inflatable floats, swimming goggles, balls or water guns. In addition, I like my kids to use their own towels or bath robes after a swim.

4) Toiletries, creams, lotions
This will include baby shampoo, shower foam, talcum powder, toothbrush, toothpaste as well as any creams or lotions you usually use, for example sunscreen lotion, diaper rash cream, aloe vera gel, baby moisturiser, Ru Yi oil and so on. I also bring along a small bottle of washing detergent just in case we need to wash the laundry or get rid of any poo or vomit stains.

5) Nail clipper and nail file
Babies' nails tend to grow quite rapidly so this comes in pretty useful and helps to prevent any scratches on the baby, the big sister or well, myself.
6) Footwear and socks
I bring socks for the baby to change daily and also include a pre walker shoes in case her tiny toes get cold. For the preschooler, besides socks, she also has her running shoes (which she usually wears to the airport to save space) and casual footwear. 
7) Hats, caps, umbrella
Hats are a must especially when we are out the whole day every day, even if the kids like to yank them off after a while. Also, always check that you have a small umbrella in your bag which can be used for both the hot sun and drizzle. 
8) Baby biscuits, snacks, Milo, fruit juices, cereal, uncooked rice
Food and drinks help to keep them more occupied in the car or on the plane. As a typical Chinese family, we also bring along some rice to cook at the apartment if we are staying in one, or bring along a portable cooker if not. With a baby who eats porridge every day and hasn't touched french fries, this is quite an essential item!
9) Thermal container, thermal flask, tupperware, kids utensils
To add on to the previous point, these help to contain the food, make them easy to reach when we are on the go, keep them warm and come in useful when we dine in restaurants which do not provide utensils for the little ones.

10) Story books, colouring materials, DVDs, teethers, favorite stuffed toys
These are optional but may help to make a happier child and keep him/her from feeling bored.

11) Baby stroller and baby carrier
Unless you intend to carry your kids for the entire trip,
never
forget these! We forgot to load our stroller when we went to Switzerland and for seven days, we had to carry our toddler who was still learning to walk.
12) Water bottles, formula, milk bottles
Make it a point to keep kids hydrated on holidays and if they are on formula, make sure you bring along enough powder and their favorite milk bottle. If they are still on breast milk, don't forget your nursing cover so that you can feed your baby anytime, anywhere.

13) Medication
I am not the type to bring along medicine on trips but with kids around, although I am fine with them developing a cough or runny nose, I do bring along some panadol and fever patches in case they run a temperature in the middle of the night. Otherwise, if they do fall sick badly and there is a dire need, we will look for a pharmacy.
14) Hair accessories
I have two girls who were both born with a mop of hair, yeah? I always like to keep their hair up on a hot day so hair ties and clips are especially important.
15) Cameras, chargers, extra batteries
This might sound more for my luggage and not the kids', but well, it will be a
total
disaster if you forget to bring the camera and not be able to capture those precious once-in-a-lifetime moments of your kids or the awe-inspiring scenery.
16) Passports
Lastly, remember to bring their required documents to fly and check the expiry dates in advance.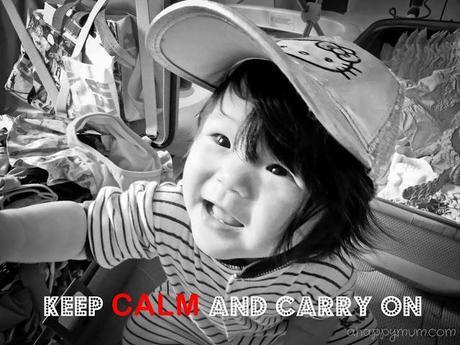 The one big tip is to
remain calm
even if you realize halfway that you have forgotten to bring along something you deem as important. Find an alternative, buy it if you can or simply make do with what you have. Holidays are meant to be happy, so just keep an open mind, be positive and enjoy as best as you can.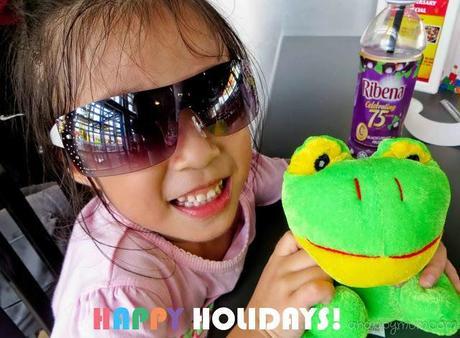 Lastly, don't forget to bring
a heart full of anticipation, joy and love
and I guess we are all set for the holiday!
P.S: This checklist is meant for a holiday in a tropical country or during the summer time. If it is a winter holiday, from past experience, the jackets, thermal wear, gloves, beanies, thick socks and boots will jolly well double the luggage but having fun in the snow makes it all worthwhile. 
******
Linking up with