The Ivy on the square to open early autumn 2017
Famous London eatery The Ivy recently announced the opening of its first Scottish site in early Autumn. The Ivy on The Square will be situated in the heart of Edinburgh's city centre and will sure be the place to go to be seen in the city.
We now have an artists impression of what the inside of the new The Ivy on the Square will look like.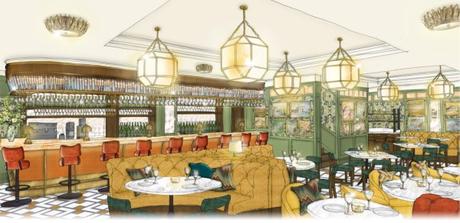 The Ivy on The Square will seat approximately 130 seats, alongside a bar and striking mezzanine terrace in a new development overlooking Edinburgh's historic St Andrew Square.
The brasserie will offer all-day dining with a menu which will offer something for all kinds of occasions, serving breakfast, elevenses, weekend brunch, lunch, afternoon tea, light snacks, cocktails and dinner. The kitchen will be overseen by Executive Chef Sean Burbidge, whilst the restaurant's menus will incorporate an eclectic mix of British ingredients, comforting Ivy classics and international dishes. Dishes include the iconic shepherd's pie and the chocolate bomb with hot salted caramel sauce.

Opening to the public​ Early Autumn 2017 (date TBC)
Address​: 6 St Andrew Square, Edinburgh, EH2 2BD
Instagram & Twitter: @ivyedinburgh
​​​​Facebook: / ivyedinburgh​​
Opening times​Monday to Saturday: 8am - 12am
​Sunday & Bank Holidays: 9am - 11pm