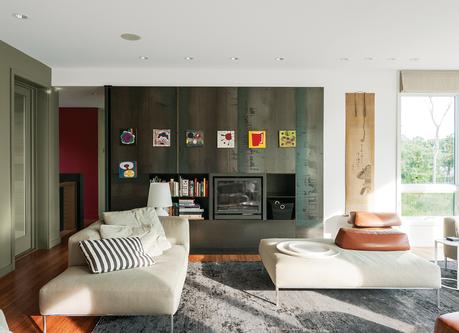 Resolution: 4 Architecture designed this Fishers Island home with warm cedar siding and white windows as a nod to the regional New England vernacular. The modular system created by the architects at Resolution: 4 allows them to customize a home's floor plan by stacking, lining up, and joining factory-built, rectangular modules. This is the largest prefab house the firm has completed to date with eight modules amassing around 4,500 square feet.
The fireplace wall, a Resolution: 4 signature, is made of 14-gauge hot-rolled steel panels with storage components in one-eighth welded steel. On one side is a pivoting privacy panel that allows the guest wing to be closed off. Art attaches to the metal with magnets.
Photo by Matthew Williams.
Log in or register to post comments